Orthopedic Surgery in India

We can organise for all major medical treatments and surgeries for different orthopedic procedures. India boasts about a number of specialist orthopedic surgeons who have made thier their mark across the world. Various leading super speciality hospitals across the length and breadth of India offer modern treatments in the area of Orthopedics.

Bone and Joint (Orthopaedic) Surgeons working at the We Care India partner hospital provide unparalleled services, utilizing the best known technology in their respective fields.


Orthopeadic Surgeries currently performed at We Care India partner hospital are : -
Arthroscopic, Arthrotomy / Endoscopic surgery of all amenable joints
Miscellaneous neurolysis & nerve repair or graft
Peripheral nerve surgery
Excision of bone or soft tissue tumours (benign, e.g., osteochondroma, enchondroma, ganglion)
Osteotomy closed and osteotomy open (excluding open osteotomy of major bones i.e., femur, tibia pelvis, etc.,)
Synovectomy
Bone biopsy
Bone grafting non-union of fractures and pseudarthroses
Joint manipulation
Removal of internal and external fixation
Osteotomies of long bones
Tendon repairs and reconstructions
Open and closed fracture reduction (excluding major procedures e.g., Pelvis, femur, acetabulum, spine)
Fasciotomy and Fasciectomy
Bone graft
Orthopedic Procedures
Knee Replacement

Knee replacement, Arthroplasty or Computer Assisted Surgery for Joint Replacement (CASJR) is a surgical procedure to replace a damaged knee with a prosthesis (an artificial joint). This surgery may be considered for someone who has severe arthritis or a severe knee injury.

The most common cause of chronic knee pain and disability is arthritis. Osteoarthritis, rheumatoid arthritis, and traumatic arthritis are the most common forms.


Total Knee Replacement is considered in the following conditions : -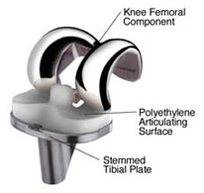 Severe daily pain
Pain is severe enough to restrict work, recreation and daily living
Significant stiffness of the knee
Significant instability of the knee
Deformity of the knee (lock-knees or bowlegs)
Knee Replacement Procedures : -
Arthroscopy Procedures : -
Total Hip Replacement / Partial Hip Replacement

A Total Hip Replacement (THR) - also called a Hip Arthroplasty is a surgical procedure that re-forms the hip-joint. Osteoarthritis of the hip is the most common diagnosis that leads to hip replacement. Osteoarthritis is caused by wear and tear. It affects the cartilage surfaces of the ball-and-socket joint of the hip. The cartilage wears out. Pain and stiffness result.

Patients with hip arthritis have difficulty walking, climbing stairs and performing routine daily activities.


Other conditions that can cause destruction of the hip joint include : -
Loss of blood supply to the head of the thighbone
Rheumatoid arthritis (an inflammatory autoimmune disease)
Previous injury or trauma
Infection
Developmental abnormalities in the hip
Hip Replacement Procedures : -

Hip Resurfacing Procedures : -
Wrist : -
Arthrotomy
Arthroscopic surgery
Reduction of fractures, open
Reduction of fractures, closed
Arthroplasty
Arthrodesis
Carpal tunnel release open or endoscopic
Hand : -
Palmar fasciotomy & fasciectomy
Repair of tendons: flexor, extensor
Arthroplasty
Tendon transplants
Internal fixation of fractures
Skin graft
Pollicization
Repair of syndactyly
Repair of digital nerves
Synovectomy
Tenodesis, tenolysis, and tendon transfers and grafts
Repair Boutonniere deformity
Arthroplasty finger, thumb, carpus and wrist
Neurolysis
Ganglion excision
Elbow : -
Elbow Replacement
Arthroscopic surgery
Release of tennis elbow
Fracture reduction and fixation
Osteotomy
Arthrolysis
Debridement
Shoulder : -
Shoulder Replacement
Open reduction of fracture
Arthroscopy and arthroscopic surgery
Arthrotomy
Open reduction of fracture
Repair of rotator cuff
Repair of acromioclavicular separation
Repair of dislocations
Rotator cuff repair
Labral surgery
Surgical decompression
Extensor mechanism realignment
The list of of Orthopedic Surgery in India is as follows : -
| | |
| --- | --- |
| | Apollo Hospitals, Bangalore, India |
| | Apollo Hospital, Chennai, India |
| | Apollo Hospitals, Hyderabad, India |
| | Indraprastha Apollo Hospital, Delhi, India |
| | Apollo Gleneagles Hospital, Kolkata, India |
| | Apollo Hospital, Goa, India |
| | Wockhardt Hospital, Bangalore India |
| | Wockhardt Hospital, Mumbai, India |
| | Fortis Hospital, Delhi, India |
| | Fortis Hospital, Mohali, India |
| | Fortis Hospital, Noida, India |
| | Manipal Hospital, Bangalore, India |
| | MIOT Hospital, Chennai, India |
| | Sparsh Hospital, Bangalore, India |
| | Sparsh Hospital, Bangalore, India |
| | Artemis Hospital, Gurgaon ( Delhi ) , India |
| | Max Devki Devi Heart and Vascular hospital, Delhi, India |
| | BGS Global Hospital, Bangalore, India |
| | BGS Global Hospital, Chennai, India |
| | BGS Global Hospital, Hyderabad, India |

For more information, medical assessment and medical quote send your detailed medical history and medical reports
as email attachment to
Email : - info@wecareindia.com
Call: +91 9029304141 (10 am. To 8 pm. IST)
(Only for international patients seeking treatment in India)
For a detailed evaluation send patientís medical reports / X rays / doctors notes to info@wecareindia.com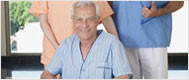 Patient Storys
Successful heart surgery at We Care India partner hospital allows Robert Clarke to live a normal life despite a rare genetic disorder We Care india helped Robert find best super specialised surgeon for his rare conditions.

Read : Robert's Story
See All : Patient's Success Stories


Related Link
Group Websites
Find us on