Computer Navigation assisted Hip Resurfacing Surgery in India
Component alignment in hip resurfacing using computer navigation

The use of computer navigation during hip resurfacing has been proposed to reduce the risk of a malaligned component and notching with subsequent postoperative femoral neck fracture. Femoral component malalignment and notching have been identified as the major factors associated with femoral neck fracture after hip resurfacing. We performed 37 hip resurfacing procedures using an imageless computer navigation system.

Preoperatively, we generated a patient-specific computer model of the proximal femur and planned a target angle for placement of the femoral component in the coronal plane. The mean navigation angle after implantation (135.5 degrees ) correlated with the target stem-shaft angle (135.4 degrees ). After implantation, the mean stem-shaft angle of the femoral component measured by three-dimensional computed tomography (135.1 degrees ) correlated with the navigation target stem-shaft angle (135.4 degrees ).

The computer navigation system generates a reliable model of the proximal femur. It allows accurate placement of the femoral component and provides precise measurement of implant alignment during hip resurfacing, thereby reducing the risk of component malpositioning and femoral neck notching.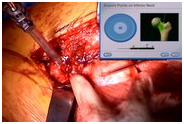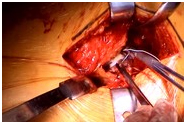 Computer-assisted navigation systems for hip resurfacing arthroplasty are designed to minimize the chance of implant malposition. However, there is little evidence computer navigation is useful in the presence of anatomical deformity. We therefore determined the accuracy of an image-free resurfacing hip arthroplasty navigation system in the presence of a pistol grip deformity of the head and femoral neck junction and of a slipped upper femoral epiphysis deformity.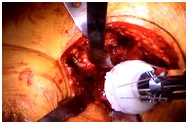 We constructed an artificial phantom leg from machined aluminum with a simulated hip and knee. The frontal and lateral plane implant-shaft angles for the guide wire of the femoral component reamer were calculated with the computer navigation system and with an electronic caliper combined with micro-CT. There was a consistent disagreement between the navigation system and our measurement system in both the frontal plane and lateral plane with the pistol grip deformity.

We found close agreement only for the frontal plane angle calculation in the presence of the slipped upper femoral epiphysis deformity, but calculation of femoral head size was inaccurate. The use of image-free navigation for the positioning of the femoral component appears questionable in these settings.




The list of of Hip Resurfacing Hospitals in India is as follows : -
| | |
| --- | --- |
| | Apollo Hospitals, Bangalore, India |
| | Apollo Hospital, Chennai, India |
| | Apollo Hospitals, Hyderabad, India |
| | Indraprastha Apollo Hospital, Delhi, India |
| | Apollo Gleneagles Hospital, Kolkata, India |
| | Apollo Hospital, Goa, India |
| | Wockhardt Hospital, Bangalore India |
| | Wockhardt Hospital, hyderabad, India |
| | Wockhardt Hospital, Mumbai, India |
| | Fortis Hospital, Delhi, India |
| | Fortis Hospital, Mohali, India |
| | Fortis Hospital, Noida, India |
| | MIOT Hospital, Chennai, India |
| | Sparsh Hospital, Bangalore, India |
| | Artemis Hospital, Gurgaon ( Delhi ) , India |
| | Max Devki Devi Heart and Vascular hospital, Delhi, India |
| | BGS Global Hospital, Bangalore, India |
| | BGS Global Hospital, Chennai, India |
| | BGS Global Hospital, Hyderabad, India |

For more information, medical assessment and medical quote send your detailed medical history and medical reports
as email attachment to
Email : - info@wecareindia.com
Call: +91 9029304141 (10 am. To 8 pm. IST)
(Only for international patients seeking treatment in India)
For a detailed evaluation send patientís medical reports / X rays / doctors notes to info@wecareindia.com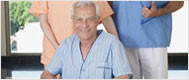 Patient Storys
Successful heart surgery at We Care India partner hospital allows Robert Clarke to live a normal life despite a rare genetic disorder We Care india helped Robert find best super specialised surgeon for his rare conditions.

Read : Robert's Story
See All : Patient's Success Stories


Related Link
Group Websites
Find us on