Stroke

A stroke occurs when the blood supply to part of the brain is suddenly interrupted or when a blood vessel in the brain bursts, spilling blood into the spaces surrounding brain cells. Within a few minutes, brain cells begin to die.A stroke is a medical emergency.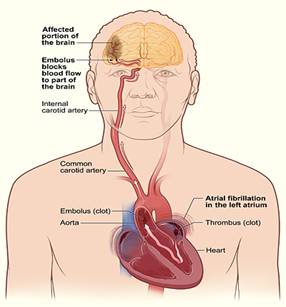 There are two main types of stroke. One (ischemic stroke) is caused by blockage of a blood vessel; the other (hemorrhagic stroke) is caused by bleeding. Bleeding strokes have a much higher death rate than strokes caused by clots.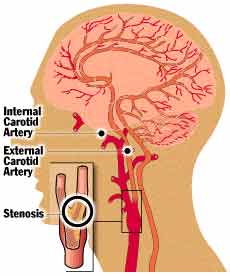 Types of Stroke / Causes of Stroke

The most common type of stroke is a blockage. This is called an ischaemic stroke, which happens when a clot blocks an artery that carries blood to the brain.


It may be caused by : -
Clogging of arteries within the brain (for example, lacunar stroke)
Hardening of the arteries leading to the brain (for example, carotid artery occlusion)
Embolism to the brain from the heart or an artery

The second type of stroke is a bleed, when a blood vessel bursts, causing bleeding (haemorrhage) into the brain. This is called a haemorrhagic stroke.


It may be caused by : -
Cerebral hemorrhage (bleeding within the brain substance)
Subarachnoid hemorrhage (bleeding between the brain and the inside of the skull)
Risk Factors of Stroke
High blood pressure, or hypertension, is a major risk factor for stroke. It is a condition where the pressure of the blood in the arteries is too high.
Common heart disorders such as coronary artery disease can also increase a person's risk for stroke.
A heart condition known as atrial fibrillation is a major concern. Atrial fibrillation is irregular beating of the upper chambers, or atria, of the heart. When the atria quivers instead of beating in a regular pattern, blood is not fully pumped out of them and may pool and clot.
Diabetes is another disease that increases a person's risk for stroke.
Smoking almost doubles a person's risk for ischemic stroke, independently of other risk factors.
Symptoms of Stroke
Numbness, weakness or paralysis on one side of the body (signs of this may be a drooping arm, leg or lower eyelid, or a dribbling mouth.
Sudden confusion or trouble speaking or understanding others
Sudden trouble seeing in one or both eyes
Sudden trouble walking, dizziness, or loss of balance or coordination
Sudden severe headache with no known cause
Diagnosis of Stroke

Stroke is diagnosed through several techniques: a neurological examination, CT scans (most often without contrast enhancements) or MRI scans, Doppler ultrasound, and arteriography. The diagnosis of stroke itself is clinical, with assistance from the imaging techniques. Imaging techniques also assist in determining the subtypes and cause of stroke.

CT or CAT scan) - Uses X-rays to generate an image of the brain. Doctors use CT to determine whether a stroke has occurred and, if so, what kind.

MRI can give very accurate images of the brain. These are used to determine the presence, location and size of aneurysms and arteriovenous malformations, which are potential sources for hemorrhagic stroke An EEG can provide valuable information about underlying problems in the brain. Some people who have strokes are prone to seizures, and this test will help doctors determine if seizures are present and if treatment with medications is needed.



Treatment of Stroke

Surgery, medications, hospital care and rehabilitation are all accepted stroke treatments.Initial treatment for ischemic stroke involves removing the blockage and restoring blood flow.

Thrombolytic (Fibrinolytic) Drugs: In certain circumstances, a drug called tissue plasminogen activator (tPA) is given intravenously to break up clots and help restore blood flow to the brain. This medication carries a risk for increased intracranial hemorrhage and is not used for hemorrhagic stroke.

Carotid endarterectomy and cerebral angioplasty is done for transit ischemic stroke.



Carotid Endarterectomy

Read More...



Cerebral Angioplasty

Read More...



The list of of Neurosurgery Hospitals in India is as follows : -
| | |
| --- | --- |
| | Apollo Hospitals, Bangalore, India |
| | Apollo Hospital, Chennai, India |
| | Apollo Hospitals, Hyderabad, India |
| | Indraprastha Apollo Hospital, Delhi, India |
| | Apollo Gleneagles Hospital, Kolkata, India |
| | Wockhardt Hospital, Mumbai, India |
| | Fortis Hospital, Delhi, India |
| | Fortis Hospital, Mohali, India |
| | Fortis Hospital, Noida, India |
| | Escorts Heart Institute Hospital, Delhi, India |
| | Artemis Hospital, Gurgaon ( Delhi ) , India |
| | Max Devki Devi Heart and Vascular hospital, Delhi, India |
| | BGS Global Hospital, Bangalore, India |
| | BGS Global Hospital, Chennai, India |
| | BGS Global Hospital, Hyderabad, India |

For more information, medical assessment and medical quote send your detailed medical history and medical reports
as email attachment to
Email : - info@wecareindia.com
Call: +91 9029304141 (10 am. To 8 pm. IST)
(Only for international patients seeking treatment in India)
For a detailed evaluation send patientís medical reports / X rays / doctors notes to info@wecareindia.com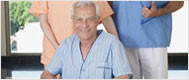 Patient Storys
Successful heart surgery at We Care India partner hospital allows Robert Clarke to live a normal life despite a rare genetic disorder We Care india helped Robert find best super specialised surgeon for his rare conditions.

Read : Robert's Story
See All : Patient's Success Stories


Related Link
Group Websites
Find us on