Cerebral Aneurysm

A cerebral aneurysm is an abnormal swelling of a blood vessel wall inside the brain. A cerebral aneurysm occurs at a weak point in the wall of a blood vessel (artery) that supplies blood to the brain. The bulging aneurysm can put pressure on a nerve or surrounding brain tissue. It may also leak or rupture, spilling blood into the surrounding tissue (called a hemorrhage). Some cerebral aneurysms, particularly those that are very small, do not bleed or cause other problems.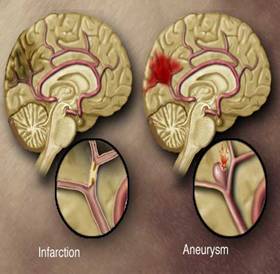 Causes of Cerebral Aneurysm

Aneurysms may result from congenital defects, pre existing conditions such as high blood pressure and atherosclerosis (the buildup of fatty deposits in the arteries), or head trauma. Cerebral aneurysms occur more commonly in adults than in children but they may occur at any age. They are more common in women than in men, by a ratio of 2 to 1. A person may inherit the tendency to form aneurysms, or aneurysms may develop because of hardening of the arteries (atherosclerosis) and aging.

Aneurysms are also classified by size. Small aneurysms are less than 11 millimeters in diameter (about the size of a standard pencil eraser), larger aneurysms are 11-25 millimeters (about the width of a dime), and giant aneurysms are greater than 25 millimeters in diameter (more than the width of a quarter).



Symptoms of Cerebral Aneurysm

Aneurysms usually cause no symptoms unless they rupture and cause bleeding into the brain. However, a sudden, extremely severe "thunder-clap" headache is the telltale symptom that an aneurysm has ruptured.


Symptoms of a ruptured brain aneurysm often come on suddenly. They may include : -
Sudden, severe headache (sometimes described as a "thunderclap" headache that is very different from any normal headache).
Neck pain.
Nausea and vomiting.
Sensitivity to light.
Fainting or loss of consciousness.
Seizures.
Speech impairement
Eyelid drooping
Stiff neck
Diagnosis of Cerebral Aneurysm

On the CT scan it may be possible to see an evidence of hemorrhage associated with a brain aneurysm.




Treatment of Cerebral Aneurysm

Unruptured aneurysm would probably be treated with a surgical procedure called the clip ligation, as described below.


Most cerebral aneurysms can be fixed with microsurgery that will involve either : -
Clipping the "neck" of the aneurysm at the artery, to cut off the blood flow
Repairing the aneurysm through a catheter inserted into the damaged blood vessel
Enovascular Coiling / Coil Embolisation
Read More...
Surgical Clipping
Read More...
The list of of Neurosurgery Hospitals in India is as follows : -
| | |
| --- | --- |
| | Apollo Hospitals, Bangalore, India |
| | Apollo Hospital, Chennai, India |
| | Apollo Hospitals, Hyderabad, India |
| | Indraprastha Apollo Hospital, Delhi, India |
| | Apollo Gleneagles Hospital, Kolkata, India |
| | Wockhardt Hospital, Mumbai, India |
| | Fortis Hospital, Delhi, India |
| | Fortis Hospital, Mohali, India |
| | Fortis Hospital, Noida, India |
| | Escorts Heart Institute Hospital, Delhi, India |
| | Artemis Hospital, Gurgaon ( Delhi ) , India |
| | Max Devki Devi Heart and Vascular hospital, Delhi, India |
| | BGS Global Hospital, Bangalore, India |
| | BGS Global Hospital, Chennai, India |
| | BGS Global Hospital, Hyderabad, India |

For more information, medical assessment and medical quote send your detailed medical history and medical reports
as email attachment to
Email : - info@wecareindia.com
Call: +91 9029304141 (10 am. To 8 pm. IST)
(Only for international patients seeking treatment in India)
For a detailed evaluation send patientís medical reports / X rays / doctors notes to info@wecareindia.com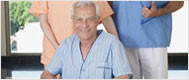 Patient Storys
Successful heart surgery at We Care India partner hospital allows Robert Clarke to live a normal life despite a rare genetic disorder We Care india helped Robert find best super specialised surgeon for his rare conditions.

Read : Robert's Story
See All : Patient's Success Stories


Related Link
Group Websites
Find us on