Facilities at Fortis Hospital, Delhi
Facilities
Medical Facilities
Blood Transfusion Services
Emergency Services
Pathology Lab
Fortis Healthcare announces the 64 - Slice volume CT Heart Scan
Radiology Department - Managed by Mahajan Imaging Center
Nuclear Medicine Department
Blood Transfusion Services
Pathology Lab
Emergency Services
Physiotherapy
Fortis Healthcare announces the 64 - Slice volume CT Heart Scan
Radiology Department - Managed by Mahajan Imaging Center.
Nuclear Medicine Department
Non Medical Facilities
Chemist Shop
Book Shop
ATM
Business Centre



Medical Facilities





Blood Transfusion Services : -



All the infectious diseases are tested in our blood bank with the State of The Art Fully Automated System Vitros ECi from M/s Ortho Clinical Diagnostics based upon Enhanced Chemiluminescence Technology.

Your blood is processed into Blood Components on Optipress II from M/s Baxter Inc., USA. This system is used to prepare Leucoreduced Blood products so that there is minimal chance of allergic reactions to the patients receiving the blood transfusion. Blood is separated into three Components i.e., Red Blood Cells Concentrate, Platelet Concentrate and Plasma. Different patients get different Blood Components according to their specific requirements. This optimizes the use of blood and also effectively benefits the patients.

The donor's blood is cross-matched with the patient's blood sample by state-of-the-art Column Agglutination Technology (Glass Bead Technology) from M/s Ortho Clinical Diagnostics and Gel Technology from M/s Grifols, which ensures the safest blood transfusion.

With the advent of Cell Separators (Amicus from M/s Baxter Inc USA), we can draw a particular component from the donor directly and rest of the constituents goes back to the donor. Such a facility exists in our Blood Bank. Through this latest Technology you can donate your platelets or plasma every 48 hours (24 times in a year).

After blood donation every voluntary blood donor gets his blood report.



Emergency Services : -



Fortis Healthcare' Flt. Lt. Rajan Dhall Hospital has one of the most comprehensive Emergency services. The Emergency facilities include a 24x7 Emergency bay equipped with life-saving devices. The hospital is also equipped with high-end Cardiac ambulances for speedy evacuation.



Pathology Lab : -



SRL Ranbaxy - India's Largest Pathology Laboratory Network, manages the Pathology Laboratory at Fortis Healthcare flt. Lt. Rajan Dhall Hospital. The hospital's in house laboratory has an extensive test menu meant to cater to the hospital's vast range of super specialities. The laboratory attempts to provide under one roof, a range of tests, numbering over 3000, based on 95 technologies, covering most diseases known to man. The tests menu includes Clinical and Special Chemistry, Haematology, Blood Coagulation Studies, Microbiology, Infectious Disease Serology, Autoimmune Disorders, Endocrinology, Surgical Pathology, Cytology, Oncology, Molecular Diagnostics, Cytogenesis, Immuno-histochemistry (IHC), Radioimmunoassays, Chemiluminescence and Polymerase Chain Reaction.

The in-house laboratory is manned 24hrs by a dedicated team comprising of 3 doctors as well as trained scientific and support staff. The laboratory fully complies with the company's belief in quality assurance and accreditation. Each test offered in the menu has passed through extensive validation protocols carried out for the instrument as well as reagents.


Some of the other facilities available at the hospital : -
Blood Bank

: - Fully automated Blood Bank




Fortis Healthcare announces the 64 - Slice volume CT Heart Scan : -



At its Vasant Kunj facility. Get non- invasive, high resolution Angiography with Triple Heart 'Rule Out ' in just 5 Heartbeats

Amazingly accurate 3 - D imaging from a beating heart. The state- of the art 64 slice achieve true volumetric, 3- dimensional scanning of the heart in only 5 heartbeats-providing, almost instantaneously, unprecedented image quality. The high-resolution imaging allows early detection of even slight narrowings in the heart vessels. With this advanced machine, every routine CT scan is a 3 - D image. It takes only 5 second and one breath hold for the whole scan.

Get a triple heart 'rule out'. The 64- Slice VCT heart scan at Fortis Healthcare provides, in a single rotation, high quality imaging that allows your doctor to examine for the three critical causes of serious heart condition such as : Coronary Artery Disease, Pulmonary Embolism and Aortic Dissection . The speed and accuracy enables a quick and reassuring clearance, or treatment prescribed speedily that can often be life-saving.

Angiography the non-invasive way with the world's fastest CT scanning.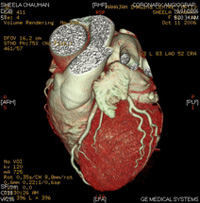 Instruction for 64 Slice MDCT coronary Angiography : -
Patient to come with prior appointment.
Patients above the age of the 50 yrs are recommended to have BUN and serum creatinine checked.
On day of examination : -
Nil orally for 4 hours (no tea or coffee)
To carry all recent reports (ECG, 2 D echocardiography, TMT)
To take 50 mg of Beta-blocker after consultation with cardiologist /radiologist to reduce the heart rate at the time of scan.
Patients having known allergies to contrast media/ other drugs should inform the radiologist before the scan.
What is CT coronary angiogram ?


A simple non invasive method to evaluate the status of the coronary vessels that supply the heart by ultra fast 64 slice per rotation Multislice CT scanner. The state of the art 64 -Slice achieves a true volumetric, 3-dimensional scanning of the heart in only 5 heartbeats- providing, almost instantaneously, unprecedented image quality.


Use of Beta Blockers a premedication : -
Pulse, BP is evaluated and oral metaprolol (50 mg or 100 mg) is given 1hour prior to the time of appointment.
It the heart rate does not fall below 65, an additional oral dose of 25 mg to 50 mg is given and provided his BP is not compromised. Optimal heart rate is around 65 bpm.
Scan can be performed on higher heart rate only if it is regular and there is no beat- to beat variation.
How is CT coronary angiogram done ?


The patient is put comfortable on a CT scanner table and a baseline calcium score is calculated in a few seconds. Following this contrast is injected in one of the peripheral veins with online ECG monitoring .The images required for a CT coronary angiogram are obtained in one single breath hold within 5 second. Subsequently processed, peformatted, analyzed and evaluated on a workstation. The inferences proved the radiologist an accurate picture of the heart and the coronary vessels that supply it. They are evaluated for narrowing, blockage, presence of different varieties of plaque (stable/ unstable). The status of the various chambers of the heart, cardiac muscles, and the main vessels carrying to and from the heart can also be easily seen. It is an excellent investigation to evaluate post-operative grafts , stents, and to exclude non-cardiac causes of chest pain.


Who should undergo a CT coronary angiography ?
All patient with high risk factors are potential candidates
Those who have cardiac risk factors such as high blood pressure ,diabetes and smoking.
Those with suspected heart disease, due to abnormality in non -invasive testing such as TMT.
Those who have undergone by-pass surgery and require a post -operative evaluation of their heart condition.
Patient having a strong family history of heart disease, diabetics, heavy smokers, high blood obesity, high cholesterol/ triglycerides, alcoholics and those in high stress and tension jobs.




Radiology Department - Managed by Mahajan Imaging Center : -



The biggest recent technological leap in imaging and arguably, the most phenomenal preventive heart check is now close by, in the department of radiology & imaging, at Fortis Healthcare fl. Lt. Rajan Dhall Hospital. It comes with the most reassuring news for those who are apprehensive about undergoing conventional Angiography. At Fortis Healthcare, all the latest imaging facilities are available with state of the art technology, patient care and professional expertise.

DR. HARSH MAHAJAN MD, Padma Shri, Honorary Radiologist to the President of India is the Director of the imaging department.


Facilities available : -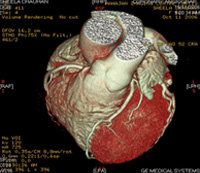 5 second Heart scan
64 slice MDCT
Dual Head SPECT Gamma Camera
Ultrasound with colour Doppler
Portable Ultrasound
Digital X-Rays
Portable x-rays
500 mA image -intensifier with digital system
Digital Mammography
DEXA Bone densitometry
Faculty
Dr. Harsh mahajan (Director)
Radio-diagnosis
Dr. Usha kaul (Senior consultant)
Dr. Pratibha s. Shad (Senior consultant)
Dr. Suman singhal (Senior consultant)
Dr. Tushar chandra (Junior consultant)
Nuclear Medicine
Dr. Parul mohan (Senior consultant)
Dr. Vivek pathak (Senior resident)
Contact us

B-1, Vasant Kunj,
New Delhi-110070
Tel:42776222
Ext. 5814,5815,5816.



Nuclear Medicine Department



The Nuclear Medicine Department is a state-of-the-art facility, equipped with the Millennium - MG dual head variable geometry all digital SPECT gamma camera from GE Medical Systems. One of the best gamma cameras available today, the Millennium - MG, is designed to meet the clinical requirements of the future as effortlessly as it meets those of today. This provides quick examination with least patient discomfort. The forte of Nuclear Medicine has always been the ability to give accurate information about the functional status of an organ. The advanced technology of the Millennium - MG system combines this information with excellent anatomical delineation giving the physician a total picture about the structural and functional aspects of a disease. Whether it is Cardiac imaging for ischemic heart diseases or high-resolution SPECT brain imaging for diseases such as Alzheimers and parkinsonism or scanning for cancer or infections, the information provided gives invaluable help and direction to the treating doctors.

In addition to diagnostic imaging the centre is also involved in radioactive therapy for diseases such as thyrotoxicosis and painful bony secondaries on an out-patient basis.

Equipped with the most modern equipment and dedicated staff, the Nuclear medicine Department of Fortis Healthcare, Flt.Lt. Rajan Dhall Hospital is arguably one of the best and most comprehensive Nuclear Medicine Centres in the country today. Taking full advantage of the most advanced technologies available, it is poised to be at the forefront of medical imaging and diagnostic services in the new millenium.



List of Investigations
Cadiothoracic Vascular System
Gated Stress Myocardial
Perfusion Study
Venography
Lymphangiography
Stress Muga
RESTING MUGA
Respiratory System
Lung Ventilation & Perfusionlung Ventilation
Lung Perfusion
Genito Urinary System
Dtpa scan
Captopril dtpa study for
Screening of rental ht
Dmsa scan drcg with uroflowmetry
Transplant evaluation
Testicualr scan
Skeletal system
Bone Scan
Spect Bone Scan
Bone marrow imaging
P-32 theraphy for bone metsstrontium theraphy for bone metastases
Thyroid Imaging
99m CT Thyroid Scan I-131 Whole Body Scan
I-131 Theraphy For
Thyrotoxicosis
Gastrointestinal Tract Blood Pool Study For
Gi bleed
Gastro esophageal reflux
Study gastric emptying
Ger and gastric emptying
Hepatobiliary scan
Meckel's study
Salivary Gland Study
Liver and spleen imaging
Liver and spleen imaging with spect
Brain
Hmpao brain spect
Ictal brain spect
Ecd brain spect
Radionuclide cisternography
For csf leak
Spect for brain tumour recurrence
Mibi
Gha
Tumour imaging
Gallium scan
1-131 mibg scan (urgent)
1-131 mibg scan (routine)
Parathyroid scan octreotide scan scintimammography




Instructions For Nuclear Medicine Scans



Providing safe, quality patient care is our highest priority. To help ensure quality and safety, we ask that you do not bring young children with you to your appointments, as children are not allowed to accompany you during imaging procedures. Staff is unable to monitor your child in your absence.

Before your scan, you should tell your physician if you are pregnant or nursing.



Instructions For Stress Myocardial Perfusion Study




You can consume 1 cup of tea/ coffee with 2 biscuits/toasts at 7 a.m. & then remain fasting (No restriction for water).
Before the test, Please stop :
Calcium Channel Blockers for 72 hrs.
Beta Blockers for 48 hrs.
Nitrates for 24 hrs.



Protocol for Stress Myocardial perfusion study



This scan is done to estimate the amount of blood reaching the heart muscles during rest and exercise. It is typically done for people with unexplained chest pain or to determine the location and amount of injured heart muscle after a heart attack.

This scan is done in two parts, STRESS and REST .

Total time required is about 5 to 6 hours depending upon the clearance of the injected radio- tracer from the liver.



Instructions For DTPA Renogram




DTPA Renogram : -

This test studies the functioning status of your kidneys.

Before you attend for your appointment please drink plenty of fluids. There is no need to hold the urine.

Duration : - 30 minutes. If your kidneys are slow to empty, we may wish to take another image later in the day or till 24 hours.



Instructions For DMSA Scan




DMSA Scan : -

The DMSA scan looks at the kidney structure.

Before you attend for your appointment please drink plenty of fluids

Duration: Approx. 3-4 hours



Instructions For Bone scan




Bone scan : -

Primarily the bone scan is useful in assessing any condition affecting the skeleton.

Duration : - After the initial consultation you will be required to return 2-4 hours later (for approx.1 hour)

Preparation : - Please drink plenty of fluids just before your appointment



Instructions For VQ scan




Lung Scan : -

Duration : - approx. 1 hour

Preparation : - No preparation. You may eat and drink normally



Hepatobiliary Scan



Patient must be fasting (NPO) for a least 4 hours. Imaging is begun with the injection. A series of images may be obtained at 2 hours, 4 hours and 24 hours. Patients booked for hepatobiliary studies with the question of biliary atresia or neonatal hepatitis do not need to be NPO.



Branches of Fortis Hospitals in India : -

For more information, medical assessment and medical quote send your detailed medical history and medical reports
as email attachment to
Email : - info@wecareindia.com
Call: +91 9029304141 (10 am. To 8 pm. IST)
(Only for international patients seeking treatment in India)
For a detailed evaluation send patientís medical reports / X rays / doctors notes to info@wecareindia.com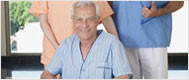 Patient Storys
Successful heart surgery at We Care India partner hospital allows Robert Clarke to live a normal life despite a rare genetic disorder We Care india helped Robert find best super specialised surgeon for his rare conditions.

Read : Robert's Story
See All : Patient's Success Stories


Related Link
Group Websites
Find us on