Medical Milestones of the Fortis Hospital, Delhi

"Dr. Ashok Rajgopal, Director of the Orthopaedics Department Fortis Hospitals, New Delhi recently conducted an ankle replacement surgery on a 32-year-old woman, who was suffering from pain in her left ankle due to an accident. Dr Rajgopal tells Shikha Swaroop all about the procedure, which is a first for India."




How does ankle replacement work? Please give us the details of the surgery ?



An ankle replacement works by removing the worn out joint surfaces which are responsible for generating the pain. As a result, the ankle symptoms disappear and when an ankle replacement is performed, the worn out joint surfaces of the end of' the shin bone "tibia" and top of the ankle bone "talus" are removed. This is performed with precise instruments to create a level surface for the implanted prosthesis. The surgeon then places a metal and plastic implant in to the bone ends to function as a new ankle joint.



What is the percentage of Indians suffering from ankle related ailment ?



Of all the patients visiting a busy orthopaedics OPT, ankle pain and related problems account for 1 5-17% of the footfalls.



Is the surgery only applicable to accident cases or also to chronic ankle pain ?



Any condition resulting in a painful ankle with stiffness and restriction of ranges calls for a surgical opinion. The causative condition could he long standing injury, arthritis or any related disorder.

There are several surgical options available for a painful ankle and the choice of surgery depends upon the condition for which treatment is being done.

The surgical options available are : -
Arthroscopy
Realignment surgery
Ankle Fusion
Arthroplasty



Is the normal wear and rear or exhaustion of synovial fluid anyway responsible for ankle related ailment? How relevant is arthroplasty in chronic case ?



Ankle arthroplasty is the treatment of choice for patients desiring a pain-free and a mobile ankle joint.



What is the cost factor of the surgery ?



The cost of the surgery is about Rs 2 lakh.



How much time does it take to bounce back to normal life after arthroplasty ?



Pressure on the ankle replacement must be limited with the use of a walker or crutches for several weeks. Complete recovery from an ankle replacement takes about three months.



What is the precaution one should take after undergoing arthroplasty ?




Precautions to be kept in mind after the surgery are : -
Regular exercises are a must in order to strengthen the ankle muscles and to increase the range of movement.
The patient should be careful not to fall or twist the ankle.
Footwear needs to be comfortable and sensible. The patients would he well advised to wear shoes that fit well and support the ankle joint. Sharp and high heels are to be avoided.
The patients should control their weight as far as possible.

13th Dec 2007, Thursday - 10.00am- 4.00pm

Heart Check up camp at Delhi Bar Association, Room No 18, Delhi High Court.
The camp was inaugurated by Chief Justice of Delhi High Court.
Total no. of registration 250.
Dr Ripen Gupta, Dr Abid & Dr Munir participated in the camp.
Services offered: Ht, Wt. BP, Blood Sugar (R), BMI, General Check up, Cardiology consultation, Diet Counselling, ECG & ECHO.
FHVK marketing material were distributed to the bar association members.& our ambulance was also stationed at the venue.

News & Events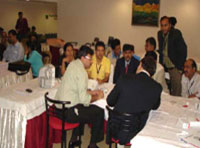 29th Nov 2007

: - 9th National Congress on Pediatric Critical Care was held at FHVK training room in Vth Floor from 9:00 am to 5:00 pm. This session was attended by 35 delegates followed by procedures. Workshops at different workstations were held in MICU & Multi - Speciality OPD Area. Dr. Peter Cox & Dr. Bala Ramachandran were distinguished Faculty speakers of this event.


What's New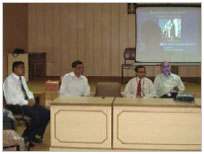 A CME was conducted in Rohtak with API.

Dr. Amit K Mandal (Consultant - Pulmono- logy) delivered a lecture on "Role of Lung Biopsy".

Dr. Pinak Shrikhande (Consultant - Critical Care) talked on "Management in Hypertension Crisis".

Dr. Sanjeev Gulati (Sr. Consultant - Nephrology) talked on "Recent Advances in Management of Renal Hypertension"


What's New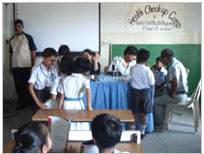 FFLRDH organized a Free School Health Check Up in CCA (Col. Central Academy School), Sec 4, Gurgaon.

We examined total of 480 Students (1st to 5th standard). A General check up (Height & Weight) was done along with few consultations. The whole effort was supported by Pediatric, Dental, psychology, Nursing and marketing departments.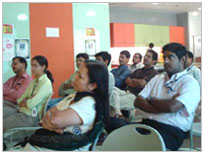 We organized a Health Talk in Cairn Energy, Gurgaon by Ms Rupali Datta (Chief Clinical Nutritionist). The topic was "Food as a tool for Wellness".






What's New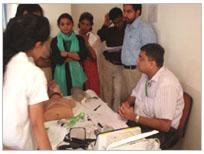 Fortis Healthcare vasantKunj and Apollo Hospital Delhi together, organized a workshop in BLS / ACLS for 3 days. There were approx 40 members in this workshop. It was conducted in Training Room .102, Fortis Healthcare, Vasantkunj. The major participants were from Fortis Healthcare mohali, Fortis Healthcare noida, Fortis-Escorts Jaipur, Fortis Healthcare vasantKunj and Apollo Hospital.



News & Events



Organised a Health Camp in Deepalay School, Gole Kuaa. Opp F- 33, Ohkla Phase I from 9:30am to 2:30 pm. A General Check Up was done for students which include Height; Weight & BP Check up & Consultation by Pediatric Consultant & Screening was done by Dental Department. Consultants which participated in the camp were Dr Kulraj Kapoor, Dr Sangeeta Subhudhi, Dr Nipun Kashyap from Pediatric Department Dr Priyanka & Dr Sangeeta participated from Dental Department .Ms Binu , Mr. Alex & Mr. Roshan participated in the camp from Nursing Department & Ms Jasmin & Mr. Rehman from Marketing Department.



News & Events




21st Jan 2008 : -
Organizing a Guest Lecture on Organ Donation Awareness - Australian Perspective by Milind Sanab, Consultant, Critical Care, Lyell MC Weni Hospital, Adelaide.
It was organized at FHVK in 5th Floor, Training Room.
Session was chaired by Dr R.K Mani, Director Pulmonogy & Dr S. Bal, Associate Director, Pulmonogy & Thoracic Surgery.
42 doctors attended this Scientific Session.
10th Jan 2008 - 9th Feb 2008
To address the growing problem of Bones and Joint related ailments with in the community, Fortis Hospital at Vasant Kunj has taken an initiative in recognizing the month of Jan 2008 as "Healthy Bone & Joint Month" from 10th Jan to 9th Feb 08. This endeavour is aimed at generating awareness with regard to early detection, prevention & treatment of Bones & Joints related Diseases, including Osteoporosis within the community.


The salient features of the campaign are : -
30% discount on Bone Dexa Scan.
Free Orthopaedic Consultation from 2 pm to 5 pm.
Specially created Bone/Joint Screening Packages available @ Rs. 2200- ( Attachment ).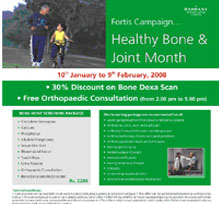 Branches of Fortis Hospitals in India : -

For more information, medical assessment and medical quote send your detailed medical history and medical reports
as email attachment to
Email : - info@wecareindia.com
Call: +91 9029304141 (10 am. To 8 pm. IST)
(Only for international patients seeking treatment in India)
For a detailed evaluation send patientís medical reports / X rays / doctors notes to info@wecareindia.com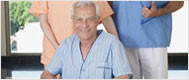 Patient Storys
Successful heart surgery at We Care India partner hospital allows Robert Clarke to live a normal life despite a rare genetic disorder We Care india helped Robert find best super specialised surgeon for his rare conditions.

Read : Robert's Story
See All : Patient's Success Stories


Related Link
Group Websites
Find us on