Testimonials of patients at Fortis Hospital, Delhi
04 Year Old Woman Gets Hip Replaced Successfully At Fortis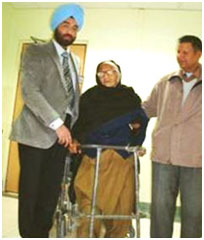 Mohali, December29

: - Fortis Hospital, Mohali announced the successful hip replacement surgery on 104 year old Chanan Devi. The complicated surgery was conducted by Dr. Harsimran Singh, Joint Replacement Surgeon, Fortis Hospital, Mohali.

Born in 1904 at Dhaliwal, Mrs. Chanan Devi has seen India liberate itself from the shackles of slavery to becoming a technological superpower. Despite her advanced age, Chanan Devi used to perform all household chores on her own. Unfortunately, she had a fall at home 2 weeks ago and fractured her hip bone. As a result, she was confined to bed and was in immense pain.

She came to Fortis Hospital, Mohali, with the hope of getting cured of her misery and her case was taken up as a personal challenge by Dr. Harsimran Singh. Considering her delicate age, the surgery had to be done very meticulously and with the least amount of trauma to her. After detailed pre-operative planning, it was decided to perform a "Minimally Invasive" hip replacement surgery and Chanan Devi was operated on December 29. Because of the detailed planning done, the surgery took just 37 minutes and only 100 ml of blood loss occurred. Chanan Devi was allowed to stand with support just 24 hours after the surgery.

"I am very happy that Chanan Devi-ji will be able to live a good quality life again," stated Dr. Harsimran Singh. "The last decade has seen tremendous advances in the field of joint replacement surgery and because Fortis has invested in the latest state-of-the-art equipment, a joint replacement here has become a fairly safe and predictable procedure. Gone are the days when the elderly would be forced to be confined to bed in case of fractures or other joint related problems. Today, they can lead normal lives and their family and they can enjoy the good times together."

Talking about a similar surgery conducted by him recently, Dr. Harsimran Singh said, "90 year old Mrs. Surjit Kaur got her hip joint replaced at Fortis Hospital last month. Within a week of the surgery, she was discharged from the Hospital and is back at home with her family."

Surjit Kaur's son, Brigadier M.S. Aujla expressed his gratitude saying, "The surgery went off well and was followed up with a session of physiotherapy which enabled her to walk. Since she is 90, we had thought recovery would be slow, but it is good to see a positive change."

According to Dr. Ashish Banerji, Director, Fortis Hospital, Mohali, "Our objective is to bring the best of health care to the people of the region and we will continue to invest in world-class equipment, doctors, paramedical and support staff to achieve this objective."


Landmark Suregery Performed At FHM, November 14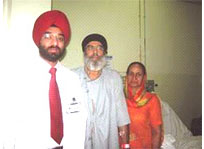 A team of Dr. G.S. Kalra, Dr. Arvind Sahni, Dr Adarsh Swami and Dr Harsimran Singh performed a land mark surgery on a complicated case of Mr. Gurcharan Singh, who underwent a Heart Transplant in Canada a couple of years back. With a medical history of chronic heart attacks, Hepatitis B and immuno-suppresment drugs, Mr.Gurcharan Singh, a Canada based NRI patient was a highly challenging case for the hip replacement surgeon.

The patient found an answer to his agony at Fortis Hospital Mohali. He underwent Minimal Invasive Hip Replacement Surgery by Dr Harsimran Singh, Joint Replacement Surgeon, under the expert monitoring of Cardiologist Dr. Kalra, Gastroenterologist- Dr. Arvind Sahni and Anesthetist Dr. Adarsh Swami. Mr. Gurcharan Singh is fast recovering and extremely happy with his treatment at FHM.

Speaking about the complexity of the case, Dr. Swami said, "This case was one of the most challenging ones. Due to the heart transplant, all the nerves going to his heart had been cut due to which all the medicines which would act on a normal heart would not have been effective in this case. Hence, we had to plan our anesthesia accordingly".


Successful Surgery By Dr. Manuj Wadhwa Ends All Thoughts Of Mercy Killing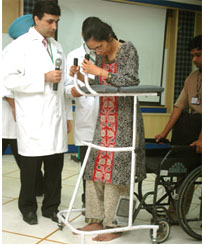 There Is A Ray of Hope In Everyone in Life: Seema Sood

Bed-ridden for 15 years, Seema is now looking forward to rebuilding her life after her successful surgery at Fortis Hospital, Mohali which has enabled her to walk again



July 10, 2008

: - "There's a ray of hope for everyone in life, no matter how big the problems he or she may be facing and a positive attitude can be of immense help," said 37 year old Seema Sood, who had been bed-ridden for the last 15 years with Rheumatoid Arthritis. Having given up all hopes of ever being able to live a quality life, Seema today is brimming with confidence and a positive energy, ready to face all the odds and rebuild her life. And the reason for her confidence is a successful Total Knee Replacement Surgery (TKR) at Fortis Hospital, Mohali done by an eminent Joint Replacement Surgeon who has conducted the maximum number of TKR's in Punjab this year - Dr. Manuj Wadhwa, Senior Consultant Orthopedic Surgeon, Fortis Hospital, Mohali. Incidentally, this is also the 1000th TKR conducted by Dr. Wadhwa.

"For the past 15 years, my world was full of just pain and helplessness," said an emotional Seema. "With this crippling disease, all I could do was sit or lie down on my bed and take a few faltering, painful steps to go to the toilet. It was a very depressing state of affairs for my family and me and many times I would wonder what is the point of existing like this."

Seema had done her education from the prestigious BITS Pillani and was a Gold medalist. "However, in a cruel turn of events she got Rheumatoid Arthritis, which is a form of crippling arthritis with multiple joints getting involved," stated Dr. Wadhwa. "In her case of advance Rheumatoid Arthritisas, she was bed ridden as her knees, hips, shoulder, elbow and small joints of hand and feet had become deformed, swollen and painful. The bones forming her knees joint had lost total mobility and were a fixed mass, making it difficult for her to even stand or take a few steps. Similarly, her hip joints were also destroyed, making her hip movements very painful and restricted."

"When Seema first came to Fortis, she was bed-ridden and wheel chair bound and severely depressed because of her compromised quality of life at such a young age. The young 37 years old lady weighed only 40 kgs. Her case was complex because she had multiple joint involvement, her bones were severely fragile and osteoporotic, her joints had lost mobility and were fixed and her muscles were atomic and weak because she had been immobile for many years. It was a very challenging and rare case, indeed," Dr. Wadhwa said.

"After a thorough evaluation, a planned protocol was made for her in which the primary objective was to make her stand and walk and bring her confidence in herself back," stated Dr. Wadhwa. "Hence, the toughest part - handling of the knees - was taken up first. A single sitting bilateral TKR was performed on her. This surgery was technically very demanding because it meant operating on fixed knees in a severely osteoporosis patient who already had damaged hips. There was a high chance of intra-operative fractures of involved bones (thigh and leg). The surgery was successful and she can begin to walk now. Subsequently, her hip joints will be taken for intervention. What is extremely important is that Seema gets well-planned, supervised and extensive physiotherapy and rehabilitation now," Dr. Wadhwa added.

"What is very important is that all of us must realize that we should never give up," stated Seema. "Take my own case. If I had taken some positive steps towards getting myself treated by experts, I may not have wasted so many years of my life. I would like to advise anyone who is facing an equally serious situation anywhere in the world to not waste time, move with a positive attitude and seek medical help wherever he or she is. Medical science has made tremendous strides and can be of great help. Do not let doubts or misgivings stop you from bringing sunshine back into your life."

"When I came here to Chandigarh and Fortis, I was very nervous and full of negative thoughts," said Seema. "What if the surgery does not work, what will I do? I was able to sit and take a few steps with difficulty.what would happen if I could not even do that after the surgery? These were the frightening thoughts that revolved in my mind. But I am glad that I overcame them. I know there are more surgeries ahead which will be painful, but now I am ready to face them smilingly. And that is my appeal and request to everyone. face your troubles with a smile and you will find that they will become smaller and you will be well on their way towards overcoming them," she added.

According to Dr. Ashok Chordiya, Medical Director, Fortis Hospital, Mohali "We are indeed happy that our team has been able to successfully perform this rare surgery and Seema can now look at walking again. It is in cases like this that we feel even more proud of all the huge investments made by us in the latest state-of-the-art equipment and building a highly experienced and dedicated team. We look forward to being of further service to Seema and the people of the region."



Rare Surgery At Fhm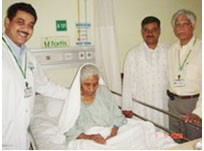 75 year old Vidya Devi has much to be grateful for. Widow of a World War II veteran Late Shri Bishan Das Sharma, she has a son who has taken her from one hospital to another in Pathankot and Kangra, finally finding his way with his dying mother to Fortis Hospital Mohali, to save her from a completely disabling condition of DIAPHRAGMATIC HERNIA. With little hope of survival rendered by local doctors, her oldest son Yog Raj carried her in a critical condition to Dr Atul Joshi's clinic, having heard of his expertise from a friend in the village. Despite the very critical condition of the patient, Dr Atul Joshi, for the first time in the history of FHM, carried out a complicated Diaphragmatic Hernia Laproscopy, and a week later Vidya Devi is limping out of the hospital, smiling at the sympathetic doctors and nurses and generously showering her blessings on Dr Joshi.

Laparoscopy at its best can be exemplified in this case where the chest wall diaphragmatic hernia was repaired with the help of mesh placement for the very first time in this hospital. The highly skillful surgery took about two and a half hours to be conducted. "This is a high risk operation and I had to take the patients' son's consent with regards to the dangers and risks involved in the operation. Most surgeons from other hospitals were not willing to touch this patient, as the stakes were very high even for an open repair. This patient came with multiple medical complexities and was a very high risk patient. We decided to pass on the laparoscopic advantage to this patient. It is with considerable pride the surgeons at this hospital claim excellence in minimal access. Most of advanced laparoscopic procedures are being successfully done. I am grateful to the family who reposed enough trust in my capabilities. We were amply supported by excellent cardiac back up and Pulmonology services. Anesthesia during the surgery and later has also been a challenge and was competently handled" said Dr Joshi.


50 year old lady treated for gall bladder in Fortis Mohali successfully, by Dr. Atul Joshi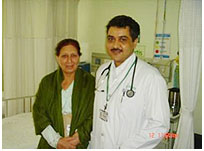 April 18,2008

: - This time, sincere appreciation for Dr. Atul Joshi came from patient Mrs. Kuljinder Kaur Satia, a 50 year old Indian who is now a resident of USA. Mrs Kuljinder Satia had been suffering for the last 6 months in the US where she was advised gall bladder removal. She continued to have persistent symptoms, namely vomiting , bloating sensation, loss of weight so much so that she could not consume any solids and very small quantities if fluids. She was completely fed up of numerous visits to hospitals in USA. Changing hospitals frequently didn't help her.

She was so frustrated with things that she decided to come to India for treatment and get her gall bladder removed. She met Dr. Atul Joshi and told him the same. After examination of the patient and studying her history in details Dr. Joshi could suspect that she was suffering from features of obstruction in the stomach. He took the help of gastroenterologist Dr. Mohnish Chabbra who did an endoscopy on her and gave the diagnosis of large diaphragmatic hernia with rotation of the stomach. This was later confirmed on radiological tests. Mrs. Satia was advised to undergo two surgeries, one of gall bladder removal and the other of diaphragmatic hernia repair. The pros and cons of this case were well explained well to her. It was anticipated that she might have to be given intensive care for respiratory problems which fortunately she did not need. She had a comfortable recovery and is up and about sharing her gratitude and happiness with everyone in and outside the hospital.

Here is what Mrs. Satia has to say: "I am highly impressed with the infrastructure available at Fortis Hospital Mohali and the world class medical care and amazing doctors available in this part of the country. I was immediately attended to and all my test reports and investigations were done on the very same day. The apprehensions of my relatives regarding the high expensive treatment available at Fortis were put to rest. The cost incurred here was barely one-tenth of the amount I would have to pay in the US. The team of doctors and medical specialists is par excellence and so are the nurses who have given me world class treatment and comfort. The non-medical and administrative staff is truly empathetic and cooperative. In such a short time my recovery has been possible and I am deeply indebted to Dr Atul and his team. I would definitely like to make a monetary contribution as a token of gratitude and appreciation for Fortis Hospital Mohali."


Press conference at Mother Teresa's Home, case of baby Suman, February 19- FHM and Mother Teresa's Home give 5 month old Suman a new lease of life.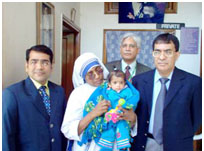 This heart-rending story is that of a frail 3 month old child who was brought to Mother Teresa's convent, Chandigarh in August last year. The mother of the child already had 2 girl children and could not afford to rear another child. The infant had multiple symptoms and birth-related defects such as respiratory track infection, would not accept feed, had breathing problems and was not growing as a normal child. The birth weight of the child was abnormally low and the child was showing no symptoms of growth. This is medically termed as 'failure to thriving'. She was diagnosed with a respiratory tract infection and was initially admitted to a Government Hospital. Thereafter, she was shifted to Fortis Hospital Mohali.

The baby was referred to Fortis Hospital Mohali by Sister Prabha and Fortis took on this case as a special initiative for Suman. The baby was operated upon on January 15, 2008. The 3 hour surgery was conducted by Dr. T S Mahant.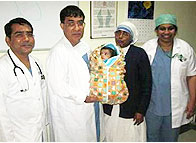 What made the surgery exceptionally challenging was the very tender age of the baby. Suman was weighing only 3 kg and a frail and weak child. At Fortis, her respiratory track infection was treated. A thorough cardiac evaluation was conducted on her by a team of doctors and she was detected with a complex congenital problem - Ventricular Septal Defect (VSD). Suman required a VSD surgery to be done on her immediately. "This child will lead a normal life. She would be inoperable if timely surgery had not been done. After a certain period the surgery cannot be performed as the pressure in the lungs becomes very high. Survival becomes difficult in most cases" asserts Dr. Mahant.

The baby is recovering well. Fortis will also do free follow-ups for Suman for the next five years. Fortis Hospital, Mohali also announced that it would hold a medical health check up camp every three months at the Mother Teresa's Convent, Chandigarh. After the surgery, Suman was monitored and treated in pediatric cardiac ICU under the supervision and care of Dr. Sanjay Bhalerao till she started recovering gradually. Within one month, she has gained body weight and now she is growing well.

A press conference was held regarding this path-breaking surgery at the Mother Teresa Convent in Chandigarh. This event caught a lot of media attention.



CHETNA initiative: Case of baby Suman: January 2008


Chetna is FHM's special project for the underprivileged girl child. Started on the International Day for the Girl Child, September 24, 2006, the project looks into the overall healthcare issues of girl children in the North with a special focus on cardiac problems. There have been five cases taken care by Chetna out of which four were cardiac cases & one of them required physiotherapy treatment. All the four Chetna surgeries were performed by Dr TS Mahant.

Suman, a five months old baby was introduced by Ms. Prabhadevi R. Pillai, working as a senior Clinical Instructor in the department of Nursing Education at FHM. The baby belongs to Missionaries of Charity Mother Theresa's Convent, Chandigarh. Dr.G.S.Kalra suggested immediate surgery for the baby. Suman got admitted on January 11, 2008 and got discharged on January 23, 2008.

Health has been identified as a primary objective in the community development process. As a part of the healthcare initiatives counseling sessions, health camps are regularly held to promote general health and well-being in the community. Through this case FHM has promised the Mother Theresa's Convent that every third month FHM team will hold a medical health check up camp over there.


Fortis saves life of 20 year old Taashi with rare multiple aneurysms, January 20, 2008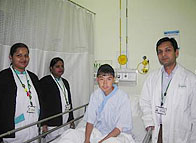 Fortis Hospital, Mohali today announced that it had successfully saved the life of 20 year old Taashi by conducting a series of intricate and complicated aneurysm surgeries on him. To save Taashi's life, a combination of open surgeries and key-hole surgeries were performed by a highly specialized team of Fortis comprising Dr Ravul Jindal, Dr Jagmohan Varma, Dr. Manoranjan Sahoo (Anesthetist ) and Rashmi Saluja (Anesthetist). In India, such complicated vascular surgeries are still not very common, especially because there are only 16 vascular surgeons in India. In fact, there are less than 50 cases like Taashi's published in the world literature so far.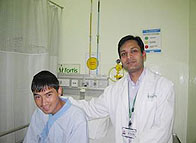 "In complex cases like these, timely detection is very important," stated Dr. Ravul Jindal. "Most patients do not survive either because the rupturing of aneurysms happens before the diagnosis or because of inadequate facilities. Team-work is very important and the success of these cases depends upon a highly experienced and dedicated team of physicians, surgeons and anesthetists," he pointed out.

According to Dr. Ashok Chordiya, "We are very happy that our team has been able to save a precious human life and made the investments made by us in state-of-the art-equipment and the best medical practices in the world, well worth it. At Fortis Hospital Mohali, we have conducted 28 vascular surgeries and 10 Aortic aneurysms. In fact, we are the only hospital in the four states of Punjab, Harayana, HP and J&K to have the facilities and expertise to perform these surgeries."


Three little guests from Pakistan go back home smiling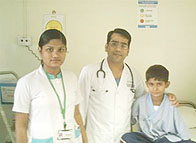 November 2007

: - This week three children who were here from Pakistan for Cardiac procedures, went back home, well and smiling.

November 2007 saw two children from Pakistan find their way to Fortis Hospital Mohali. Master Sachin Kumar, a 7 year old Pakistani boy was intermittently missing school because of frequent bouts of fever. Sachin's one leg and an arm would turn blue at times. His condition could not be diagnosed by the doctors in the small town of Sind in Pakistan. He then moved to Karachi for treatment where he was evaluated and diagnosed with Congenital Heart Disease. He came to Fortis Hospital Mohali with a history of recurrent respiratory infection. The child was admitted for the VSD closure. The surgery was performed by Dr. T.S. Mahant on 27th November 2007 after which the patient stabilized in PICU. The child recovered fairly fast and left FHM after a stay of three weeks.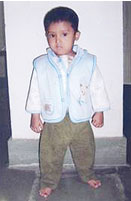 The second child, Master Mauvia Akhtar, a three year old Pakistani child was presented for cardiac evaluation in view of Cynotic Heart Disease. He had a history of bluish discoloration of body and recurrent respiratory track infection. Cardiac evaluation showed congenital heart disease. He was initially treated for respiratory track infection and then on 28th November 2007, he was taken for surgery (intra-cardiac repair), again performed by Dr. T.S. Mahant.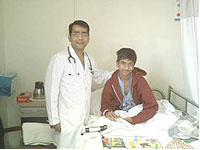 The third child Master Abdullah was advised not to undergo surgery as of now, and so he went back hale and hearty along with his other friends.

These surgeries were performed free of cost by FHM under the Fortis-Rotary collaborative project for underprivileged children, called 'Rotrary Childrens' Heartline'.


Timely intervention at Fortis Hospital, Mohali, a young Medico, Rahul Singla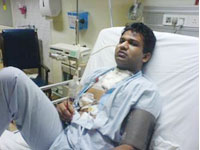 Nov 20, 2007

: - Hospitals are made of countless stories, some heart rending, some joyful, some of triumph, the others of loss, some of miracles and some of ordained catastrophes. Out of these there are a handful that stand out in the history of the hospital as extraordinary stories of success, where doctors/surgeons have battled with a hopeless case, resurrected the patient and sent him back home smiling. It is in such moments that the doctor takes the place of the benevolent protector, and although some may believe that it is really FATE that decides the outcome of medical intervention, the doctor does come to play a pivotal role in the scheme of destiny.

Here is one such story from FHM that has caught the attention of the electronic and print media this week: But for the timely intervention at Fortis Hospital, Mohali, a young Medico, Rahul Singla, would perhaps not have survived severe neck injury. Driving his two wheeler, Rahul, a final year Medical student at Patiala and son of an ENT specialist, suffered a life threatening slit throat injury when a loose wire accidentally got entangled in his neck. Acting promptly the emergency team at Patiala Medical College Hospital managed to secure his airway by pushing in an entotracheal tube into the distal end of totally transected wind pipe and the food pipe, while managing bleeding from major neck vessels by ligation and tight packing of the wound. He was then referred to Fortis Hospital emergency on ventilatory support. The team of doctors at FHM headed by Dr. Navin C. Raina and the Anesthesiologist Dr. Amit, after preliminary evaluation in the triage proceeded with surgical intervention. "It was indeed a challenge taking on this case in view of the complexity of the injury", remarks Dr. Raina. He further stated that operating on such cases requires extra-ordinary infrastructure and co-ordinated team work.

"We managed to primarily repair the transected wind pipe and the food pipe after controlling the bleeding and concluded the procedure by performing tracheostomy and feeding jejunostomy", explained Dr. Raina Speaking on the subject, Dr. Ashok Chordiya expressed satisfaction over the progress in general condition of the patient and stressed the need for swift transportation of such patient to tertiary care centers under strict medical supervision. Slit throat injuries are not too common particularly with total transection of the wind and the food pipe. The fact that Rahul is improving and likely to be discharged in a week's time from now is an indicator of recent advances in the surgical techniques and expertise of our doctors!



Rare neuro surgery performed on 3-year-old Gauri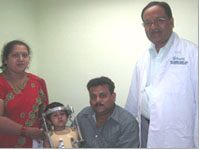 When Gauri was brought to Fortis Healthcare few months back, she had dislocation of joints at the Craniovertebral junction along with soft tissue mass compressing the neural structures. She had been suffering from neck pain for two years and had progressive weakness and numbness in all limbs for last six months. She was not able to walk and could not feed herself. Although she had been taking treatment empirically for tuberculosis, no signs of any improvement were there. According to Gauri's mother, "She had barely turned two years when she first complained of the pain in the neck and upper back region. Dismissing it as a general discomfort, we never anticipated it to be a symptom of a problem so big that could raise doubts on my little daughter's survival."

The happiness of the Gauri's parents knew no bounds when they were told that their 3-year-old girl is now absolutely fit and fine and can run around like other children. They had no words to express their gratitude to Dr. V K Jain who has brought back their smile by giving a second life to their daughter.

Approach to patients with these lesions is not easy and requires expertise. In the year 2003, Dr. VK Jain gave management protocol for the treatment of Craniovertebral junction Tuberculosis. The junction of the spine and cranium is complex both anatomically and the neural structures it houses. The part of the brain stem and cord which lies within exercises control over breathing and cardiac activity besides limb sensation and motor activity. The bony joints in this area control nodding and side-to-side rotatory movements. A disease involving this complex area presses upon the neural tissue leading to weakness and numbness in all four limbs and may be associated with respiratory compromise. Besides this, the movements at these joints get restricted.

The diseased bone and thickened pus was removed surgically through the oral cavity and this material was sent for histopathological examination which, confirmed tuberculosis. The bones, which were unstable, were fused using titanium wires from behind. This major surgery lasted for about 6 hours. She was given a halo vest for three months for fusion to occur completely. The antitubercular treatment would continue for about a year more. She has shown significant improvement and the scan reports have shown successful fusion. The halo vest has been removed and Gauri is at present able to play around like a normal child.


17-year-old Money gets a new lease of life after free cardiac surgery at FHM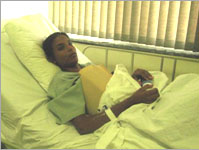 Little did 17 year old Money's parents, daily wage earners form Gurdaspur, know that a simple throat infection during Money's childhood could result into Rheumatic Heart Fever and in turn cause damage to her heart valves. Due to leakage in the heart valve, Money suffered from palpitations and breathlessness on slight exertion, which hampered her day-to-day activities. Her rhythm was irregular due to which she developed clot in her heart which lead to left sided stroke in 2005. She was evaluated at a hospital in Amritsar and was advised Mitral Valve Replacement at the earliest.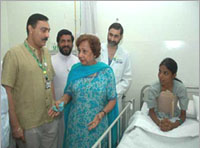 Since Money belonged to a poor family and her parents could not afford the expensive treatment, Father Roby, who had been helping the family since last 3 -4 years in arranging funds, approached The Tribune to reach out to the people for some financial assistance. Reading the story of her plight in the newspaper, Fortis Healthcare decided to help the girl by bearing the entire cost of surgery and offering her world class medical treatment. Money underwent Mitral Valve Replacement with a titanium valve at FHM on 30th July under Dr. TS Mahant and soon recuperated. She would be requiring regular medication to support her heart condition.

Lady Governer, Mrs. Jean Rodrigues who has also been closely involved with the case visted Money at FHM. She commended the Fortis Healthcare management for the great work that is being done at FHM for the underprivileged sections of the society.


3-year-old Laksh hale and heart after complex cardiac and neuro surgeries at Fortis Hospital Mohali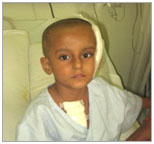 A 3-year-old baby boy, Laksh Monga was barely 2 months old when his struggle for life began. Infection of the chest with fever greeted this few months old little infant who was just beginning to respond to the numerous smiles around him. The much scared and concerned parents of Laksh , who were residing in Ferozpur, rushed him to a local Doctor. The doctor suspected some serious problem and advised the parents to get some tests done. Meanwhile, the little baby was given some medication and it gave some respite to him. Temporary relief to the baby and financial constraints kept delaying the tests until the problem re-occurred after 5 months.

Laksh again developed the same problem and finally the tests were done. The family was told that this tender sweet looking baby boy had a hole in his heart. The only way to save this baby was through a surgery, which by no means was affordable by the parents. This was a shock big enough to shatter them, but without losing hope and wasting any more time, the parents started to look for some kind of financial aid.

The happiness of the parents who were blessed with this little bundle of joy turned into a quest for running from pillar to pillar in search of appropriate medical help to save their son's life. A year went by, but no help was received. They even approached Sai Baba hospital in Bangalore in hope of free treatment but were told to wait for another year. When every minute seemed so precious, waiting for yet another year seemed impossible. Laksh's father who is earning a meagre salary in a pvt. Firm was helpless and asked his employer for some help. The employer approached Rotary and finally, the little baby's wailing parents'prayers were answered when Rotary Chandigarh in collaboration with Fortis Hospital Mohali offered to take up the case and provide with a complete free treatment to Laksh.

On 7th August, 2007, Laksh was brought to Fortis Hospital Mohali. Dr. T.S.Mahant. Executive Director Cardiac surgery to performed an Open Heart Surgery on him. But due to some abnormal behaviour detected in the baby post surgery, a CT scan was done and it revealed a blood clot with surrounding cerebral edema. A neuro surgical consult was undertaken and it was decided to take the child for emergency evacuation after craniotomy. Laksh underwent neurosurgery the very same day by Dr VK Jain, Director Neurosurgery.

Sunita (Laksh's mother) had tears in her eyes when she said,"We never thought our baby would get cured in a hospital which has the best doctors and where the whole staff is so kind and helpful. My son is recovering now and has started eating and walking a bit, too. He has even started recognizing people and things around."



After treatment at Fortis Healthcare, 36-yr-old man out of depression after 14 years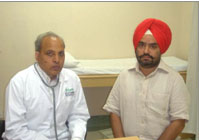 Trouble started for Kulwinder Singh, a resident of Tarkehri (on Nabha Road), when he developed fever in 1993. His symptoms were suspected of typhoid and he took some desi medication for 3 months.

He went to various doctors but his problem could not be diagnosed and he was prescribed heavy medication of steroids. Due to the intake of these steroids for almost five years, his condition kept deteriorating and when he first came to Fortis Hospital Mohali in 2005, his condition was very bad. He had Psychosis and Depression.

Besides immense mooning on his face, buffalo humps at the nape of his neck and his muscles had gone extremely weak, he was complaining acute spinal pain and bone density had gone extremely low.

He has severe advance oestroposis, hypertension, and increase in blood pressure, weak eyesight, impotency and depression. Because of this, his normal life activity had come to a standstill. He was unable to work and he even tried to commit suicide.

Dr. K. P Singh, Senior Consultant- Endocrinology diagnosed his illnesss as Iatrogenic Cushing Syndrome and conducted tests accordingly. After initial diagnosis the patient was put on the right medicines. His treatment lasted for a year, post which he recovered completely. For the past year, Kulwinder has been taken off all medication. He is physically fit, back at work ans is leading a normal life. All tests have been done and there is no recurrence of any symptoms. He has been cured of psychosis, oestroposis and depression.

Kulwinder now hopes to provide all support to his family that stood by hi, in all those troubled years of his life.


Rare Surgery performed at Fortis Hospital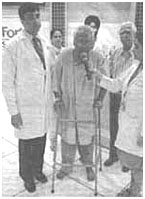 After a rare and complicated surgery performed at fortis hospital, Mohali three weeks ago, 50 years old Mr. Randeep K. Wadhera is now able to walk again. After being bed-ridden for over 21 years. The surgery was conducted by Dr. Manuj Wadhwa. Senior Consultant Orthopaedic Surgeon, Fortis Hospital Mohali.

Mr. Wadhera was a very active student in his school and college days and regularly participated in sports. In 1977, his left leg started and 3 years later, in 1980, he had severe back pain. He underwent traction, physiotherapy and was administrated painkillers and various hospitals and also under went ayurvedic treatment for 18 months. However, nothing seemed to work. All Mr. Wadhera could do was lie on his back in his bed.

"What happened was that Mr. Wadhera had ankylosing Spondylitis, a type of arthritis that causes chronic inflammation of the spine hip and the sacroiliac joints," explained Dr. Manuj Wadhwa.

"Chronic inflammation in these areas causes pain and stiffness in and around the spine and hip joints. Over a period of time, this can lead to a complete cementing together (fusion) of the vertebrae and hip joints, a process called ankylosis. This causes a total loss of mobility of the spine and hip joints and, if not treated, causes severe incapacitation and the patient is restricted to his bed for his entire life."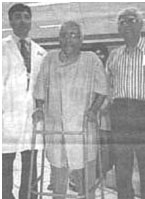 "This is exactly what happened to me and for the last 21 years all I could do was lie on my back in my bed," said Mr. Wadhera. "I could only move my arms and needed assistance to conduct all my daily activities."

"Mr. Wadhera had total fusion of the spine which is also called Bamboo Spine," said Dr. Wadhwa, "Three are a number of complications when replacing joints in patient with long standing fused hips and these surgeries require enhanced surgical exposure and knowledge.

In Mr. Wadhwas case, the hip replacement was even more technically demanding as the spine and hips were fused and stiff. My focus was around localizing the hip centre in a non mobile hip. At the same time, positioning Mr. Wadhwa for joint replacement was tough because the joint were stiff and deformed. One had also to be very careful when giving anesthesia," He added.

When the surgery was over I was very eager to take my first step. But Dr. Wadhwa and the physiotherapist team at Fortis Healthcare asked me to take it easy and gave me a structural plan for getting back to my physical activities," said Mr.Wadhera.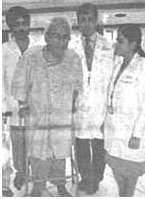 Story does not end by just conducting a successful surgery in such cases," stated Dr. Wadhwa. "Teamwork is of the utmost importance and proper rehabilitation and coordination with and experienced physiotherapy team is required. In the first week after the surgery, when Mr. Wadhera was made to stand and take a few steps, 3-4 assistance were required for this. In the second week, Mr. Wadhera's walking ability improve and he required less support for standing and walking. His walking distance improve to more than 50 meters. At present, he requires the help of just a single person and has been allowed toilet activities. By following a structured physiotherapy progamme, he will soon be able to walk totally independently," Dr. Wadhwa added.

"That is what I am looking forward to - be totally independent," said and emotional Mr. Wadhwa. "We are 4 brothers and sisters get not married, so that she could look after me. My family has been a pillar of strength for me and I am looking forward to making my own contribution to their welfare now. For this, I must thank Dr. Wadhwa and Fortis Healthcare for making it possible," he said .

According to Mr. Ashish Bhatia COO< Fortis Hospital, MOHALI, "We are indeed happy that our team has been able to successfully perform this rare surgery and Mr. Wadhera can now stand on his feet again after 21 years. It is in cases like this that we feel even more proud of all the huge investments made by us in the latest state-of-the-art equipment and building a highly experience and dedicated team. We look forward to being of further service to the people of the region."



The bond of humanity- FHM gives gift of life to Pakistani children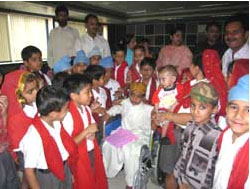 The months of March and April 2007 were noteworthy months for Fortis Hospital, Mohali. These months saw eleven children from Pakistan, in two batches of six and five respectively, find their way to FHM for high-end cardiac surgeries that were performed by none other than Dr TS Mahant, Executive Director Cardio Thoracic and Vascular Surgery, Fortis Hospital, Mohali. Eight surgeries have been successfully completed, while the others were treated conservatively.

The Pakistani children with life-threatening ailments were admitted to Fortis Healthcare under the aegis of the Fortis Healthcare- Rotary collaborative project for underprivileged children. The children were given free treatment and stay at Fortis Healthcare by the Hospital. According to Mr. Ashish Bhatia, COO of Fortis Healthcare mohali, "In our own humble way, this is a small gesture to reach out to our friends and kin across the border and assure them of our support."

As the children's condition improved and they came closer to their discharge time, there was a sense of satisfaction and fulfillment among the doctors and nursing staff of the hospital, who treated each child with utmost affection and responsibility. The parents of the children were counseled from time to time, and special care was taken that they were comfortable and well looked after at the Fortis Healthcare inn. It was natural that they would go through emotional periods through this difficult period, but there was always a ready shoulder for tem to lean on. Very easily, language and cultural barriers were overcome to establish a much greater bond - the bond of humanity, which did not comprehend a line of control or border!

Among the children who went back home fully recovered after their surgeries are Khalina, a 9 yr old girl child, Farhana, a 16 yr old girl child, Nawaz, a 3yr old male child, Umair Taji, a 13 yr old male child, Kabiruudin, a 8 yr old male child, Abdul Wasi, a 3yr old male child, Mohd. Saleem, a 9yr old male child, and Mehnaz, a 16yr old girl child.


Bhavna gets a new lease of life under the initiative Chetna (a special project for the girl child by Fortis Hospital , Mohali).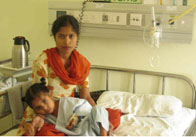 Destiny smiled on little Bhavna when Fortis Hospital, Mohali, announced a special program for the girl child on September 24, the International Day for the Girl Child.

Constantly sick since birth, a local doctor in Gurdaspur realized that the child's health problems were more than the usual aliments of infancy. The world collapsed for Rakesh Kumar, Bhavna's father, a daily wager when an echo cardiogram showed a hole in her heart. From that moment, Rakesh went pillar to post trying to collect money for their child's surgery, which they were informed by doctors, would run into lakhs. Rakesh was unable to get any help, or perhaps just did not knock at the right doors.

Then, on September 24, life went looking for little Bhavna, when Rakesh, his wife Sushma Rani and Bhavna went to a Yoga camp in Gurdaspur. The swamiji of the camp gave them consolation and got in touch with HT to release Bhavna's case in the regional paper. This was a strange co-incidence for Fortis Hospital , Mohali, who were looking for their first case for Chetna. As soon as the report appeared in HT on September 28, the COO of FHM, Mr. Ashish Bhatia got in touch with Mr. Kanwar Sandhu, the Chief Editor of HT at Chandigarh , expressing the hospital's readiness to take on Bhavna's case.

On October 4, 2006, Bhavna came to Fortis Healthcare mohali with her parents and swamiji.

The family was immediately given boarding and lodging at Fortis Healthcare inn, all on the house. Her initial check up was done by Dr Vishal K Singh, and the surgery was scheduled soon after. Unfortunately, little Bhavna developed high fever and cough the same day, and had to be admitted to the ward. This delayed the surgery till October 10, when she was operated upon by Dr TS Mahant for Patent Ductus Arteriosus. Post surgery, Bhavna showed quick recovery and is back home, hale and hearty.

According to the COO, Fortis Hospital , Mohali, "Bhavna is special to us since she is the first girl child we have pledged to save under our special program for the girl child, Chetna . We hope to do significant work in this area in the coming years".


Rag picker's son given a new life by Fortis Healthcare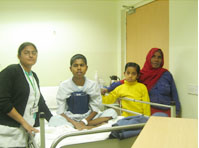 This is an extraordinary story of a rag picker's son, Rajesh, who at the age of 14 was diagnosed with a double valve heart malady, and very close to death. The mother, who did not understand any medical terminology, only knew that she was about to lose her older son, just a couple of years after she had lost her husband. The Gods must have seen her anguish, and through a corporate outreach program, Rotary introduced Rajesh to Fortis Hospital , Mohali.

The initial investigations showed that Rajesh's case was hopeless. Immediately he was admitted in the ward (on October 23) and put on life support. He gasped for every breath and was constantly drenched with sweat as if it was laborious to keep the heart beating.

Doctors were anxious about Rajesh. He had a severe infection in his heart, which meant that he could not go through surgery in that condition. Dr TS Mahant said that he would wait till he was sure he could operate. Rajesh's mother was allowed to live in the ward with him, even free meals were provided to her by the hospital as a special case. The child had to be scrubbed everyday to get the layers of dirt off his skin. His head had to be shaved since he had lice in his matted hair.

Then came the final blow. Rajesh was confirmed for Hepatitis B. Fortis Healthcare stood committed to this case and the decision was taken by the Corporate Social Outreach Committee headed by the COO Mr Ashish Bhatia , to go ahead and try and save him regardless. After a month of battling with his heart infection, on November 22, Rajesh was operated by the wizard Dr TS Mahant, who performed a DVR procedure (Double Valve Replacement) on him against the odds. He stayed in the CCU for 10 days, several times on the ventilator and often very close to collapsing. The doctors and nurses battled hard, till finally he was fit to be moved to the ward.

Rajesh was moved to the ward on December 3. He recuperated there till December 10, when he was found fit to be discharged, but not back to his slum abode. Here is where another corporate took over. Quark Media House shifted him to a gurudwara in Phase III B where he will stay till he is fit to start work.

The million dollar question is that will Rajesh survive if he goes back to the slums after his recovery. After almost 5 lakh have been spent on him, but what does the future hold for Rajesh? If the Gods have smiled on him so far, maybe there is life for him after all! But for the moment Rajesh smiles at everybody who visits him and his mother cannot help herself from crying every time someone asks her about her son.



Mrs. Prem Suri returns to visit Fortis Hospital, Mohali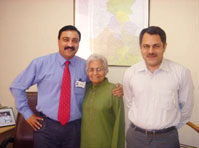 Mohali, May 1, 2006

: - Mrs. Prem Suri, wife of (Late) Maj. Gen. P.K. Suri, was hospitalized at Fortis Hospital Mohali (FHM) under the care of Dr. Arvind Sahni on 12th September 2005. She was put on a ventilator on 17th Sept 2005, and remained on the ventilator for 4 months until 16th January 2006. After what can be called a "miraculous" recovery, from a near fatal ailment, she was finally discharged on 28th January 2006 after 4Ĺ months.

On May, 1st, 2006 Mrs. Prem Suri walked into Mr. Ashish Bhatia's office, COO Fortis Healthcare mohali, to thank him personally for all that Fortis Hospital, Mohali, had done to save her life. Having left on a wheel chair three months earlier, it was a pleasure to see her walk proudly into Mr. Bhatia's office without assistance.

It was a touching moment. The frail but gritty Mrs. Suri had a host of memories to share and a never ending list of people to thank, which included the team of doctors headed by Dr Arvind Sahni, Dr. Rupinder Singh, the nursing staff, who cared for her like a "baby" during the four months that she lay helpless on a ventilator battling for life, Dr. Gurbir Singh, the guest relations officers, the IPD staff and almost every member of FHM who helped her to regain her health.

When it came to speaking about the COO, Mr. Ashish Bhatia, she was emotional. "I cannot thank Ashish enough for being so positive and encouraging through our weak moments, when he gave my family hope and support and yet remained very firm about the treatment that I was undergoing" she said. It was obvious that Mrs. Suri and Mr. Bhatia shared a unique, special bond that was well beyond medicine and the call of duty.

Mrs. Suri had celebrated her birthday on April 27th with the children of her school, which she said was only because FHM gave her a new lease of life. She is now happy to be back to her home and enjoying the little pleasures of life such as playing with her dogs and running her school.

Mr. Vikrant Suri, Mrs. Prem Suri's son, who attended to her throughout the four and a half trying months, said today, "My mother remained on a ventilator for nearly 4 months. Despite the odds, I was not willing to allow her to give up her fight for life. Knowing her determination, I was convinced that she would walk out of the hospital one day. All I can say is that I am indebted to Fortis Hospital Mohali, to make that possible. This miracle has restored my family's faith in medicine in India, which to my mind is now comparable to anywhere in the world. With advanced technology such as available in Fortis Hospital Mohali, our doctors can surely perform any number of miracles and save precious lives".

Mrs. Suri's visit is an achievement not only in the quality of medicine that Fortis Hospital Mohali offers, but also the commitment with which her case was handled, which has earned us her blessings and goodwill. To a distressed patient and his attendants, empathy is as important as physical and medical support. The rewards for that little extra are amazing!


Fortis Hospital, Mohali, comes together with Rotary Club, Chandigarh, to save seven-month-old Rahul

Mohali, March 8, 2006: After saving the life of seven-month-old Rahul, Fortis Hospital, Mohali, announced last week that it would extend all medical support to Rotary Club of Chandigarh to help the Rotary Heartline Project, which is an endeavor to save infants suffering from congenital cardiac disease.

The first such surgery, was successfully conducted on little Rahul on February 21, 2006, by Dr. T. S. Mahant, MS, M. Ch., Executive Director, Cardiovascular & Thoracic Surgery, Fortis Hospital, Mohali. Rahul was subsequently discharged from the hospital on March 1, 2006.

Rahul' s father Ashok Gupta works in a shop in the city's grain market at a measly salary of Rs.2000 per month. It was a nightmare for him and his wife since they could not even dream of affording the expensive surgery that would cost them over Rs.1.50 lakh. It was one of the Rotarians of the Club, Rtn. Arvind Mehan, who found the child's mother crying in the neighborhood and then talked to Fortis Hospital, Mohali, who readily took up the challenge and entered into an understanding with the Rotary Club. The Club will provide Rs. 65,000 towards the cost of consumables and medicines while the Fortis Hospital, Mohali, shall take care of the entire hospitalization and medical costs.



Dr. Mahant, who has been routinely operating upon such cases and thereby improving the functions of the heart and decreasing the chances of mortality and morbidity in children, adds, "Rahul underwent a complex open heart surgical procedure which was made even more complex with his young age. We are happy with the speedy recovery shown by the patient and commend him for the spirit with which he fought the battle." Commenting on the post operative condition of the child, Dr. Vishal K. Singh, Consultant, Paediatrics, Fortis Hospital, Mohali, said that Rahul was discharged after eight days of the surgery, during which he made remarkable recovery. Speaking about the complexity of the case, Dr. Vishal explained that, simplistically, Rahul had a hole in the heart between the lower ventricles, which was leading to severe, and constant chest infections, and preventing the baby from gaining weight. If not treated at the right time, the pressure on the lungs increases to the extent that it becomes incurable.



The "Khushboo" fund

An article in the Times of India in June 2003 prompted Fortis Healthcare to take a first step towards what is now a major philanthropic endeavour undertaken by the group of providing medical care to the underprivileged sections of our society. The article related the story of Khushboo, a thirteen year old girl who was suffering from a cardiac disorder and needed surgery in order to survive and lead a normal life. Khushboo's parents were domestic helps and could ill afford the huge costs associated with the type of cardiac surgery she required.

Fortis Healthcare in its commitment towards social welfare, offered to get the girl operated at Fortis Hospital, Mohali and also bear the related cost of the surgery. In June 2003, Khushboo underwent a valve replacement surgery at the hospital and recovered to lead a normal, healthy life. This act initiated the "Khushboo " fund, which is dedicated towards aiding anyone who needs emergency or immediate medical attention and does not have the resources to cope with it. In the past, the Khushboo fund has also helped Tarun, a two month old infant who had congenital heart disease and Ankit a three month old infant who had a hole in his heart. Both children were operated on successfully without the families of the children bearing any financial cost.


Courtesy Fortis Healthcare, 3 year old Vishal gets new lease of life.

Chandigarh, April 7, 2005: For 3 year old Saroj Kumar, the future was bleak, if there was any. Suffering from a complex congenital heart disease, which required costly surgery, Saroj Kumar (nicknamed Vishal) and his mother had lost all hope of a better, lively future. After all, Vishal needed to undergo a surgery that could cost upwards of Rs. 1.5 - 1. 75 lakh if he was to survive. But, his mother did not have the necessary resources, earning a meagre Rs 1,000 every month as a daily wages worker in a factory. His father had abandoned Vishal and his mother a few years ago.

After reading about Vishal' s plight in a daily newspaper, Fortis Hospital, Mohali, took it upon itself to give Vishal a new lease of life. A team of Fortis Healthcare doctors, led by Dr. T.S. Mahant, Executive Director, Cardiovascular and Thoracic Surgery, contacted the local Government Hospital, where Vishal was being treated as an outdoor patient, and offered to perform the surgery at no cost to the family. The boy was shifted to Fortis Healthcare.

In a unique initiative, Fortis Healthcare spearheaded a request for donations to help save the child's life and various concerned citizens of Chandigarh came forward to fund Vishal' s surgery. Interestingly, people living in New Delhi, Bangalore and even London came forward and sent their contributions. Soon, Dr. Mahant and his team performed a successful open-heart surgery on Vishal at Fortis Healthcare.

Remarks Dr. T.S. Mahant, Executive Director, Cardiovascular and Thoracic Surgery, Fortis Hospital, Mohali, "The most important thing is that we have been able to save the child's life. At Fortis Healthcare, it has been our constant endeavour to contribute to the community. We have undertaken various initiatives in the past, such as consultation camps, subsidized treatments and preventive campaigns. This effort is an extension of our core philosophy to benefit the people of our region and raise their health standards. We are committed to continue undertaking such initiatives in future as well. A very large number of children suffer from cardiac ailments. It is very sad to see these children whose parents cannot afford to get them treated. We have taken the initiative to take up such cases and have had numerous caring citizens who have come forward to donate money for such patients. I am personally grateful to such individuals who have helped save a tender life."

Dr. Mahant, who has been routinely operating upon such cases and thereby improving the functions of the heart and decreasing the chances of mortality and morbidity, adds, "Vishal underwent a complex open heart surgical procedure where preservation was the key factor for best results. We are happy with the speedy recovery shown by the patient and commend him for the spirit with which he fought the battle."

Youngest of three children, Vishal was first diagnosed when he was 10 months old and put on antibiotics as preventive treatment. Recalls his mother, "Being the youngest one, Vishal has always been close to my heart. But, I didn't know what to do when I was told that he needed an expensive surgery. I earn about Rs. 1,000 a month by working as a daily wager in a factory and have to support three children. I felt as if my whole world was crumbling right in front of my eyes. It was impossible for me to raise such a huge amount. I felt so helpless!"

Recovering fast, Vishal now sits wide-eyed in his hospital bed, smiling at his mother, who cannot still stop tears from flowing through her eyes at the mention of what would have happened if Fortis Healthcare had not come forward to help. Moist-eyed, Vishal' s mother says, "We are extremely grateful to Fortis Healthcare and all those who contributed for my son's surgery. Vishal has got a new life thanks to all of you."



Fortis Healthcare shows Warmth & Care To Visiting Pakistani Fans

35 year - old Mr. Mohammad Sohail Afzal Butt is a resident of Lahore and is a freelance journalist and also looks after his father' s business.

On March 6, 2005, Mr. Butt complained of severe pain in right ureteric colic. This went on for a good 4 - 6 hours. At about 11 p.m., he was taken to General Hospital, Sector 16, Chandigarh. He received initial treatment at GH - 16, where he was administered painkillers. Even then, the pain did not subside and he was subsequently brought to Fortis Hospital, Mohali. True to it's commitment, the Emergency staff at Fortis Hospital put the patient at ease and immediately summoned Dr. Rajesh Gulia, Consultant - Urology, Fortis Hospital, Mohali. The treatment was started immediately and he was given 'IV - Flush therapy', after which he became comfortable.

Once, the patient became stable, investigations like Ultrasound and Colored X - ray was conducted and diagnosis of right lower ureteric stone was confirmed. Today, latest Endoscopic LASER treatment was given where the entire stone was removed with the help of ultra fine Endoscopes without a single cut on the body. The procedure lasted for half - an - hour and the patient would be discharged in a day.

In keeping with the good will gesture offered by Fortis Hospital, the patient does not have to pay anything for his entire treatment including medication and hospital stay.

Mr. Ashish Bhatia, Director - Administration, Fortis Hospital, Mohali, said, "We had extended this offer of free emergency medical assistance to the Pakistani guests as a goodwill gesture and we at Fortis Healthcare are glad that we have been able to help Mr. Mohammad Sohail in his hour of need, that too when he is away from his home and uncertain of where to go for medical treatment. We are hopeful that he would be able to watch the match tomorrow, so as to make his visit to Mohali worthwhile!"

The patient Mr. Mohammad Sohail, said, "This is an exceptional gesture by Fortis Hospital, Mohali. I am very happy and grateful to Fortis Healthcare for the warmth and care extended to me during my treatment at this wonderful hospital."

Meanwhile, this morning, another Pakistani cricket fan, Mr. Mohammad Arshad Khan, was rushed from the cricket stadium to the Emergency at Fortis Hospital. While he was watching the match, he complained of severe chest pain. Dr. G. S. Kalra, Director - Interventional Cardiology & Cardiac Catheterization Laboratories, Fortis Hospital Mohali, said that Mr. Khan is an old cardiac patient and would require Angiography to ascertain his coronary status.



Branches of Fortis Hospitals in India : -

For more information, medical assessment and medical quote send your detailed medical history and medical reports
as email attachment to
Email : - info@wecareindia.com
Call: +91 9029304141 (10 am. To 8 pm. IST)
(Only for international patients seeking treatment in India)
For a detailed evaluation send patientís medical reports / X rays / doctors notes to info@wecareindia.com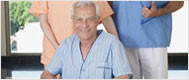 Patient Storys
Successful heart surgery at We Care India partner hospital allows Robert Clarke to live a normal life despite a rare genetic disorder We Care india helped Robert find best super specialised surgeon for his rare conditions.

Read : Robert's Story
See All : Patient's Success Stories


Related Link
Group Websites
Find us on