Overview
JOINT REPLACEMENT SURGERY IN INDIA

Joint replacement surgery is typically recommended to patients who have tried non-surgical treatment but still have joint pain. While this is an extremely effective surgical treatment, total joint replacement should be considered as the last, rather than the first, treatment option for patients with advanced arthritis of the hip, knee or shoulder.



Fast facts
Total joint replacement is one of the safest and most reliable treatments in any area of medicine.
A hip or knee replacement done today typically can be expected to last for 20 or more years. In fact, for most patients, total joint replacement surgery will be a lifelong solution for arthritis of the hip or knee.





What is joint replacement surgery?



Modern joint replacement surgery involves removal of the worn cartilage from both sides of the joint, followed by resurfacing of the joint with a metal and plastic replacement implant that looks and functions much like your normal joint. Although nearly every joint in the body can be replaced, most replacement surgeries involve the hip or knee.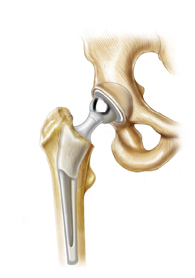 Over the last 30 years, improved surgical techniques and new implant materials have been developed, making total joint replacement one of the most reliable and durable procedures in any area of medicine.




What determines the appropriateness of joint surgery?



Severe or "end-stage" arthritis can be caused by a variety of problems including osteoarthritis, rheumatoid arthritis and other inflammatory joint problems, previous joint injuries and fractures, joint infections and other rare conditions such as osteonecrosis (also called avascular necrosis). All of these problems result in damage to the cartilage which normally covers the ends of your bones and allows your joints to move smoothly and without pain.

Certain types of arthritis, such as rheumatoid arthritis and other inflammatory types of arthritis, may be best treated by a rheumatologist, who specializes in treatment of these disorders. More common joint problems like osteoarthritis are typically treated by a primary care doctor, a rheumatologist or an orthopaedic surgeon. When medical treatment for arthritis recommended by your doctor becomes less effective, joint replacement surgery may be an option for you. These professionals are better qualified to determine if joint replacement therapy is an appropriate treatment choice for you.

The definition of "appropriate" for total joint replacement surgery changes continuously. In general, there is no set upper age limit for joint replacement candidates. Instead, the decision is perhaps best made based on your general medical condition and fitness for surgery, and how much your arthritis affects your quality of life.

While few patients are in perfect health, most people undergoing joint replacement must be sufficiently healthy or medically "tuned up" to allow their surgery to be performed safely. Before joint replacement surgery, talk to your primary care doctor to insure your health is good enough to undergo the anesthesia and rehabilitation associated with the surgery.




How is the need for joint surgery diagnosed?



For nearly all patients, arthritis or other joint problems that are typically treated with joint replacement surgery can be diagnosed with simple x-rays. Other causes for joint pain should be considered since referred back pain can be easily confused for pain associated with arthritis of the hip or knee, and pain from an arthritic hip can occasionally be referred to the knee. Inflammation of the soft tissue structures around the joint also can cause tendonitis or bursitis which can be confused with the pain associated with arthritis. A careful examination by your doctor and routine x-rays usually can determine the actual cause of your pain.


Prevention

Your need for joint replacement surgery can be minimized by comprehensive medical treatment of your arthritis. Arthritis medications; elimination of joint overloading activities such as running, heavy lifting and impact sports; weight loss; nutritional supplements such as glucosamine and chondroitin; and joint injections can help you live with your arthritis for as long as possible. When these treatments are no longer effective, joint replacement surgery can relieve the pain and restore the quality of life lost due to arthritis.

Despite improvement in total joint replacement surgery, these operations are not likely to last a lifetime in young, active patients with arthritis. In some of these cases, joint preserving procedures such as osteotomies (removal of dead bone and repositioning of bone), joint debridement or "cleanouts," and cartilage transplantation may be helpful in delaying joint replacement surgery.



Living with joint replacement

Following a relatively short period of recovery after surgery, patients undergoing joint replacement surgery typically return to a high level of activity. Speed of recovery following surgery depends on your level of activity before surgery, general health and overall physical fitness, degree and duration of physical impairment before surgery, the type of surgery you had, and your expectations and motivation. Physical therapy after joint replacement is very important.

Long term physical limitations after surgery are nearly always due to other orthopaedic or rheumatologic problems (significant arthritis in other joints, chronic low back pain) or major health problems (heart, breathing, other chronic illnesses) rather than due to any limitations of the joint replacement. In general, those undergoing hip and knee replacements can return to unlimited low impact activities such as swimming, water exercise, walking, biking, low impact aerobics, golf, and doubles tennis.

Most orthopaedic surgeons advise against high impact and joint overloading activities that involve heavy lifting, running, and jumping. However, few patients have any significant restrictions of their normal activities of daily living following hip or knee replacement.

Although patients typically obtain a functional amount of motion following hip replacement surgery, occasionally the limits of motion of a total hip replacement can be exceeded, resulting in dislocation out of its normal position. Patient education and understanding of the limitations of total hip replacement, especially regarding the potential for dislocation and range of motion restrictions, can help minimize the occurrence of this complication. Patients should be encouraged to discuss specific limitations and activity restrictions following total joint replacement with their surgeons.



Points to remember
Total joint replacement should be considered as a possible treatment option only after a reasonable attempt at non-surgical management has been determined to be unsuccessful.


Talk to your primary care doctor before surgery to insure your health is good enough to undergo the anesthesia and rehabilitation associated with the surgery.


There are specific limitations and activity restrictions following total joint replacement that should be reviewed prior to treatment.
Prepare for Joint Replacement Surgery

Joint replacement can relieve pain and enable individuals to live fuller, more active lives. If you and your orthopaedic surgeon have decided that you are a good candidate for joint replacement surgery, you will need several weeks to prepare, both physically and psychologically. By planning ahead and following these recommendations, you can help ensure a smooth surgery and a speedy recovery.



Understand the Procedure

Talk to your doctor. Learn what to expect before, during, and after surgery. Ask about the process of being admitted to the hospital, the type of anesthesia you might need, the type of implant that will be used, the length of stay in the hospital, rehabilitation, and pain management.

The more you know, the better you will be able to face the challenges and changes that joint replacement surgery will make in your life. Don't ever hesitate to ask questions, voice concerns, or speak up when you do not understand.



Assemble Your Personal and Medical Information



During the weeks before your surgery, many people will be asking about your insurance coverage, medical history, and legal arrangements. You may feel that you are answering the same questions over and over again, but this is necessary to meet quality assurance and medical insurance guidelines. If you have everything written down, you can reduce your frustration and speed the process.




Get in Shape for Surgery



The physical preparations you make can affect both the outcome of the surgery and your recovery time. Most of these suggestions are common sense, although some may surprise you.

If you smoke, cut down or quit. Smoking changes blood flow patterns, delays healing and slows recovery.


If you drink, don't have any alcohol for at least 48 hours before surgery.


If you use any other types of controlled substances, tell your doctor. Narcotics and other drugs can have an impact on your surgery.


Eat well. If you are overweight, your doctor may recommend a weight loss program.


Ask your doctor for pre-surgical exercises. If you are having hip or knee replacement surgery, doing exercises to strengthen your upper body will help you cope with crutches or a walker after surgery. Isometric exercises can help maintain the strength of your leg muscles. Also ask about the exercises that will be prescribed after surgery. If you familiarize yourself with these postoperative exercises and practice them now, they will be easier to perform after the surgery.
Medical Preparations

Several health care professionals will be involved in your surgery. As an active participant in health care decisions, you should ensure that each professional has the information necessary for proper decision-making.


Your primary care physician or an internist will conduct a general medical evaluation several weeks before surgery. This examination will assess your health and your risk for anesthesia. The results of this examination should be forwarded to your orthopaedic surgeon, along with a surgical clearance.


If you will be donating your own blood for the surgery, donation times should be scheduled at least one week apart, beginning about six weeks and ending approximately five days before your surgery. During this time, you should be especially careful to eat properly and take a daily iron supplement.


Shortly before your scheduled surgery, you will probably have an orthopaedic examination to review the procedure and answer any last-minute questions.


The anesthesiologist will meet with you to discuss the type of anesthesia that will be used.


You may need to take several types of tests, including blood tests, a cardiogram, a urine sample and a chest X-ray.


Advise your surgeon of any medical conditions you have and of all the medications you are taking. You may need to stop taking certain medications or your surgeon may recommend substitute medications until your surgery. Medications such as corticosteroids, insulin or anti-coagulants will need to be managed before and after surgery.


If you are also planning dental work such as extractions or periodontal treatments, schedule them well in advance of your surgery. Do not schedule any dental work, including routine cleanings, for several weeks after your surgery.


Notify your doctor if you come down with a fever, a cold or any other illness in the week before the surgery.




Why Choose We Care India for your Knee / Hip / Shoulder / Elbow Joint Replacement Surgery?



Our partner Hospitals adhere to international standards of clinical care, safe environment, medication safety, respect for rights and privacy, international infection control standards.

Our Orthopedic surgeons are vastly experienced in all kinds of Joint replacements, tumor, and pelvic surgery. Our surgeons have experience of doing thousands of Joint replacement surgeries - both primary and revision surgeries of the hip, knee , shoulder as well as Uni-Compartmental Knee replacement. .Our surgeons have pioneered bilateral simultaneous knee replacement surgery and are amongst the most experienced Knee and Pelvic surgeons in this part of the world. We Care India partner surgeons are amongst the very few in the world having experience in extra corporeal irradiation and re-implantation for malignant bone tumors.


Advanced Diagnostics and Support Infrastructure - 64 slice CT , High end MRI, Neuro-navigation surgical systems, Neuro-physiology and Comprehensive Rehabilitation services.


Finest quality implants, prosthesis and Consumables of international repute most of them imported from overseas countries are used.


Operation theatres built to international specifications having ultra-clean Laminar air flow system ensure highest standards of infection control, matching the best in the world.


Specialized physiotherapy and Rehabilitation services help the patient to return back to normal activity quickly after the surgery.


Even the most cost sensitive patient can afford world class services and amenities manned by English speaking dedicated well trained staff at We Care India partner Hospitals that already attract a large number of patients from US, UK, Canada and all over the world.

We are happy to answer any questions you may have about our medical services and would be pleased to send you an estimated cost of care for consultations, testing, procedures or surgeries. Please submit your questions in the medical query form by hitting the Give me a Quote link below or please email us at



| | |
| --- | --- |
| | |
| [ Hip Resurfacing ] | [ Total Knee Replacement ] |
| | |
| | |
| [ Shoulder Replacement ] | [ Unicondylar Knee Replacement ] |


We are happy to answer any questions you may have about our medical services and would be pleased to send you an estimated cost of care for consultations, testing, procedures or surgeries. Please submit your questions in the medical query form by hitting the Give me a Quote link below or please email us at info@wecareindia.com




Joint Replacement Surgery FAQ



Why is joint replacement surgery performed?



Joint replacement surgery is performed to treat advanced or end-stage arthritis. Arthritis is a general term that describes inflammation and deterioration in joints. It results from damage to the joint coating or gliding surface called the articular cartilage.




What causes joint deterioration?



Mechanical "wear and tear" on a person's joints over a lifetime seems to be an obvious explanation for the increase in arthritis with age, but the answer is not that simple. The current view is that a number of factors interact to cause joint deterioration. Some of these factors include heredity, developmental abnormalities of joint formation, genetic predisposition to abnormal cartilage metabolism, major or minor repetitive injures, and certain occupations. While being overweight does not necessarily cause arthritis, it certainly contributes to early and more rapid progression of joint problems.




What are the types of arthritis?



There are 127 kinds of arthritis, some very rare, and some quite common. Osteoarthritis (OA) is by far the most common form. It is a localized form that may affect only one or two joints. Osteoarthritis most often involves the weight-bearing joints such as the hips, knees, and spine. It also occurs in the small finger joints, the joint at the base of the thumb, and the big toe (bunion).

More than 40 million people in the United States have evidence of OA on X-ray, but only about 16 million people suffer from advanced disease. Although the tendency to develop OA increases with age, it is not the inevitable result of aging. Inflammatory diseases such as rheumatoid arthritis, the second most common form of arthritis, can result in multiple joint involvement and can be quite debilitating. In the inflammatory diseases, the articular cartilage is damaged by the disease process itself rather than by "wear and tear."




Who is a candidate for joint replacement surgery?



People with joint deformities or advanced symptoms of arthritis that cannot be managed with medications or physical therapy are candidates for joint replacement surgery. Regardless of the type of arthritis, the disease can cause the symptoms of joint pain, stiffness, limping, muscle weakness, limitation of motion, and swelling. Depending on the joint affected and the amount of damage, ordinary activities such as walking, putting on socks and shoes, getting into and out of cars, and climbing stairs may become difficult. Hip joint arthritis most often causes pain in the groin and front of the thigh, not in the back area. Arthritis of the knee may result in knock-knee or bow-legged deformities and unusual joint sounds (crepitus) that become more obvious as the degeneration worsens.

Up to 50 percent of people over age 65 have symptoms of arthritis but most will never require a joint replacement. Medical history, physical examination, and x-rays are usually sufficient to determine the diagnosis, extent of disease, and appropriate treatment. Family physicians, internists, rheumatologists, physiatrists, and orthopaedic surgeons are all trained to manage arthritis and can perform this evaluation.

In the early stages of arthritis, a conservative medical treatment program can relieve joint pain and stiffness and improve function. A good treatment program should include a tailored combination of anti-inflammatory medications, physical and/or occupational therapy, exercise, weight control, and patient education. When the arthritic condition no longer responds to these conservative methods, surgical intervention may be necessary.




What is a joint replacement?



Joint replacement surgery is designed to replace the damaged articular cartilage or gliding surface and any associated loss of bone structure. The procedure itself is a resurfacing of the damaged joint, and relies on the patient's muscles and ligaments for support and function. The prosthesis (replacement joint) is made of titanium, cobalt chrome, and polyethylene (plastic), and can be fixed to the bone with acrylic cement or can be press-fit, which allows bone to grow into the implant. Once the joint replacement is in place, its motion and function are restored through physical therapy.




How long does it take to recover from joint replacement surgery?



Most patients who undergo total joint surgery have dramatic improvement within weeks of the surgery. The pain caused by the damaged joint is relieved when a new gliding surface is constructed. Hip and knee replacement patients are standing and moving the joint the day after surgery. After about 6 weeks, most patients are walking comfortably with minimal support. After muscle strength is restored, patients with joint replacement can enjoy most activities (except running and jumping).




How long do total joint replacements last?



When joint replacement procedures were first performed in the early 1970s, it was thought that the average total joint implant would last approximately 10 years. We now know that approximately 85 percent of joint implants last 20 years. Improvements in surgical technique, prosthetic designs, bearing surfaces, and fixation methods should further increase the life span of these implants.



Joint Replacement Services include: (Give Link to Following)
Joint Preserving procedures
Arthroscopy of the hip and knee
Cartilage resurfacing
Peri-articular osteotomies
Ligamentous reconstruction
Uni-compartmental Knee Replacement
Minimally Invasive Approaches
Revision Hip & Knee Replacement
Joint Replacement Patient Education Classes
Conditions Treated
Osteoarthritis
Rheumatoid arthritis
Post-traumatic arthritis of the hip, knee and ankle
Cartilage injuries
Osteochondritis dissecans
Femoro-acetabular impingement
Osteonecrosis
Problem joint replacements/revision joint replacements
The list of of Orthopedic Surgery in India is as follows : -
| | |
| --- | --- |
| | Apollo Hospitals, Bangalore, India |
| | Apollo Hospital, Chennai, India |
| | Apollo Hospitals, Hyderabad, India |
| | Indraprastha Apollo Hospital, Delhi, India |
| | Apollo Gleneagles Hospital, Kolkata, India |
| | Apollo Hospital, Goa, India |
| | Wockhardt Hospital, Bangalore India |
| | Wockhardt Hospital, Mumbai, India |
| | Fortis Hospital, Delhi, India |
| | Fortis Hospital, Mohali, India |
| | Fortis Hospital, Noida, India |
| | Manipal Hospital, Bangalore, India |
| | MIOT Hospital, Chennai, India |
| | Sparsh Hospital, Bangalore, India |
| | Sparsh Hospital, Bangalore, India |
| | Artemis Hospital, Gurgaon ( Delhi ) , India |
| | Max Devki Devi Heart and Vascular hospital, Delhi, India |
| | BGS Global Hospital, Bangalore, India |
| | BGS Global Hospital, Chennai, India |
| | BGS Global Hospital, Hyderabad, India |

For more information, medical assessment and medical quote send your detailed medical history and medical reports
as email attachment to
Email : - info@wecareindia.com
Call: +91 9029304141 (10 am. To 8 pm. IST)
(Only for international patients seeking treatment in India)
For a detailed evaluation send patientís medical reports / X rays / doctors notes to info@wecareindia.com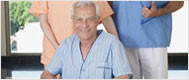 Patient Storys
Successful heart surgery at We Care India partner hospital allows Robert Clarke to live a normal life despite a rare genetic disorder We Care india helped Robert find best super specialised surgeon for his rare conditions.

Read : Robert's Story
See All : Patient's Success Stories


Related Link
Group Websites
Find us on