Hip Resurfacing Hospitals in India

Birmingham Hip Resurfacing or Surface Replacement Arthroplasty as performed in hospitals in India is a bone-conserving alternative to conventional Total Hip Replacement (THR). Unlike Total Hip Replacement, Birmingham hip Resurfacing at hospitals in India does not involve the removal of the femoral head and neck nor removal of bone from the femur. Rather, the head, neck and femur bone is preserved in an effort to facilitate future surgery should it be necessary and to enable the patient to take advantage of newer technology or treatments in the future. The current generation of hip Resurfacing devices utilize a metal bearings have demonstrated a much higher level of wear resistance as well as reduced bone loss and inflammatory tissue reaction about the hip joint as compared to metal-polyethylene bearings. Derrek McMinn designed the Birmingham Hip Resurfacing in Birmingham, England and released it for use in the UK in 1997.

Hip Resurfacing is anatomically and biomechanically more similar to the natural hip joint resulting in increased stability, flexibility and range of motion. Further, dislocation risk is virtually eliminated. Higher activity levels are typically achieved with less risk. These benefits are realized because the head diameter that results from Resurfacing is very similar to the patient's normal head diameter and these larger head sizes are typically much larger than the femoral balls utilized in conventional Total Hip Replacement (THR).

Hip resurfacing allows younger, active people to return to any activities they enjoyed previous to their hip problems. The large size cap and cup of the BHR are the same size as a person's original femur bone and are designed to prevent dislocations. There are many athletes with resurfaced hips that continue to compete at the professional level in a myraid of activities. They include :



Advantages of Hip Resurfacing at hospital in India

Hip resurfacing is a technique invented specifically for younger patients with hip problems. Conventional Total hip replacement, while being a good option for an elderly person (above 70yrs) is a poor choice for young patients as it will fail rapidly. The hip resurfacing operation performed at hospitals in India is an alternative to hip replacement and has 3 crucial advantages.



The first advantage

is that no plastic ( polyethylene) is used like in conventional hip replacement. Since a anatomical sized 'metal on metal' bearing is used it lasts for a very long time, manifold that of conventional hip replacement and is extremely popular in Europe, Australia and some parts of Asia. The anatomy and bio-mechanics after resurfacing mimic a normal hip very closely.



The second advantage

is post operatively patients are encouraged to be very active and must play some sport, do swimming etc. No activity is restricted including sitting on the floor, crossing legs etc. In short, it behaves like normal hip enabling patients to return to their normal lifestyle. In contrast after a hip replacement one has to behave like an elderly person (for whom this has been designed) to be safe from dislocation and to prolong the life of a prosthesis. There are also other advantages in Resurfacing like preservation of bone stock ( as no bone is removed in this operation unlike hip replacement where the head and neck of the thigh bone is completely removed.) Further it has been proven that bone stock actually increases after hip resurfacing due to the restoration of normal biomechanics in the hip and proximal femur.



The 3rd advantage

is that the polyethylene 'wear particles' does not damage the surrounding bone like in conventional hip replacement and the quality of bone actually improves with time after hip resurfacing . This makes a revision solution ( if at all needed ) very straight forward hip resurfacing surgery, unlike the very complicated revision scenario in a conventional THR.

The patient is usually made to walk full weight bearing the day after the operation and is usually discharged from the hospital at about 5- 6 days from the operation. They can resume any work at 3 weeks from operation and sport is started 6 weeks from operation.



The highlights of Birmingham hip resurfacing at hospitals in India
Allows the patient to squat and sit on the floor safely
Allows a normal range of movement and sporting activities after hip resurfacing operation
Sacrifices only the diseased bone and preserves normal bone
Restores the normal structures of the hip
More natural feel after hip resurfacing surgery
Early rehabilitation
Easy to revise if needed
Less risk of dislocation
No leg length alteration
Suitable for elderly and sedentary patients
Suitable for younger and active patients
Head of femur (thigh bone) removed
Bone not removed
Articulation is mostly metal with plastic Articulation is metal with metal
Wears our rapidly in young and active patients 'Everlasting' - based on 35 year history in Birmingham of metal on metal articulation
Activity restriction required after hip replacement surgery for fear of dislocation Activity restriction not required after hip resurfacing surgery as there is hardly any risk of dislocation (can sit on floor, squat, etc)
Sport not advised as the usage is inversely proportional the life of the hip replacement Sport and High demand activities encouraged as usage is not related to life of resurfacing implant
Revision hip replacement surgery invariably necessary in younger patients. Revision THR is a very complex procedure. Revision hip resurfacing surgery not Required for younger patients. Revision of BHR is a very straightforward and easy procedure ( if needed)




Post-op restrictions in Birmingham Hip Resurfacing at hospitals in India



There is no post-op restrictions after a Hip Resurfacing operation at hospital in India and the patient can use it as a normal hip. However the soft tissues around the hip joint, which were contracted at the time of the hip disease, will take time to relax following the excellent movement that has been restored in the hip. Hence if there is pain while attempting a certain activity like sitting on the floor, it implies the patient is not yet ready for that particular activity. One can give a gap of about a week and then try it again. Like wise the activity level improves in a stepwise manner till the soft tissues also become normal. Patient is ready for sports (inclusive of contact sport) at about 3 months post-op.

This operation may be done by a minimally invasive approach at a hospital in India and the invasion can be kept to less than 10cms. The operation also involves minimal damage to bone.



ASR/BHR ?

Hip resurfacing or surface replacement arthroplasty uses specialized implants that are fixed into the bone. Two international companies sell such implants at present.


Smith and Nephew (MMT) (BHR) Birmingham Hip Resurfacing.
Johnson and Johnson (ASR) Articular Surface Replacement.
Hip Replacement Vs. Hip Resurfacing at hospitals in India
| | |
| --- | --- |
| Hip Replacement | Hip Resurfacing |
| Suitable for elderly patients | Suitable for younger patients |
| Head of femur (thigh bone) removed | Bone not removed |
| Articulation is metal with plastic | Articulation is metal with metal |
| Wears our rapidly in young and active patients | 'Everlasting' - based on 35 year history in Birmingham of metal on metal articulation |
| Activity restriction required after surgery for fear of dislocation | Activity restriction not required after surgery as there is hardly any risk of dislocation (can sit on floor ,squat, use Indian toilet ,etc) |
| Sport not advised as the usage is inversely proportional the life of the hip replacement | Sport and High demand activities encouraged as usage is not related to life of resurfacing implant |
| Revision surgery invariably necessary in younger patients | Revision surgery not Required for younger patients |
List of orthopedic surgery hospitals as follows : -
The list of of Hip Resurfacing Hospitals in India is as follows : -
| | |
| --- | --- |
| | Apollo Hospitals, Bangalore, India |
| | Apollo Hospital, Chennai, India |
| | Apollo Hospitals, Hyderabad, India |
| | Indraprastha Apollo Hospital, Delhi, India |
| | Apollo Gleneagles Hospital, Kolkata, India |
| | Apollo Hospital, Goa, India |
| | Wockhardt Hospital, Bangalore India |
| | Wockhardt Hospital, hyderabad, India |
| | Wockhardt Hospital, Mumbai, India |
| | Fortis Hospital, Delhi, India |
| | Fortis Hospital, Mohali, India |
| | Fortis Hospital, Noida, India |
| | MIOT Hospital, Chennai, India |
| | Sparsh Hospital, Bangalore, India |
| | Artemis Hospital, Gurgaon ( Delhi ) , India |
| | Max Devki Devi Heart and Vascular hospital, Delhi, India |
| | BGS Global Hospital, Bangalore, India |
| | BGS Global Hospital, Chennai, India |
| | BGS Global Hospital, Hyderabad, India |

For more information, medical assessment and medical quote send your detailed medical history and medical reports
as email attachment to
Email : - info@wecareindia.com
Call: +91 9029304141 (10 am. To 8 pm. IST)
(Only for international patients seeking treatment in India)
For a detailed evaluation send patientís medical reports / X rays / doctors notes to info@wecareindia.com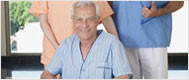 Patient Storys
Successful heart surgery at We Care India partner hospital allows Robert Clarke to live a normal life despite a rare genetic disorder We Care india helped Robert find best super specialised surgeon for his rare conditions.

Read : Robert's Story
See All : Patient's Success Stories


Related Link
Group Websites
Find us on