Spider Veins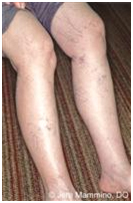 The exact cause of spider veins is not proven, but heredity, local trauma, and hormonal levels are believed to be contributing factors. Spider veins become more numerous with age, and are twice as common in women.

Spider veins are formed by the dilation of the small veins under the surface of the skin, mostly on the legs. They look like red or purple sunbursts or web patterns. Spider veins are also referred to as telangiectasia or broken capillaries. They usually pose no health hazard but may produce a dull aching or burning in the legs after prolonged standing.


Q.

What are the causes of Spider Veins ?



Spider veins can be caused by venous insufficiency, a condition where vein valves acting as one way flaps prevent blood flow backwards while moving up the legs. Additional causes of spider veins include sun exposure, hormone changes, and inherited related factors.


Q.

What is the difference between Spider Veins and Varicose Veins?



Varicose veins are swollen or enlarged blood vessels caused by a weakening in the vein's wall or valves. They are located somewhat deeper than spider veins, are sometimes raised, and often appear blue. Advanced cases of varicose veins can be harmful to a patient's health because they may be associated with the development of ulcers and phlebitis.



Spider Vein Treatment and Removal

Initial treatment for spider veins is use of surgical support host, which gives leg compression. This should also be used with any other treatment for the spider veins.

Sclerotherapy is still the best and safest treatment for spider veins. It causes minimal discomfort. A concentrated salt (saline) or specially developed chemical solution is injected with a very small needle into the spider vein. This pickles the inside of the vein so it closes up. It later collapses and becomes scar tissue that eventually is absorbed by the body.

Sclerotherapy generally requires multiple treatment sessions. Post-treatment therapy includes wearing compression bandages or support hose for two days to three weeks following treatment. Although sclerotherapy works for current spider veins, it does not prevent future ones from developing.


There are several ways to treat spider veins on the face. Lasers have been used successfully, alone or in combination with electric needle therapy. The heat from the high intensity laser beam or intense pulsed light device selectively destroys the abnormal veins. It is best for tiny veins in fair skinned people. With the electric needle, the veins are sealed off with the application of electrical current.



The list of of Vascular Surgery Hospitals in India is as follows : -
| | |
| --- | --- |
| | Apollo Hospitals, Bangalore, India |
| | Apollo Hospital, Chennai, India |
| | Apollo Hospitals, Hyderabad, India |
| | Indraprastha Apollo Hospital, Delhi, India |
| | Apollo Gleneagles Hospital, Kolkata, India |
| | Apollo Hospital, Goa, India |
| | Wockhardt Hospital, Bangalore India |
| | Wockhardt Hospital, hyderabad, India |
| | Wockhardt Hospital, Mumbai, India |
| | Fortis Hospital, Delhi, India |
| | Fortis Hospital, Mohali, India |
| | Fortis Hospital, Noida, India |
| | Escorts Heart Institute Hospital, Delhi, India |
| | Manipal Hospital, Bangalore, India |
| | MIOT Hospital, Chennai, India |
| | Narayana Hrudayalaya Heart Hospital, Bangalore, India |
| | Artemis Hospital, Gurgaon ( Delhi ) , India |
| | Max Devki Devi Heart and Vascular hospital, Delhi, India |
| | Max Super Specialty hospital, Delhi, India |
| | BGS Global Hospital, Bangalore, India |
| | BGS Global Hospital, Chennai, India |
| | BGS Global Hospital, Hyderabad, India |

For more information, medical assessment and medical quote send your detailed medical history and medical reports
as email attachment to
Email : - info@wecareindia.com
Call: +91 9029304141 (10 am. To 8 pm. IST)
(Only for international patients seeking treatment in India)
For a detailed evaluation send patientís medical reports / X rays / doctors notes to info@wecareindia.com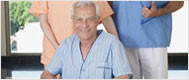 Patient Storys
Successful heart surgery at We Care India partner hospital allows Robert Clarke to live a normal life despite a rare genetic disorder We Care india helped Robert find best super specialised surgeon for his rare conditions.

Read : Robert's Story
See All : Patient's Success Stories


Related Link
Group Websites
Find us on