Piles (Hemorrhoids)

Constipation begets piles. This disease occurs at the end of fistula and rectum. Commonly in males, this disease occurs after the age of 25 years. It is a common disease. Its patients are found not only in India but the whole world. Foods containing chilli-spices and fried stuffs are extensively eaten in our country, therefore, this disease is commonly found in our people.

Urbanites are more afflicted by this disease than villagers. This disease is very common in the states of Punjab, Rajasthan, Assam, West Bengal, Orissa, Bihar, For some reason some portion of the blood carrying veins in the periphery of rectum swells and emerges out of the surface, this situation is called Piles. Piles is known as warts. The patient sufferers' enormous pain.

As this disease occurs at the end of fistula and rectum the patient normally does not divulge the situation of disease due to shame but is unable to bear enormous pain.

In this disease blood comes out from rectum while defecating. Sometimes the moles of piles come out and again go inside the rectum while defecating. Apart from this the patient feels sensations, itching and pain. I would like to let you know a fact. Many times bleeding is not due to piles but due to other diseases, eg ulcer or cancer in the large intestine.


Symptoms : -
Burning and pain in anus
Itching in anus
Frequent urge for evacuation
Discharge of blood due to pressure during evacuation
Loss of appetite
Yellowish face due to extensive bleeding
Feeling of heaviness at the opening of anus
Piles causes
strain to empty your bowels (eg if you have constipation)
eat a low-fibre diet
have long-lasting (chronic) diarrhoea
are pregnant - due to the effect of hormones on the blood vessels, plus the increasing weight of the baby within your abdomen
have a family history of piles
have cancer or growths in your pelvis or bowel, which may put pressure on your abdomen Diagnosis

Your GP will ask about your symptoms and examine you. This may involve a rectal examination, where he or she will gently insert a gloved finger into your back passage. Your GP may also ask you about your medical history.

To examine the walls of the anal canal, your doctor may use a proctoscope (also called an anoscope). This is a short tube with transparent walls, which can be gently passed into your back passage. Your GP may do this examination or refer you to see a hospital specialist. You won't need to have an anaesthetic.

A similar examination, using a longer tube called a sigmoidoscope, allows your doctor to view the lower part of the large bowel and helps to rule out problems in the rectum.

At hospital, the whole of your large bowel can be viewed with a colonoscopy. A colonoscopy is a test that allows your doctor to look inside your large bowel using a narrow, flexible, tube-like telescope called a colonoscope. For more information, see Related topics.



Types of piles

Although piles develop from inside the anal canal, they can hang down out of their normal place. Piles can be described as follows.



stages : -



First degree piles are swellings on the inside lining of the anal canal. They bleed but can't be seen from outside the anus. Second degree piles are larger and stick out (or prolapse) from the anus when you open your bowels, but return on their own afterwards.

Third degree piles are similar, but hang out from the anus and only return inside when pushed back in. Fourth degree piles permanently hang down from the anus and you can't push them back inside. They may become extremely swollen and painful if the blood in them clots.




External piles : -



Swellings that develop from below the anal cushions are sometimes called external piles. They can be more painful than the other types of piles. Other causes of lumps around the anus can include a "sentinel pile", which is the painless skin tag that develops when a crack in the anus (an anal fissure) heals up. Also, a collection of blood under the skin, called a peri-anal haematoma, may also be referred to as a type of external pile. The treatment of these conditions is different from true piles.



Treatment
Risks

Those chronically straining with constipation, overweight people, liver cirrhosis, people with heavy lifting jobs, or standing for long period, after or during pregnancy. Here, the body mass actually press on the main blood vessels that returns blood to the heart.



The list of of Gastroenterology Hospitals in India is as follows : -
| | |
| --- | --- |
| | Apollo Hospitals, Bangalore, India |
| | Apollo Hospital, Chennai, India |
| | Apollo Hospitals, Hyderabad, India |
| | Indraprastha Apollo Hospital, Delhi, India |
| | Apollo Gleneagles Hospital, Kolkata, India |
| | Apollo Hospital, Goa, India |
| | Wockhardt Hospital, Bangalore India |
| | Wockhardt Hospital, hyderabad, India |
| | Wockhardt Hospital, Mumbai, India |
| | Fortis Hospital, Delhi, India |
| | Fortis Hospital, Mohali, India |
| | Fortis Hospital, Noida, India |
| | Manipal Hospital, Bangalore, India |
| | Sparsh Hospital, Bangalore, India |
| | Artemis Hospital, Gurgaon ( Delhi ) , India |
| | Max Super Specialty hospital, Delhi, India |
| | Max Devki Devi Heart and Vascular hospital, Delhi, India |
| | Max Health Check Centre, Delhi, India |
| | BGS Global Hospital, Bangalore, India |
| | BGS Global Hospital, Chennai, India |
| | BGS Global Hospital, Hyderabad, India |

For more information, medical assessment and medical quote send your detailed medical history and medical reports
as email attachment to
Email : - info@wecareindia.com
Call: +91 9029304141 (10 am. To 8 pm. IST)
(Only for international patients seeking treatment in India)
For a detailed evaluation send patientís medical reports / X rays / doctors notes to info@wecareindia.com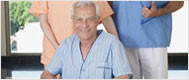 Patient Storys
Successful heart surgery at We Care India partner hospital allows Robert Clarke to live a normal life despite a rare genetic disorder We Care india helped Robert find best super specialised surgeon for his rare conditions.

Read : Robert's Story
See All : Patient's Success Stories


Related Link
Group Websites
Find us on