Overview
What is Bladder Cancer?
Bladder Cancer Risk Factors
Symptoms of Bladder Cancer
Diagnosis of Bladder Cancer
Treatment of Bladder Cancer
What is Bladder Cancer?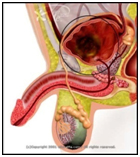 Bladder cancer typically begins in the lining of your bladder,the balloon-shaped organ in your pelvic area that stores urine. Some bladder cancer remains confined to the lining, while others cases may invade other areas.

Most bladder cancers are transitional cell carcinomas (cancer that begins in cells that normally make up the inner lining of the bladder). Other types include squamous cell carcinoma (cancer that begins in thin, flat cells) and adenocarcinoma (cancer that begins in cells that make and release mucus and other fluids). The cells that form squamous cell carcinoma and adenocarcinoma develop in the inner lining of the bladder as a result of chronic irritation and inflammation.



Bladder Cancer Risk factors
Smoking : -

Smoking appears to be the single greatest risk factor for bladder cancer.

Industrial chemicals : -

Repeated exposure to chemicals.

Age : -

The chance of getting bladder cancer increases as you grow older.

Race : -

Whites are twice as likely to develop bladder cancer as blacks and Hispanics / Asians.

Sex : -

Men are about four times as likely to get bladder cancer as women are.

Chemotherapy and radiation therapy : -

Treatment with the anti-cancer drugs cyclophosphamide (Cytoxan) and ifosfamide (Ifex) increases your risk of bladder cancer.

Chronic bladder inflammation : -

Chronic or repeated urinary infections or inflammations (cystitis), such as may happen with long-term use of a urinary catheter.

Personal or family history : -

Having bladder cancer once makes it more likely you'll get it again.

Exposure to arsenic : -

Drinking water containing high levels of arsenic increases risk of with bladder cancer.

Bladder birth defect : -

Rare birth defects of the bladder may lead to an unusual form of bladder cancer called adenocarcinoma.
Symptoms of Bladder Cancer
Blood in the urine (urine looks bright red or rusty).
Pain or burning when urinating.
Passing urine often.
Feeling the need to urinate but no urine comes out.
Difficulty in passing urine.
Diagnosis of Bladder Cancer

To diagnose bladder cancer, the doctor will take a medical history, do a physical examination and request a urine test. He or she may order an x-ray test and perform a cystoscopy (described below) and if needed, a biopsy for bladder cancer. A urine sample is taken and then examined under a microscope for cancerous cells (for bladder cancer).

An x-ray procedure, called an Intravenous pyelogram (IVP), is used to detect any abnormalities or growths in the bladder. For the IVP x-ray, a special dye containing iodine is given to the patient through a needle inserted in the vein. The dye goes in the bladder, making the bladder easier to see on the x-rays.

A Cystoscopy is a procedure using a thin, lighted tube called a cystoscope that is inserted into the bladder through the urethra. If the doctor sees any abnormal areas or growths, he or she will remove some of that tissue (biopsy) for further examination under a microscope.



Treatment of Bladder Cancer in India

There are four main types of treatment for bladder cancer: surgery, radiation therapy, chemotherapy and biological therapy. The type and staging of the cancer, age, and overall health, determine which treatment method(s) will be used.




Surgery




There are three (3) main types of surgeries for bladder cancer : -

Transurethral resection (TUR) is an operation that uses a cystoscope inserted into the bladder through the urethra. The doctor then uses a tool with a small wire loop on the end to remove the cancer or to burn the tumor away with high-energy electricity.

Cystectomy is an operation to remove the bladder. There are two types of cystectomy - segmental (partial), and radical (complete). Segmental cystectomy is an operation to take out part of the bladder where the cancer is located. Radical cystectomy is the removal of the bladder and nearby organs. In women, this operation includes removing the uterus, fallopian tubes, ovaries and part of the vagina. In men, the prostate and seminal vesicles are removed.

Urinary diversion is an operation to make way for urine to pass out of the body so that it does not go through the bladder.




Radiation therapy in India



Radiation therapy (also called radiotherapy) may be needed when the cancer cannot be removed with TUR because it involves a larger area of the bladder. X-rays destroy the ability of cancer cells to grow and multiply. Internal radiation therapy, with radioactive material placed in the bladder, may be combined with external radiation, which comes from a machine located outside the body. Read More.



Chemotherapy in India



When cancer involves the pelvis or has spread to other parts of the body, the doctor may suggest chemotherapy. Chemotherapy uses drugs to stop the growth of cancer cells. Chemotherapy may be given in different ways - by mouth or injection into a muscle or a vein, or by catheter into the bladder (intravesical chemotherapy).

Depending on the specific drugs, most patients take chemotherapy as an outpatient at the hospital, the doctor's office or at home. Sometimes, it may be necessary to stay in the hospital for a period of time to monitor the effects of the treatment. Read More.



Biological therapy in India



Often a form of intravesical chemotherapy, biological therapy uses materials made by the body or made in a laboratory to boost, direct or restore the body's natural defenses against the cancer.

When several tumors are present in the bladder or when there is a risk that the cancer will recur, TUR may be followed by treatment with drugs. The doctor may put a solution containing the bacteria bacillus Calmette-Guerin (BCG), a form of biological therapy, directly into the bladder via a catheter (intravesical biological therapy). Read More.





The list of of world class Cancer hospitals in India is as follows : -
| | |
| --- | --- |
| | Apollo Hospital, Chennai, India |
| | Apollo Specialty Hospital, Chennai, India |
| | Apollo Hospitals, Bangalore, India |
| | Indraprastha Apollo Hospital, Delhi, India |
| | Fortis Hospital, Noida, India |
| | Narayana Cancer Hospital, Bangalore, India |
| | Artemis Hospital, Gurgaon ( Delhi ) , India |

For more information, medical assessment and medical quote send your detailed medical history and medical reports
as email attachment to
Email : - info@wecareindia.com
Call: +91 9029304141 (10 am. To 8 pm. IST)
(Only for international patients seeking treatment in India)
For a detailed evaluation send patientís medical reports / X rays / doctors notes to info@wecareindia.com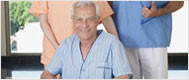 Patient Storys
Successful heart surgery at We Care India partner hospital allows Robert Clarke to live a normal life despite a rare genetic disorder We Care india helped Robert find best super specialised surgeon for his rare conditions.

Read : Robert's Story
See All : Patient's Success Stories


Related Link
Group Websites
Find us on