Overview
Testicular Cancer

Testicular cancer occurs in the testicles (testes), which are located inside the scrotum, a loose bag of skin underneath the penis. The testicles produce male sex hormones and sperm for reproduction.

Compared with other types of cancer, testicular cancer is rare. But testicular cancer is the most common cancer in American males between the ages of 15 and 34. The cause of testicular cancer is unknown.

Testicular cancer is highly treatable, even when cancer has spread beyond the testicle. Depending on the type and stage of testicular cancer, you may receive one of several treatments, or a combination. Regular testicular self-examinations can help identify growths early, when the chance for successful treatment of testicular cancer is highest.



Symptoms of Testicular Cancer

Testicular cancer can result in a number of signs and symptoms.


These may include : -
A lump or enlargement in either testicle
A feeling of heaviness in the scrotum
A dull ache in the abdomen or groin
A sudden collection of fluid in the scrotum
Pain or discomfort in a testicle or the scrotum
Enlargement or tenderness of the breasts
Unexplained fatigue or a general feeling of not being well

Cancer usually affects only one testicle.


[ Male reproductive system ]
[ Testicular lumps ]

Risk factors of Testicular Cancer
Researchers don't know what causes testicular cancer. Risk factors may include : -
An undescended testicle (cryptorchidism)

. The testes form in the abdominal area during fetal development and usually descend into the scrotum before birth. Men who have a testicle that never descended are at greater risk of testicular cancer than are other men are. The risk remains, even if the testicle has been surgically relocated to the scrotum. Still, the majority of men who develop testicular cancer don't have a history of undescended testicles.




Abnormal testicle development

. Conditions that cause testicles to develop abnormally, such as Klinefelter's syndrome, may increase your risk of testicular cancer.




Family history

. If other family members have had testicular cancer, you may have an increased risk.




Age

. Testicular cancer affects teens and younger men, particularly those between ages 15 and 34. However, it can occur at any age.




Race

. Testicular cancer is more common in white men than in black men. The reason for racial differences in the incidence of testicular cancer is unknown.
Causes of Testicular Cancer

Nearly all testicular cancers begin in the germ cells - the cells in the testicles that produce immature sperm. What causes germ cells to become abnormal and develop into cancer isn't known.



Tests and diagnosis of Testicular Cancer

Most men discover testicular cancer themselves, either unintentionally or while doing a testicular self-examination to check for lumps. In other cases, your doctor may detect a lump during a routine physical exam.



To determine whether a lump is testicular cancer, your doctor may recommend : -

Determining the type of cancer

Your doctor will have your extracted testicle analyzed to determine the type of the testicular cancer. The type of testicular cancer you have determines your treatment and your prognosis.


In general, there are two types of testicular cancer : -
Seminoma

. Seminomas occur in all age groups, but if an older man develops testicular cancer it is more likely to be seminoma. Seminomas, in general, aren't as aggressive as nonseminomas, and are particularly sensitive to radiation therapy.




Nonseminoma

. Nonseminoma tumors tend to develop earlier in life and grow and spread rapidly. Several different types of nonseminomatous tumors exist, including choriocarcinoma, embryonal carcinoma, teratoma and yolk sac tumor. Nonseminomatous tumors are sensitive to radiation therapy, but not as sensitive as seminomas. Chemotherapy is often very effective for nonseminomas, even if the cancer has spread.

Sometimes both types of cancer are present in a tumor. In that case, the cancer is treated as though it is nonseminoma.
Staging the cancer

Once your doctor confirms your diagnosis, the next step is to determine the extent (stage) of the cancer.


To determine whether cancer has spread outside of your testicle, you may undergo : -


After these tests, your doctor assigns your testicular cancer a stage. The stage helps determine what treatments are best for you.


The stages of testicular cancer are : -
Stage I

: - Cancer is limited to the testis.



Stage II

: - Cancer has spread to the lymph nodes in the abdomen.



Stage III

: - Cancer has spread to other parts of the body. Testicular cancer most commonly spreads to the lungs, liver, bones and brain.

Treatments of Testicular Cancer

The options you have for treating your testicular cancer depend on several factors, including the type and stage of your cancer, your overall health and your own preferences



Treatment options may include : -
The list of of world class Cancer hospitals in India is as follows : -
| | |
| --- | --- |
| | Apollo Hospital, Chennai, India |
| | Apollo Specialty Hospital, Chennai, India |
| | Apollo Hospitals, Bangalore, India |
| | Indraprastha Apollo Hospital, Delhi, India |
| | Fortis Hospital, Noida, India |
| | Narayana Cancer Hospital, Bangalore, India |
| | Artemis Hospital, Gurgaon ( Delhi ) , India |

For more information, medical assessment and medical quote send your detailed medical history and medical reports
as email attachment to
Email : - info@wecareindia.com
Call: +91 9029304141 (10 am. To 8 pm. IST)
(Only for international patients seeking treatment in India)
For a detailed evaluation send patientís medical reports / X rays / doctors notes to info@wecareindia.com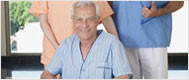 Patient Storys
Successful heart surgery at We Care India partner hospital allows Robert Clarke to live a normal life despite a rare genetic disorder We Care india helped Robert find best super specialised surgeon for his rare conditions.

Read : Robert's Story
See All : Patient's Success Stories


Related Link
Group Websites
Find us on