Doctors at MIOT Hospital, Chennai
Department of Orthopaedics

Prof.Dr.P.V.A.Mohandas
M.S.ORTH.M.CH.ORTH (Liverpool, England), D.Orth.D.Sc (Hon).
Founder of Miot Hospitals
Professor of Orthopaedics and Chief Surgeon

" A visionary, aspired to create a hospital, which can meet up international health care standards and facilities seen in the western countries. As a result MIOT Hospitals opened its new premises in 1999. Under his dynamic leadership, MIOT became one of the most preferred centers of excellence in the world for Joint Replacement surgeries & Spinal Surgeries. MIOT is the first hospital in Asia Pacific Region and second hospital in the world to have COMPUTER INTEGRATED NAVIGATION SYSTEM for Joint Replacement Surgery."





Dr. Robert Coelho featured in popular news dailies.
Department of Children's Cardiac Care
Dr.Robert Coelho
Head of the Department


" Miot Children's Heart centre is headed by renowned surgeon Dr.Robert Coelho who has performed more than 3000 surgeries on babies and children of all nationalities, with excellent results. He is supported by a skilled and experienced cardiac team."




Department of Interventional Radiology

Dr. K.Murali
MBBS., MD (Radio Diagnosis PDCC (Neuro and vascular)
Head of the Department

Department of Nephrology

Dr. N.K. Ganesh Prasad
M.B.B.S. Dip.NB (Gen.Med.) Dip.NB (Nephrology) MNAMS.
Head of the Department


DR. RAJAN RAVICHANDRAN
MD. MNAMS, FCAP(USA)FRCP(EDIN)
Head of the Department



" MIOT Institute of Nephrology has been founded by a team of doctors headed by one of the leading Nephrologists of the country Dr.Rajan Ravichandran."

Dr.Rajan Ravichandran has 25 years of experience in treating patients with various kidney ailments including general nephrology, dialysis and kidney transplants. He has treated more than 15,000 patients from all over India and neighbouring countries like Maldives, Srilanka, Malaysia and Bangladesh.




Department of Spinal Surgery

Dr. C.S. Dhillon
M.S., DNB., D.Ortho
Head of the Department



The Department of Spine caters to all spine related ailments of neonate to geriatric patients. More than 600 surgeries are performed every year.

All the regions of the Spine-Cervical, Dorsal and Lumbar can be approached from anterior or posterior. Our results for the correction of complex spinal deformities are astounding and unmatched by most elite centers of the world. Our proficient work has earned us appreciation from patients from middle-east countries like Oman, UAE, Sudan and also from Tanzania, Ruwanda, Bhutan, Sri Lanka, Argentina, Nepal etc and the ever-growing congregate of overseas patients is testimony to the immense popularity of this department



Department of Dermatology

Dr. Irene Williams
M.D
Head of the Department

Department of Radiology and Imaging Sciences

Dr. Raja Magesh
M.D
Head of the Department

Department of Thoracic & Cardiovascular Care

Dr.V.V.Bashi
Head of the Department




Dr.V.V. Bashi heads the Cardiac Care Unit in MIOT in the capacity of Chairman and Chief Surgeon. He has performed many complex surgeries including valve repairs and replacements, correction of congenital anomalies, vascular and pulmonary operations and over 5000 coronary by pass surgeries. He is credited for performing extensive thoracic aortic aneurysm for the first time in the country. This surgery involves total replacement of thoracic aorta including aortic valve.

He is also one of the pioneers of Beating Heart Surgery in India having performed over 1500 beating heart bypass surgeries with a success rate of 99.5 % - one of the highest in the world.




Department of General Surgery

Dr. Rajesh Daniel
M.S.
Head of the Department



The General Surgery Department Offer Services that Include Trauma, Gastroenterology, Hepatobiliary (Liver, Gall Bladder, Bile Duct), Pancreas, Endocrine, Oncology, Pediatric, Bariatric and Basic Cosmetic Surgeries.





Dr. M. Rajan
MD (AIIMS), DM (Cardio)
Consultant Interventional Cardiologist



Dept. of Cardiology at the MIOT center for Thoracic and Cardio-Vascular care offers tertiary level health care in the specialty since its inception in June 2002 and caters to patients with congenital and acquired forms of heart disease.




Department of ENT & Head Neck Surgery
Dr.B.Manoj Bhaskaran
DORL, MS, DipNB
Head of the Department



Most modern diagnostic and treatment infrastructure to deal with all major problems arising in the head and neck region. ENT & HEAD NECK SURGERY Department provides out-patient services, inter-departmental consultancy, assessment of hearing impairments, evaluation of vertigo, nasal and laryngopharyngeal endoscopic surgeries, surgery for snoring and all ear microsurgeries.




Department of Ophthalmology

Dr. Harshita Bakshi
M.S (Ophthalmology) FRCS (Edinbrough)
Head of the Department



At MIOT the Department of Opthalmology uses state of the art equipment for ophthalmic microsurgery, We do complete evaluation of the eyes including - refraction, muscle balance, Slit lamp examination, Applanation tonometry, detailed retinal evaluation with indirect ophthalmology.




Department of Neurology And Neurosciences
Dr. Zaheer Ahmed Sayeed
MD,FRCP, FACP,FAMS,FAAN
Head of the Department



Department of Neurology and Neurosciences is concerned with the diagnosis and treatment of neurological diseases. The Chief Neurological Physician carries with him a state of the art Neurophysiological Laboratory which is operated by two Technologists, one of whom again with considerable expertise and experience . The laboratory is structured to carry out all electrophysiological assessment of the brain.




Department of Oral & Maxillo-Facial Surgery

Dr. Paul V. Joseph
MDS, FDSRCS (Edinbrough-UK)
Head of the Department

Department of Neurosurgery
Dr. U. S. Srinivasan
M.Ch.
Head of the Department

Department of Gastroenterology Surgery and Minimally Invasive GI Surgery

Dr. M.Maran
M.S, FCIP
Head of the Department

Department of Nuclear Medicine

Dr.E.Venkatachalapathy
MBBS., DRM.,DNB (Nuclear Medicine)
Consultant Nuclear Medicine

Department of Pulmonary Medicine & Critical Care

Dr. Vijil Rahulan
M.B.B.S, M.D, F.A.C.P, F.C.C.P (USA)
Diplomate of American Board of Internal Medicine, Pulmonary Medicine and Critical care Medicine,
Head of the Department.

Department of Obstetrics & Gynecology

Dr. Saraswathy
M.D. D.G.O
Head of the Department

Department of Obstetrics & Gynecology




[ Dr. Prithvi Mohandas ]



Like his great grandfather and father before him Prithvi Mohandas went to the Prestigious Madras Medical College. After completing his Medical degree he obtained his basic surgical training in the United Kingdom. After this he trained in general Orthopaedics for two years. For the last five years he has specialized in Hip Arthroplasty. He worked for two years exclusively on the tribology and design of hip implants. He spent three years dedicated exclusively to performing primary and revision hip Arthroplasty.

He has presented papers to the British Orthopaedic Association, the institute of mechanical engineers of London. The Royal National Orthopaedic Hospital, London and has collaborated with the Minimally Invasive lab at the Hospital for Special Surgery New York to create the "

ENSIGN

" hip.

He has also contributed to publications on the Blood Supply and loading or Resurfacing and the Migration of Femoral Implants with impact. The high point in his career was being closely associated with and personally trained by the Orthopaedic surgeon to the Queen Ms.Sarah Murihead Allwood a worldwide authority in hip surgery.

He has carried out over 1400 primary hip replacements, 650 resurfacing and 450 revisions. In August 2007 he returned to India and he is employed as director of Hip Arthroplasty at MIOT Hospitals, Chennai.




For more information, medical assessment and medical quote send your detailed medical history and medical reports
as email attachment to
Email : - info@wecareindia.com
Call: +91 9029304141 (10 am. To 8 pm. IST)
(Only for international patients seeking treatment in India)
For a detailed evaluation send patientís medical reports / X rays / doctors notes to info@wecareindia.com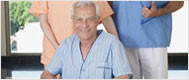 Patient Storys
Successful heart surgery at We Care India partner hospital allows Robert Clarke to live a normal life despite a rare genetic disorder We Care india helped Robert find best super specialised surgeon for his rare conditions.

Read : Robert's Story
See All : Patient's Success Stories


Related Link
Group Websites
Find us on