Testimonials at MIOT Hospital, Chennai

Ms.Yasmin
Sudan

"Our grand daughter Ms.Yasmin suffered from problem in her spine, she underwent treatment in Sudan and then a surgery in Saudi Arabia, where she was admitted in the hospital for I year. But the treatment in vein, she was not able to walk. Then we heard about Prof.Dr.P.V.A.Mohandas and she underwent a surgery on her spine. Today, 27th day at MIOT Hospitals - we are getting discharged, my grand daughter is doing well, and she could able to walk after 3 years."

We feel very happy. Thank you Dr.Mohandas, Chairman Mrs.Mallika Mohandas and all staffs of MIOT Hospitals"


Mr.Hassan Siddiq
Sudan
Patient Ms.Yasmin's Grandfather

Mr. John Wilkinson, Canada
Sudan

" We are pleased with the medical care and facilities. The Doctors took time to address our questions, and reassure us in the progress we made. The nursing sisters were a delight and managed their wards efficiently.

They are professional and caring. The Housekeeping staff were ever so kind to look after needs.Catering - Dietitian and servers tried very hard to provide our meals."





Mr. Ronald Walker
North Yorkshire, England







"After several months of suffering with Arthritis of my Hip, I was informed I required Hip Resurfacing surgery. As this option was only available in 12 months within the UK. I researched the MIOT Hospitals in chennai, India. I received emails and hospital information prior to leaving UK, which answered all the relevant questions including direct information from Prof. Mohandas himself, giving me extra reassurance.

The Pre-operative and Post-operative care has been very impressive. The staff and personal associated with the hospital have been extremely supportive. I am now looking to return to the UK to lead a normal life with all mobility restored."





Mr. Colin & Mrs. Donna Barnes, Canada
North Yorkshire, England

We were very impressed with your : -
Excellent medical care.
Caring and helpful services from the nurses, diet kitchen and housekeeping.
Very pleasant stay and would return for further surgery.

Onneqbu Rapulukhiku
Francisca Nnanyelugo Ezeanowai, Nigeria



"The hospital is well built situated at the center of the town, very close to the airport, which will attract the visitors from other countries .The hospital is equipped with latest facilities needed for surgical and other treatment

Staffs including the chief are very friendly and utmost care for the patients. The environment is okay i.e., very neat and conducive for the good health. The hospital stay was very pleasant.

The amount charged here is very very considerate please keep it up because the reward is in heaven"





Mr. Nygel Wymen
Mr. Nygel Wymen, UK underwent a cervical surgery discharged on 19th May'06 at MIOT Hospitals.




"Being so far away from home when having major surgery is never easy but at MIOT, I was made to feel safe and secure by the entire team. The standards of professionalism were excellent and my stay was as pleasant as it would have possibly been."





Mr. Walter Cox JR
217 Tatem St, Knotts Island
North Carolina, USA 27950
Ph: 757-412-9026
29th May 2007

"To all my good friends I have met in India"

Tonight I will leave for home in the USA and I would like to take time to thank each and every one of you at MIOT Hospitals for all the support and friendship I have received from all of you.

I give special thanks to the Chief and his staff for getting me through this hard time of life with ease.

God bless you all.

I will always remember every one of you.

Your friend





Mr. Nasser Al Shioani
Oman






Many Thanks to Miot Hospital

I wish you all the best in this season of peace, joy and happiness and also the best for the coming year, I am very happy after receiving medical treatment from you.

I can walk now and I am looking forward to be more active in school taking part in recreational activities.

When I see you next I want more encouragement from you.

Thanks to all the other Doctors who supported me with treatment and May God give all of you more strength and wisdom to treat little guys like me and make them feel good and normal.





Jack and Rose Beadle
Senegal






"Our stay here at MIOT has been most pleasant as all of the staff are always concerned about our comfort and well being. The diagnostic equipments are all state of the art and felt that the quality and expertise of the surgical team is equal to the best found anywhere. We certainly consider our visit here as a very positive one."

Sincerely





Mr. Deacon I O. Nwagwu
Nigeria



"On behalf of my family, I really want to thank you for your Hospitality and love while I was in your Hospital. It beat my imagination that your motto-PUTTING PATIENTS FIRST was expressed both in words and action.

I pray the almighty God reward you greatly even as you are doing a great work for Humanity.

We arrived Nigeria safely."






For more information, medical assessment and medical quote send your detailed medical history and medical reports
as email attachment to
Email : - info@wecareindia.com
Call: +91 9029304141 (10 am. To 8 pm. IST)
(Only for international patients seeking treatment in India)
For a detailed evaluation send patientís medical reports / X rays / doctors notes to info@wecareindia.com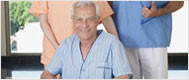 Patient Storys
Successful heart surgery at We Care India partner hospital allows Robert Clarke to live a normal life despite a rare genetic disorder We Care india helped Robert find best super specialised surgeon for his rare conditions.

Read : Robert's Story
See All : Patient's Success Stories


Related Link
Group Websites
Find us on