Testimonials of patients at Wockhardt Hospital, Mumbai

Patient's Name : - Mr. David Watson
[ Revision Total Knee Replacement, United Kingdom ]


I would just like to thank everyone at the Wockhardt hospitals for making my stay a very good one.

From when I arrived at the airport to leaving 13 days later, I never had one complaint. The surgeon was reassuring and looked after me well. From the best of the staff, from the top nurses all the way down to the guys who cleaned the room it was all done well and me feel comfortable.

The food was very good and I had no complaints there either.

If anyone in the UK was thinking of having surgery in India and was worried or apprehensive about it, don't be. You will be looked after very well.

I must say a special thank you to the administration staff, all helped me with my needs on a daily basis.



Patient's Name : - Ms. Carolyn Watt
Hip Resurfacing Surgery, USA



After three years of pain, difficulty walking, and an inability to work, I have finally entered a new hopeful and exciting chapter in my life.

Because of the absolute impossibility of paying for a hip replacement surgery without insurance in the US I found Dr. K. Malhan, an exceptional and experienced surgeon and Wockhardt Hospitals, Ltd. of India, a solution that has changed my life. The surgery was painless for me. The rehabilitation was strict and very effective, the nursing and the support staff were all trained, kind and infinitely caring. I have the joy of facing the facing the future with freedom of mobility and a wonderful on going connection to new friends.



Patient's Name : Ms. Margaret Mason
Knee Surfacing Surgery, USA



I arrived in Mumbai very early A.M. of September 21. We were met at the airport brought directly to the hospital. All investigations were done promptly and professionally. The nursing care is excellent, genuinely very gentle, caring and professional nurses. They certainly made sure I was pain free, for the first few days post-op especially. The bed baths and back rubs-WOW!

Where I needed to use the call bell, it was answered very quickly. Dietary and all other support staff are kind and caring as well. I take home with me very pleasant memories of my care at Wockhardt. I have no pain, no limp and await being on my again.I thank you.

My husband stayed in the room with me. Our room was cleaned every day .Everyone from this department who cared for us did so, ever so pleasantly and professionally. Highest regards and many thanks.

18 months after the surgery, Ms Mason, A Registered Nurse in USA herself wrote to Wockhardt Hospitals

Oh MY , of course I remember you!!! My new knee is so awesome- I still don't believe it. I am really using it- in Sept 2007, I cycled across the state of Nevada - 500 miles in 5 days-- no aches, pains! In January, I climbed Mt.Kilimanjaro [19,400 feet], in Africa & am now training for a pretty busy cycling season ! continually give thanks for your hospital. We are hoping to come to India in 2009 to seethe north part of your country--again, many thanks from both of us.


Patient Name : - Catherine Kerr
Procedure : - Cosmetic Surgery
Location : - UK


From the moment we arrived in Mumbai, the treatment that we received from Wockhardt Hospital has been outstanding we were met at the airport by Bharat who was a member of the hospital's public relations team. He welcomed us and was very pleasant, we were then driven straight to the hospital where we were very quickly and efficiently checked in to our room.

There was no language barriers as everyone speaks perfect English.

The accommodation we stayed in was better than excellent, we were placed in a private room where we had internet access, T.V and DVD and our own Refrigerator stocked with fresh fruits, bottled water and fruit juices, we also had tea and coffee making facilities and a private shower room.

The hygiene level in the room was excellent with the room being cleaned every day and clean sheets and towels daily. We have found everyone from doctors and nurses to cleaning staff always helpful and smiling and nothing has been a bother. Bharat took us shopping and to a nice restaurant on the first night and showed us some of the sights in Mumbai which was lovely. The food served has also been very good with daily menus provided and help from a dietician.

Right from the start my procedure has been fully explained in detail and Dr.Pandya who operated gave excellent advice and explained everything before I could even ask.

The aftercare has been outstanding with medication readily available when needed. The total experience that we have had from Wockhardt Hospital had been outstanding and I would have no hesitation in advising anyone else to do it. I am so pleased with the end result of my procedure


Patient Name : - Ms. A. Rosemarie Lyntzberger
Procedure : - Hip Resurfacing Surgery
Location : - Germany




Six months after returning back home Ms.Rosemarie writes

: It is with my deepest thankfulness that I write to you today. I reached home safely, my husband picked me up from the airport and he could simply not believe his eyes when he saw me walking around the way i did. He told me to greet everybody and tell everybody how grateful he is to get a healthy woman back. They all took part in getting me healthy again and if ever I would have to make that decision again where to be operated my decision would always be Wockhardt Hospitals.I know for sure that Wockhardt will have a great future.

You cannot imagine how it is when after 10 years of pain you can walk again, normal, without pain, but with a lot of fun, discovering more and more the beauty of our wonderful mountains here. Nobody can believe that I had my operation just half a year ago. I am so happy. All the very very best.


Patient Name : - Mr. James Milne
Procedure : - Hip Resurfacing Surgery
Location : - UAE


After having been diagnosed with Osteo- arthritis in my left hip 2 years ago we began to look at the inevitable solution which would be surgery.The Wockhardt Group came to our notice after seeing an article in a British newspaper on 'Medical Tourism' in India. Later that year there was a similar article on television. This lead to look at the Wockhardt website and after reading the details of the Wockhardt Hospital,Mumbai and the orthopaedic team led by Dr. Malhan, we decided to contact.

From that point the whole experience has been one of total profesionalism at all levels. The International Marketing team answered all questions both medical and personal promptly and precisely. We were picked up at the airport and whisked (if that is the right word for Mumbai's roads) away to the hospital. there was a brief administrative procedure to complete and then upto the room. The rest of that day was taken up by medical checks, x-rays etc. and a visit from the surgeon Dr.Malhan and his team.

The Birmingham Hip Resurfacing operation was carried out on the next day and after only 2 days I began physiotherapy treatment with Dr. Ritu all throughout the nursing care has been faultless led by the sister incharge Gayathri. We received regular visits by other members of the medical team as well as the Head of Nursing on her rounds. The support services of housekeeping, maintenance and catering were all first class providing a total service that would be difficult to match.

In conclusion, I have no hesitation in recommending to anyone considering hip surgery, the services of Wockhardt Hospital and would encourage you to make the decision and place yourself in the expert hands of this world class team


Branches of Wockhardt Hospitals in India : -

For more information, medical assessment and medical quote send your detailed medical history and medical reports
as email attachment to
Email : - info@wecareindia.com
Call: +91 9029304141 (10 am. To 8 pm. IST)
(Only for international patients seeking treatment in India)
For a detailed evaluation send patientís medical reports / X rays / doctors notes to info@wecareindia.com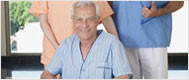 Patient Storys
Successful heart surgery at We Care India partner hospital allows Robert Clarke to live a normal life despite a rare genetic disorder We Care india helped Robert find best super specialised surgeon for his rare conditions.

Read : Robert's Story
See All : Patient's Success Stories


Related Link
Group Websites
Find us on