Facilities at Wockhardt Hospital, Mumbai
Inpatient Facilities - Mumbai





Room Amenities : -



Wockhardt Hospital is committed towards delivering quality healthcare and ensuring the best outcomes for our patients. Our team of world- class doctors and professionally trained nurses serve our patients with compassion , respect and integrity.


Wockhardt Heart Hospital offers a choice of rooms catering to each segment of the society : -
Multibed / A/C

8 patients in an AC room with 4 beds in each cubicle.
Independent telephone connections and common bathroom.
No companion allowed.

Twin Sharing

2 patients in an AC room. Cable TV.
Independent telephone connection
Attached bathroom
Storage & Locker facilities in the room
Sofa cum bed for one companion

Deluxe

Single A/C room
Cable TV
Independent telephone connection
Attached bathroom
Storage & Locker facilities in the room
Sofa cum bed for one companion

Private Deluxe

Air conditioned room with attached washroom
Colour Television with cable connection and DVD player
Mini bar refrigerator
Surfing facility on broadband internet
Independent telephone connection
Local pre-activated mobile phone
Storage & Locker facilities in the roo
Sofa cum bed for one companion
Room food service
Tea and Coffee maker
Laundry Service




Telephones : -



All private rooms are equipped with telephone service, which will enable you to make local calls directly from the room. Please dial 9 to access the direct dialling facility. As telephone facilities are not available in Intensive Care Units incoming calls cannot be connected. However, if attendants of such patients need to make outside calls, they are requested to use the Public Telephone System available at the main entrance.


The following numbers will be useful : -
| | |
| --- | --- |
| Operator | : - 0 |
| Front Office | : - 4131 through 4136 (24 hrs) |
| Maintenance | : - 4177/76 (24 hrs) |
| Housekeeping | : - 4161 (9a.m.to 5.00p.m.) |


STD Calls can be requested through the operator. There will be a surcharge on all STD Calls.



Television : -



Cable Television is provided by Wockhardt Hospitals, Mulund in all private rooms. On arrival, your nurse will guide you on the various channels available. You may please ask your attendant to operate the television in the manner you desire. To ensure good quality reception, please refrain from tampering with the television, but for assistance call maintenance at extension 41 77. Please permit a response time of 20 minutes.





Dietary Services : -



Your diet is an important part of the treatment and is prescribed by your doctor. Food and beverages should not be brought to the hospital without the dietician's prior approval.

Wockhardt Hospitals, Mulund provides breakfast, lunch, dinner and choice of beverages -tea, coffee or milk for patients. Food is also available for those attending to the patients, at our coffee shop. The coffee shop is located at the 3td level opposite the Eye hospital and serves a wide range of a la carte menus. Payments for this service are to be made at the cash counter at the time of ordering food.

It is quite possible that some of you may not relish the food, because the menu-which been approved by an expert panel of doctors and dieticians, is designed to meet various therapeutic and dietary requirements of convalescing patients. The package for patients includes bed-tea, breakfast with beverages, lunch, evening beverage, dinner & bed-time milk. For order placement and/or more information, call extension 4272.

Please permit for an order service time of 30 minutes. Our dietician will call on you each day of your stay with us and will monitorall your dietary needs.

Dietary service is available between 6.30 a.m. and 9.30 p.m. daily. Fresh drinking water is provided twice a day morning and evening, should you require a refill of drinking water please inform the pantry at extension 4272.



Housekeeping : -



To maintain hygienic conditions, your room will be cleaned daily between 7.00 a.m. and 10.00 a.m.

Should you require a second cleaning please inform the housekeeping supervisor at extension 4161 or ask your nurse for assistance, she will gladly he/p you.

The hospital request that no linen be brought from outside, as all linen needs of patients are met by the hospital at no additional charge. For any linen needs, please contact your nurse at the nursing station.



Toilets : -



All toilets in the hospital are sanitized regularly for your protection. Hot and cold water facilities are available in bathrooms.

Attendants are requested not to use hospital toilets for washing clothes, utensils and bathing.



Maintenance : -



Preventive maintenance of all equipment in the room is routinely and thoroughly done before admission of a new patient. To further ensure continued patient comfort, the staff of the customer care and maintenance departments make daily room rounds between 11.00 a.m. and 1.30 p.m. During these rounds, various equipments, facilities in the room are checked and if, necessary serviced. If you need any assistance regarding the television, air-conditioning, power points, nurses call system, music system, plumbing or telephone in your room, call extension 41 77. Please allow a response time of 20 minutes.



Mail & Packages : -



All mail, fax messages and packages will be delivered to' you by hospital staff during non-visiting hours, only when you are in the ward and not in the Intensive Care Units.

Mail received after you have been discharged will be forwarded to you, if forwarding instructions are given to the Reception personnel. Flowers are not allowed in your room to avoid allergic reactions.



Newspapers : -



A copy of the daily newspaper will be delivered to your room every morning by hospital staff.



Cafeteria : -



We have a Cafeteria located on Level -1 It is open from 7.00am to 9.00pm. Extn: 4099



Taxi Services : -



Cab Services/Private Taxies may be ordered from Reception. The payment for these is to be made to the taxi operator directly. Arrangements for the attendants stay can be made through Reception. They will give you the list of taxi tariffs/hotel tariffs.



Feedback & Redressal : -



In our constant endeavour to improve services rendered, custom care personnel will visit you everyday. Any service concerns or inconvenience that may be affecting your stay, may please be brought to their attention so that remedial actions can be taken immediately.


Branches of Wockhardt Hospitals in India : -

For more information, medical assessment and medical quote send your detailed medical history and medical reports
as email attachment to
Email : - info@wecareindia.com
Call: +91 9029304141 (10 am. To 8 pm. IST)
(Only for international patients seeking treatment in India)
For a detailed evaluation send patientís medical reports / X rays / doctors notes to info@wecareindia.com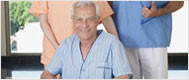 Patient Storys
Successful heart surgery at We Care India partner hospital allows Robert Clarke to live a normal life despite a rare genetic disorder We Care india helped Robert find best super specialised surgeon for his rare conditions.

Read : Robert's Story
See All : Patient's Success Stories


Related Link
Group Websites
Find us on