Center of Excellence at Wockhardt Hospital, Hyderabad
Cardiology & Cardiothoracic Surgery.
Orthopedic, Trauma Care & Joint Replacement.
Neurology & Neurosurgery.
Women & Child Services - Gynecology, Obstetrics, Pediatrics.
Minimal Access Surgery & General Surgery.
Critical Care & Emergency Medicine.
Wellness Care.



Services and Procedures at Wockhardt Hospitals, Hyderabad
Wockhardt Heart Care : -

Wockhardt Heart Care with its Expert Consultants who have expertise in their own niches within Cardiology is a Center of excellence for Cardiac care. With a full time dedicated team of 25 leading Cardiologists / Cardio-Vascular Surgeons, high end imaging technology including Cardiac CT and a remote access Intensive coronary care unit monitored by interventional cardiologists round the clock, Wockhardt Heart Care is able to take on any kind of cardiac emergency anytime of the day.

The Hospital is even geared to perform Primary angioplasties in the middle of the night. With its round the clock Catheterization Lab, specialized cardiac nursing staff and experienced team of professionals, Wockhardt Heart Care is able to handle a heart attack at any time 24 x 7 365 days a year.


Coronary angiogram & cardiac catherisation
Coronary angioplasties with stenting
CABG
Adult & paediatric open heart surgeries
Surgery of aneurysms
Surgery of heart valves
Vascular surgery
Thoracic / Pulmonary surgery
Amplatz closure for ASD
Diagnostic electrophysiology studies
Radio frequency ablation
Wockhardt Minimal Access Surgery Hospital

The Wockhardt Minimal Access Surgery Hospital is equipped with High-end technology to perform precision surgery in this newly developed modality of surgical treatment, which until recently required large incisions on the human body. It encompasses operative procedures for the thorax, abdomen, urinary tract, reproductive system and joints. This has been recently applied in children and infants too. This technology not only minimizes surgical trauma, pain and blood loss but also shortens hospitalization and improves aesthetics.


Lap. Cholecystectomy
Lap. Appendectomy
Lap. Gynac Procedures
Lap. Hiatus hernia repair
Lap. & endo-urological procedures Adults
Lap. & endo-urological procedures Peads
Reconstructive procedures
Radical nephrectomy and partial nephrectomy
Radical cystectomy
Radical prostatectomy

Wockhardt Bone & Joint Care

The Wockhardt Bone and Joint Hospital is a remarkable new source for the advanced treatment of musculo - skeletal disorders. The hospital provides patients and their families with the highest quality orthopedic care, and a new dimension of personal care. We specialize in the latest techniques and treatments. We utilize the most sophisticated diagnostic procedures and the latest surgical techniques, including state of the art ortho instrumentation when appropriate to reduce pain and restore structure and function.


Joint Replacements
Spinal Minimal Access Surgeries
Arthroscopy Surgeries
Pediatric Bone and Joint Surgeries
Hip resurfacing
Specialty Clinic for Arthritis
Specialty Clinic for Back Pain
Specialty Clinic for Osteoporosis
General Orthopedics
Critical Care

Our team of Critical Care Intensivists is available 24x7. Patients admitted for impending or actual organ failure, are taken care by a dedicated team of intensivists with one nurse per patient ratio. This with advanced technological support helps us in providing the best critical care possible.




Gastroenterology

At the Kamineni Wockhardt Hospitals we have state of the art Video Endoscope system, comprising of all three different types of endoscopes UGI Endoscope, Colonoscope and ERCP side viewing scope, capsule Endoscopy, a modern ERBE cautery machine useful for various procedures like Polypectomy, Sphinctrotomy, Heater Probe Coagulation etc. We also have as support a well developed Radio-Diagnosis Department for various diagnostic procedures.



Dialysis

State of the art Dialysis Unit Economic Package for regular Dialysis Patients. Rs. 16500. In this package the patient has to pay only Rs. 3300 on the first visit and then is charged with Rs. 1200 on every subsequent visit till a total of 12 visits.


Inclusions : -
5 cc syringe 1, 20 cc syringe 1, 1 bicarbonate packet, Dialyser 1, Blood Tubing 1,
Out patient investigations like CBP, CUE, SERUM CALCIUM, SERUM PHOSPHORUS, LFT, HIV, HBS AG, ANTI HCV,
pick and drop facility for the patients
Free meal

Follow up package for Rs. 15000. In this package the patient has to pay Rs. 1800 for the first visit, which is followed by Rs. 1200 per visit for the next 11 visits.



Other Services
Cosmetic Surgery
Oncological Surgery
ENT Surgery
Neurosurgery
Maxillo Facial Surgery
Nephrology
Neurology
ENT
Physiotherapy and Rehab Medicine

Speciality Clinics Pain Management Clinic
Pain clinic focuses on the group of patients with pain disorders like headache, backache, neck pain, cancer pain, neuralgias, fibromyalgia, post herpetic pain, sympathetic dystrophy and other disorders. In nutshell unrelieved, intractable, incapacitating pain of more than four weeks duration needs an opinion from a pain specialist.
Uniqueness of Wockhardt Pain Management Clinic
Epiduroscope for the first time in the country
Video 3 chip Endoscopes
Radio frequency ablator
C Arm Fluoroscopy
Wockhardt Diabetic Clinic

Diabetes is a serious chronic condition where the body either doesn't make, or properly use insulin. This causes the sugar to build up in your bloodstream instead of going into the cells of the body. This means that your body cannot make the energy it needs from the food you eat.

The clinic focuses exclusively on Diabetes and the secondary ailments it causes. It is a one-stop center for complete care in Diabetes.


Branches of Wockhardt Hospitals in India : -

For more information, medical assessment and medical quote send your detailed medical history and medical reports
as email attachment to
Email : - info@wecareindia.com
Call: +91 9029304141 (10 am. To 8 pm. IST)
(Only for international patients seeking treatment in India)
For a detailed evaluation send patientís medical reports / X rays / doctors notes to info@wecareindia.com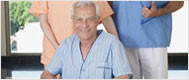 Patient Storys
Successful heart surgery at We Care India partner hospital allows Robert Clarke to live a normal life despite a rare genetic disorder We Care india helped Robert find best super specialised surgeon for his rare conditions.

Read : Robert's Story
See All : Patient's Success Stories


Related Link
Group Websites
Find us on