Laser treatment for varicose veins
Treatment Overview

A laser is a highly focused beam of light. A doctor can use a laser to treat varicose veins. Laser heat damages a vein, which makes scar tissue form. This scar tissue closes the vein. A closed vein loses its source of blood and dies. After a year or two, the vein is likely to disappear.

Simple laser treatment. Until recently, laser vein treatment has been limited to spider veins and tiny varicose veins just under the skin's surface. Usually, more than one laser session is needed. They are scheduled every 6 to 12 weeks, as prescribed by your doctor. (If you have poor blood circulation feeding these tiny veins, the larger "feeder" vein must first be treated with surgery, endovenous laser or radiofrequency treatment, or sclerotherapy.)

Endovenous laser treatment. This newer technology is becoming more available for larger varicose veins in the legs. A laser fiber is passed through a thin tube (catheter) into the vein. While doing this, the doctor watches the vein on a duplex ultrasound screen. Laser is less painful than vein ligation and stripping surgery, and it has a shorter recovery time.1 Only local anesthesia or a light sedative is needed for laser treatment. (For vein surgery, general anesthesia is used to put you to sleep.) Studies show that endovenous laser is very effective.1



What to Expect After Treatment

You are likely to be able to return to your normal daily routine after simple laser treatment. After endovenous laser treatment, you will wear compression stockings for 1 week or more. To follow up, your doctor will use duplex ultrasound to make sure that the vein is closed.



Why It Is Done

Simple laser treatment is done for small spider veins and tiny varicose veins. This is sometimes a second treatment step, after a larger varicose vein has been treated with surgery, endovenous laser or radiofrequency treatment, or sclerotherapy. Endovenous laser treatment is used to close off a larger varicose vein, instead of using surgery to remove it.



How Well It Works

Simple laser treatment. Over the past twenty years, this type of laser treatment has become quite safe and effective.2 Endovenous laser treatment. Studies show that endovenous laser closes veins up to 98% of the time, with less pain and shorter recovery time than vein ligation and stripping surgery.1 Treatment success after several years has not been studied.

If endovenous laser treatment does not close a vein, you will need a second treatment. Depending on what is available in your area, you may have choices between another laser treatment, radiofrequency treatment, or sclerotherapy. In some cases, vein surgery is recommended. For the best chance of success, be sure to have a doctor with a lot of endovenous laser experience.



Varicose Vein Laser Treatment - EVLT(TM)


EVLT stands for EndoVenous Laser Treatment, a leading varicose vein treatment procedure from AngioDynamics. It is simple, effective, and is the first choice of patients and physicians. The treatment takes less than an hour to eliminate varicose veins. During the procedure, a laser is fired along and inside the varicose vein. The energy from the laser damages the vein walls, shrinking them closed to prevent blood from flowing through.

Research shows a success rate of 93%-98% in individuals undergoing EVLT varicose vein treatment (based on clinical data with up to five years of follow-up). This is much higher than the alternative treatments, including: injection sclerotherapy, radiofrequency, and surgical ligation and stripping. Due to its increased efficacy and lower morbidity, market researchers predict that endovenous laser treatment will be the new "gold standard."

Like all other minimally invasive procedures, EVLT can potentially result in some minor bruising, which usually goes away during the first several weeks. With EVLT, you will feel a "pulling" sensation as well as delayed tightness about 4 to 7 days after the varicose vein treatment procedure is completed. These side effects are normal and are expected after a successful treatment procedure. During the procedure, you will be provided with special glasses to wear in order to protect your eyes. This is just a precaution against accidental laser energy firing outside an individual's body.

When medically necessary for symptom relief, EVLT is usually reimbursed by the majority of carriers, including Medicare - which limits cost for the patient. You should contact your insurer in order to obtain more details.



Risks
Side effects of laser treatment include : -
Skin burns.
Skin coloring changes.
Feelings of burning, pain, or prickling after recovery, from nerve damage (less likely than after vein stripping surgery).
Small or large blood clotting in the vein or a deep vein (less likely than after vein stripping surgery).

The more experience your doctor has had with laser, the less risk you are likely to have. Talk to your doctor about how often these side effects happen in his or her practice.



What to Think About

Compared to vein stripping and ligation surgery, endovenous laser and radiofrequency treatments usually cause less pain and have a shorter recovery time.2 This is because these treatments are done through a small incision. A larger groin incision is not needed. Plus, these treatments do not require general or spinal anesthesia.

If you are thinking of laser treatment, consider some questions to ask about varicose vein treatment. These questions include: How much experience does the doctor have with the particular treatment? How much do the exam and treatment cost? How many treatments does the doctor think you will need?




The list of of Vascular Surgery Hospitals in India is as follows : -
| | |
| --- | --- |
| | Apollo Hospitals, Bangalore, India |
| | Apollo Hospital, Chennai, India |
| | Apollo Hospitals, Hyderabad, India |
| | Indraprastha Apollo Hospital, Delhi, India |
| | Apollo Gleneagles Hospital, Kolkata, India |
| | Apollo Hospital, Goa, India |
| | Wockhardt Hospital, Bangalore India |
| | Wockhardt Hospital, hyderabad, India |
| | Wockhardt Hospital, Mumbai, India |
| | Fortis Hospital, Delhi, India |
| | Fortis Hospital, Mohali, India |
| | Fortis Hospital, Noida, India |
| | Escorts Heart Institute Hospital, Delhi, India |
| | Manipal Hospital, Bangalore, India |
| | MIOT Hospital, Chennai, India |
| | Narayana Hrudayalaya Heart Hospital, Bangalore, India |
| | Artemis Hospital, Gurgaon ( Delhi ) , India |
| | Max Devki Devi Heart and Vascular hospital, Delhi, India |
| | Max Super Specialty hospital, Delhi, India |
| | BGS Global Hospital, Bangalore, India |
| | BGS Global Hospital, Chennai, India |
| | BGS Global Hospital, Hyderabad, India |

For more information, medical assessment and medical quote send your detailed medical history and medical reports
as email attachment to
Email : - info@wecareindia.com
Call: +91 9029304141 (10 am. To 8 pm. IST)
(Only for international patients seeking treatment in India)
For a detailed evaluation send patientís medical reports / X rays / doctors notes to info@wecareindia.com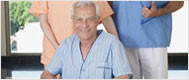 Patient Storys
Successful heart surgery at We Care India partner hospital allows Robert Clarke to live a normal life despite a rare genetic disorder We Care india helped Robert find best super specialised surgeon for his rare conditions.

Read : Robert's Story
See All : Patient's Success Stories


Related Link
Group Websites
Find us on