Sclerotherapy - varicose and spider veins

Sclerotherapy is a treatment that involves injecting a solution into unwanted varicose or spider veins. These veins may appear on the legs or may be hidden under the skin and fat. The unwanted blood vessels are red or bluish in colour and are a common problem, particularly for women. Some small varicose veins are raised above the skin's surface and may cause aching.

Sclerotherapy is not just a cosmetic procedure. Varicose vein disease can cause many health problems such as blood clots, venous eczema, skin breakdown and ulceration and, rarely, skin cancers.



Causes of varicose and spider veins

The cause of varicose and spider veins is not known. However, in many cases, they run in families. Women seem to develop this problem more often than men. Changes in oestrogen levels in the blood may have a role in the development of varicose veins. This may be due to taking the contraceptive pill or hormone replacement therapy, or due to natural hormonal fluctuations such as puberty, pregnancy, breastfeeding and menopause.


Other factors that may contribute include : -
Standing or sitting for long periods
Being immobile for long periods (for example, being confined to bed)
Lack of exercise
Obesity.
How sclerotherapy works

The solution,which is injected into the vein, is called a sclerosant. It causes the vein to close by irritating the blood vessel so that it swells and sticks together. This process causes the veins to fade and eventually they can no longer be seen. Some vessels will have vanished by the time the support stockings are removed.

Each vein may require several injections, given some weeks apart. Multiple veins can be injected in one treatment session. Allergic reactions to the sclerosing solution are very rare.



Ultrasound guided sclerotherapy

Ultrasound guided sclerotherapy (UGS) uses ultrasound to locate the underlying leaking veins and aims to seal off the leakage points. The leakage could come from small 'perforating veins' that are usually below the knees, or main valves behind the knees or in the groin.

Some people have multiple leaking valves. UGS closes these abnormal veins and restores the circulation back to normal.


UGS is best for people with : -
Very large varicose veins
Leg ulcers
Skin conditions (such as pigmentation or eczema).
Pain and the procedure

The injection uses a fine needle that causes a barely noticeable pinprick feeling. Some people experience a slight to moderate burning feeling immediately after the injection, but this disappears after a few seconds.



Following the procedure

To improve the blood circulation in the deep veins, it is essential to walk after the treatment. A compression stocking is worn to reduce the risk of bruising and swelling or other complications. Regular exercise, weight control and the use of support stockings (if practical) are recommended between treatments and after treatment.



Possible side effects
Possible side effects of sclerotherapy include : -

Possible causes of inflammation
Inflammation (phlebitis) and blood clots can be caused if : -
No compression has been applied.
The applied compression has not been enough.
You are on the contraceptive pill or hormone replacement therapy.
There is an underlying tendency to clotting.
The treatment has been performed just after long distance travel or a major operation.
The underlying source of leakage in the vein has not been treated adequately.
The inflammation extends to the deep veins, causing deep vein thrombosis (DVT). DVT is a rare but serious complication of sclerotherapy. It can extend to the lungs, causing pulmonary embolism (clots in the lungs) and even death.
It is very important that women stop all hormonal supplements before sclerotherapy.
Minimising the risk of varicose and spider veins
The following suggestions may help to prevent varicose and spider veins : -
Wear support stockings.
Maintain good weight control.
Get regular exercise.
Avoid wearing high heels, as they affect the proper functioning of the larger veins.
Things to remember
Sclerotherapy is the injection of a solution into varicose or spider veins
Most people can expect an improvement in the appearance of treated veins.
Side effects of sclerotherapy may include bruising, swelling or brown lines or spots.
The list of of Vascular Surgery Hospitals in India is as follows : -
| | |
| --- | --- |
| | Apollo Hospitals, Bangalore, India |
| | Apollo Hospital, Chennai, India |
| | Apollo Hospitals, Hyderabad, India |
| | Indraprastha Apollo Hospital, Delhi, India |
| | Apollo Gleneagles Hospital, Kolkata, India |
| | Apollo Hospital, Goa, India |
| | Wockhardt Hospital, Bangalore India |
| | Wockhardt Hospital, hyderabad, India |
| | Wockhardt Hospital, Mumbai, India |
| | Fortis Hospital, Delhi, India |
| | Fortis Hospital, Mohali, India |
| | Fortis Hospital, Noida, India |
| | Escorts Heart Institute Hospital, Delhi, India |
| | Manipal Hospital, Bangalore, India |
| | MIOT Hospital, Chennai, India |
| | Narayana Hrudayalaya Heart Hospital, Bangalore, India |
| | Artemis Hospital, Gurgaon ( Delhi ) , India |
| | Max Devki Devi Heart and Vascular hospital, Delhi, India |
| | Max Super Specialty hospital, Delhi, India |
| | BGS Global Hospital, Bangalore, India |
| | BGS Global Hospital, Chennai, India |
| | BGS Global Hospital, Hyderabad, India |

For more information, medical assessment and medical quote send your detailed medical history and medical reports
as email attachment to
Email : - info@wecareindia.com
Call: +91 9029304141 (10 am. To 8 pm. IST)
(Only for international patients seeking treatment in India)
For a detailed evaluation send patientís medical reports / X rays / doctors notes to info@wecareindia.com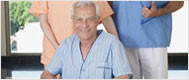 Patient Storys
Successful heart surgery at We Care India partner hospital allows Robert Clarke to live a normal life despite a rare genetic disorder We Care india helped Robert find best super specialised surgeon for his rare conditions.

Read : Robert's Story
See All : Patient's Success Stories


Related Link
Group Websites
Find us on