Transurethral resection of the prostate (TURP)

Q.

What is a TURP ?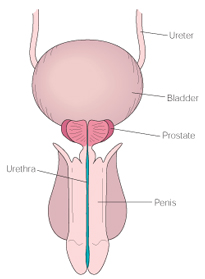 A trans-urethral resection of the prostate (TURP) is an operation to remove the parts of your prostate that are pressing on your urethra, to make it easier for you to pass urine. It involves a surgeon inserting a special tube down your urethra, through which a heated wire loop is passed. This wire loop is used to shave off the overgrown areas of your prostate.


Q.

Am I a good candidate for TURP ?



Not everyone who develops an enlarged prostate will need treatment. However, your consultant has recommended a TURP because of your symptoms. A TURP is the most common type of surgery for an enlarged prostate. It will make it easier for you to pass urine and may relieve your other symptoms, although it will not always resolve all of them. If you don't have treatment, your prostate will continue to grow, which may make your symptoms worse and increases the possibility of problems with your bladder and/or kidneys.

Q.

Why transurethral resection of the prostate is done



Sometimes surgery is needed to remove the part of a prostate cancer that is pressing on the tube that carries urine from your bladder (the urethra). If anything presses on the urethra this can make it difficult for you to empty your bladder properly. Your doctor may suggest an operation to take away some of the cancer so that you can pass urine more easily again. This operation is not done to cure your cancer. But it can relieve symptoms caused by the cancer pressing on your urethra.

This operation is also often used for men who have a non cancerous (benign) swelling of the prostate gland called benign prostatic hypertrophy (BPH). In this section of CancerHelp we are just describing its use as a treatment for prostate cancer. This type of surgery is called a TUR or TURP, which stands for 'transurethral resection of the prostate'.


Q.

How a TURP is done ?



A TURP is carried out by passing a thin tube up the urethra through your penis. The tube has a tiny camera and an eyepiece, so that the surgeon can see inside your urethra. They remove the blockage using an instrument attached to the tube that can cut away the abnormal areas. Afterwards you usually need to stay in hospital for about 2 or 3 nights.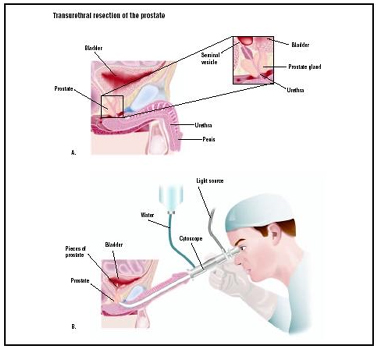 You usually have a TURP under a general anaesthetic, but for some men, it is done with a spinal anaesthetic. This means you are awake, but can't feel anything below the level of the anaesthetic injection into your spine. This type of anaesthetic is also called an epidural and is often used for childbirth. Your doctor will suggest a spinal anaesthetic if there are reasons why you shouldn't have a general anaesthetic, for example if your lungs are not as healthy as they might be.



After a TURP

It's best if you can start moving around as soon as possible. You'll probably be up and about within 24 hours. You may have a drip (intravenous infusion) to replace your body fluids. It will be taken out as soon as you are drinking normally again. It is important to drink plenty of fluids.

You may also have a tube (catheter) into your bladder to drain your urine into a collecting bag. After this surgery, it is quite normal to have blood clots forming in your urine. To prevent the blood clots blocking this catheter, fluid is passed into your bladder and drained out through the catheter (bladder irrigation).

The blood in your urine will slowly clear and then the catheter will be taken out. This is normally about 2 or 3 days after your surgery. You must tell your nurse as soon as you pass urine after your catheter has been removed. Sometimes, men can't pass urine when their catheter first comes out. This may be because there is still swelling around the neck of the bladder and the prostate after your surgery. If you can't pass urine, you will probably have the catheter put back in and you can try again without it in a day or so.

Sometimes you may need to have the catheter in for a while after you go home. Before you leave hospital your nurse will show you how to look after your catheter. They can also arrange for a district nurse to visit you at home to help with any problems.



Going home after TURP

Before you leave hospital your nurse will give you an appointment for the outpatient clinic for a checkup. The appointment is a good time to discuss any problems you may have after your operation. It is usually 6 weeks after your surgery. Most men go home within 3 days or so of their TURP. If you think you might have problems coping at home, let your nurse or social worker know when you are first admitted so that they can arrange help.




Q.

What are the risks of a TURP ?



There are risks associated with any operation. Your consultant will explain the specific risks for a TURP, outlined below, in more detail before asking you to sign a consent form.


Retrograde ejaculation.

: - 75% of men do not produce semen when they orgasm after a TURP. This is a long term side-effect. You will still be able to have an erection and orgasm, but your fertility may be affected.




Erectile dysfunction.

: - The nerves that control your erections are very close to the prostate gland. If these are damaged during surgery you may have difficulty getting an erection afterwards. This happens to 10% or less of patients having a TURP.




A urine infection.

: - This can cause symptoms such as pain or burning when passing urine, but can be treated with antibiotics. This happens to about 3% of patients.




Bleeding.

: - If the bleeding is severe you may need a blood transfusion or another operation to stop the bleeding. This happens to about 3% of patients having a TURP.




Self catheterisation.

: - Occasionally, if your bladder is weak as a long term result of BPH, you may need to use a catheter to empty your bladder. If this risk applies to you, your consultant will discuss this with you in more detail.




Prostate re-enlargement.

: - Your prostate continues to enlarge even after surgery and in the future and you may need a repeat procedure if your symptoms return. This happens to about 10% of patients within ten years of their TURP.




Deep vein thrombosis (DVT)

: - Any surgery carries the risk of DVT. This is where a blood clot can form in the veins or arteries, most commonly in the legs.




Injury to the urethra,

: - causing delayed scar formation. This does not delay your recovery, but can lead to urethral stricture, which is where a section of the urethra narrows, reducing the flow of your urine. This happens to about 2% of patients who have the procedure.




Loss of control of when you urinate

: - (incontinence). This can be temporary or permanent and occurs in about 1% of patients.




TUR syndrome.

: - This is where the fluids used to flush your bladder are absorbed into your blood stream. This can cause a salt imbalance in your blood, which can make you confused, feel sick, unsteady on your feet or cause heart failure. This is a rare complication; however, you should inform a member of staff if you experience these symptoms.
The list of of Urology Hospitals in India is as follows : -
| | |
| --- | --- |
| | Apollo Hospitals, Bangalore, India |
| | Apollo Hospital, Chennai, India |
| | Apollo Hospitals, Hyderabad, India |
| | Indraprastha Apollo Hospital, Delhi, India |
| | Apollo Gleneagles Hospital, Kolkata, India |
| | Apollo Hospital, Goa, India |
| | Wockhardt Hospital, Bangalore |
| | Wockhardt Hospital, hyderabad |
| | Wockhardt Hospital, Mumbai |
| | Wockhardt Hospital, Kolkata |
| | Fortis Hospital, Delhi, India |
| | Fortis Hospital, Mohali, India |
| | Fortis Hospital, Noida, India |
| | Artemis Hospital, Gurgaon ( Delhi ) , India |
| | Max Super Specialty hospital, Delhi, India |
| | BGS Global Hospital, Bangalore, India |
| | BGS Global Hospital, Chennai, India |
| | BGS Global Hospital, Hyderabad, India |

For more information, medical assessment and medical quote send your detailed medical history and medical reports
as email attachment to
Email : - info@wecareindia.com
Call: +91 9029304141 (10 am. To 8 pm. IST)
(Only for international patients seeking treatment in India)
For a detailed evaluation send patientís medical reports / X rays / doctors notes to info@wecareindia.com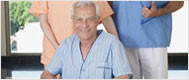 Patient Storys
Successful heart surgery at We Care India partner hospital allows Robert Clarke to live a normal life despite a rare genetic disorder We Care india helped Robert find best super specialised surgeon for his rare conditions.

Read : Robert's Story
See All : Patient's Success Stories


Related Link
Group Websites
Find us on