Testimonials at Sparsh Hospital, Bangalore
Testimonials : - 1
| | |
| --- | --- |
| [ Before ] | [ After ] |

This child couldn't go to school just because she looks like this.This child has no hope of breaking free. 1 in 800 live births are cleft patients we have millions of cleft children in our country .Imagine the waste of human resources if these kids do not go to school, all this due to an entirely correctable condition?!!!! Outrageous? Yet many children do not receive the treatment in India. This is crueler more than any tsunami, flood, earthquake, famine or war. Half of India's cleft children are deprived of their fundamental right to education. Many of India's cleft children go to bed each night hopeless and angry. We as a nation seem quite content to tolerate this violation of their basic constitutional rights.

It is because of this reality that Sparsh foundation exists today - to amplify the voice of cleft children. We believe that children are citizens in their own right, entitled to the full spectrum of human rights. this problem will require much more then belief and thought....

It will require that we start thinking of these children, not as objects of sympathy, but as citizens with the same rights that we consider our due. That we believe, really believe, that every child, regardless of birth and circumstances is truly equal.

Finally, we must all - as voters, parents, teachers, investors, neighbors, businesspersons, lawyers, consumers, activists, students, judges, administrators, journalists and politicians alike - overcome our apathy, cynicism and sheer inertia and reconfigure our priorities to put these children first




Testimonials : - 2



Patient : -

Mahadevi


Age : -

13 years

Mahadevi a cheerful 13 year old girl had cerebral palsy with severe deformity of both lower limbs making her crouch like an animal.

Her father abandoned her because of her condition she was being taken care by her poor grandmother and her mother. She was an intelligent and bright who never let her handicap come in her way.

She was brought to our hospital by some social workers. She was operated completely free of charge and today she can walk straight with the help of a walker.

We are confident that with further physiotherapy she will do better.



Testimonials : - 3



Eight limbed girl child !




Patient : -

Lakshmi


Age : -

2 years

Lakshmi - the eight limbed girl child About Lakshmi.. Two-year old Lakshmi - named after the Hindu goddess she somewhat resembles with her four arms and four legs - comes from a small village in the district of Araria, located on the border of Nepal, in Bihar. Lakshmi is an Ischiopagus conjoined twin. Ischio stands for pelvic bone and pagus means fused. Therefore, Lakshmi is actually two bodies united at the pelvis. Only one of the twins has a head and the other is a parasite.

Two pairs of arms and legs have formed at either end of the two adjoining torsos, creating a child with 8 limbs. The incidence of conjoined twins is 1 in 50,000 Lakshmi's kind of twin forms only 3% of all types of conjoined babies. Lakshmi at Sparsh. She was admitted to Sparsh Hospital at the beginning of October 2007 - the first time that she and her family have traveled so far away from home. On arrival, immediate tests revealed that she was extremely mal-nourished, and had hemoglobin of 5.4 gram percent as opposed to 12 gram percent in normal children. She was suffering from an infected pressure sore on the dorsum of the parasitic twin measuring almost 6 inches in diameter - causing her to run a constant fever. She also had a parasitic helminthic infestation of her bowels.

It became imperative to improve Lakshmi's nutritional status and general well being which was done by de-worming her and putting her on a high-protein calorie diet. Simultaneously, a battery of blood and urine investigations were carried out including ultrasound tests, whole-body MRI scans and a 64 slice CT scan. All the data from the tests has been thoroughly examined and discussed.

Now with an improved nutritional status and an increased hemoglobin of 11 gram percent, surgery has been scheduled to begin at 0700 hrs on November 6th 2007. The operation is expected to go on day and night, and likely to take up to 40 hours to complete. The medical team, supported by paramedical staff, will number a total of approximately 36 members.



Testimonials : - 4



Medical miracle at Sparsh Hospital




Patient : -

Maneesh


Age : -

18 years


On 13th February 2007, what was supposed to be a routine bus journey turned out to be a life changing situation for the people on that ill fated bus! Manish Raj Purohit a 17 year old boy was also involved in this accident in Andhra Pradesh. He was rushed to Kuppam medical college alive, but with a rod measuring about four feet long and one inch thick that had entered the front of his head and traveled the entire length of the skull as it emerged from the back of his neck

After the initial first - aid the emergency care team under the guidance of their Medical Superintendent Dr.L.Krishna communicated the situation to critical care team at Sparsh Hospital, Narayana Health City. The transfer took about three hours, during this period the team at Sparsh Hospital was completely prepared to receive the patient. On his arrival the critical care team headed by Dr.Yohannan John resuscitated him and after the preliminary investigations and imaging shifted him to the operation theatre. Here a team of eight super-specialist lead by Dr.Thimappa Hegde operated for over a period of three hours and successfully removed this rod.

Ill fated as he was he still had the grace of the almighty as the rod had passed through his skull so precisely avoiding every possible vital structure which could have easily killed him or at least disabled him in a dramatic way for the rest of his life. His father Mr.Mangilal has a tired but peaceful look on his face as he expresses his gratitude to Dr.Sharan Patil the chairman, for all the care given at Sparsh Hospital. Manish is currently at Sparsh Hospital I.C.U hoping to get back to his life as normal as before this ill fated journey but lucky enough to do so unlike some of the other travelers who didn't make it.



Testimonials : - 5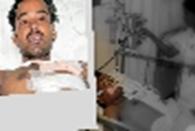 Angry Bull and Poor Anbalagan !




Patient : -

Anbalagan


Age : -

29 years




Fifth of March 2007 was a normal day in a poor farmer Anabalagan's life but destiny ruled otherwise. As was his usual habit Anbalagan, was toiling hard in his farm, some worker in the neighbouring farm provoked a mad bull .the bull went mad with rage and was on a destroying spree. Unfortunately Anbalagan immersed in his work did not hear the commotion and was busy toiling away when rest of the workers fled the scene. The mad bull had found a victim to vent out its, anger; poor Anbalagan was lifted in air and tossed down like a rag doll .This happened many times before some of the villagers could gather courage to rescue Anbalagan. After driving away the bull they rushed the bleeding Anbalagan to a nearby health care center. The doctors in that center asked his friends to take the patient to a higher trauma care center.

Poor Anbalagan could reach Sparsh hospital only after 4-5 hours after the injury.The trauma team at Sparsh immediately realised the grave danger Anbalagan was in, and he was immediately rushed to the operating theatre after the initial investigations including a CT scan. CT scan had revealed that Anbalagan had sustained very serious injuries and it was indeed a medical miracle that he was alive and talking. He had a hole in his stomach, his lungs were badly injured along with fractured ribs he also had damaged the protective covering over his heart and it was his extraordinary luck that his heart had escaped without any real damage. Few more hours of delay would have been fatal for him. Our critical care anaesthesia team headed by Dr Sharanu Patil got into action.

He was anaesthetised and a cardiothoracic team repaired the hole in the covering of the heart. The General surgery team headed by Dr Sanjay Govil repaired his stomach and the wall between the chest and the abdomen. It was a very tense and difficult time in the operating theatre, the surgeons and the anaesthesia team operated for the whole night. Later he was shifted to our intensive care unit where he stayed for a week. Now he has recovering in the ward and will go home after a couple of days. Anbalagan had come to Sparsh hospital in a stretcher but will go home walking. Such cases are only an inspiration to do more quality work for team Sparsh.






For more information, medical assessment and medical quote send your detailed medical history and medical reports
as email attachment to
Email : - info@wecareindia.com
Call: +91 9029304141 (10 am. To 8 pm. IST)
(Only for international patients seeking treatment in India)
For a detailed evaluation send patientís medical reports / X rays / doctors notes to info@wecareindia.com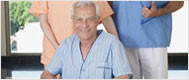 Patient Storys
Successful heart surgery at We Care India partner hospital allows Robert Clarke to live a normal life despite a rare genetic disorder We Care india helped Robert find best super specialised surgeon for his rare conditions.

Read : Robert's Story
See All : Patient's Success Stories


Related Link
Group Websites
Find us on