Penis Enlargement Hospital In India



Penis Enlargement Hospital India



Penis Enlargement in India section, includes general information about Penis Enlargement Plastic Surgery Procedure, Penis Enlargement India Hospitals, Penis Enlargement India Surgeons and other Penis Enlargement Plastic Surgery related material.




Penis Enlargement Plastic Surgery Procedure at Hospital in India



Penis Enlargement operation also called Phalloplasty. This plastic Surgery procedure can be done in several conditions. Congenital birth defect called micropenis, those are men that were born with very small size penis not allowing them to procreate. Some other genetic malformation of the penis such as hypospadias, epispadias or fibrosis of the penis. The most common reason for men seeking penis enlargement plastic surgery is an aesthetic needs and an individual feeling that their penis is too small.

Penis enlargement procedure can be divided into two categories temporary enlargement and permanent enlargement plastic surgery methods or none surgery. The temporary enlargement methods include pills, herbal supplements and vacuum pumps; these enlargement methods have various degree of success. Most of the penis enlargement procedures done today are permanent enlargement surgical enlargement of the penis length and width by plastic surgery.

To increase the penis length the plastic surgeon uses the following enlargement technique. One third of the penis is hidden inside the body, it is attached to the pubic bone by two ligaments, the suspensory and the fundiform ligament. Cutting those ligaments adds to the penis length additional 2-3 c"m in a flaccid state. The size in the erect state varies considerably. After the surgery, to prevent scaring and contraction counterweight is applied to the penis until healing is complete.

To enlarge the penis width, the plastic surgeon uses fat grafts and performs a lipo sculpture enlargement. The fat is taken from another body part, it is being prepared by centrifuge or using special solutions and then injected into the penis. Afterward the surgeon "sculptures" the penis to achieve the new appearance. This way there is almost no tissue rejection and only a minimal scar is seen. Another enlargement method to enlarge the penis width is dermal or foreign body implants. Subcutaneous tissue is taken from another body site and implanted into the penis. Sometimes collagen grafts are also used for penis enlargement. This method requires two step plastic surgery and sometimes resulting in graft rejection and permanent penis damage.

The length penis enlargement operation lasts about an hour and general sedation usually applied. The width enlargement plastic surgery procedure takes one an half hours and can be done using IV sedation. You will be able to return to work after a few days, but you must wear a bandage for a week. After the penis enlargement plastic surgery it is essential to stretch the penis allowing better healing. You can return to sexual activity after 10-14 days following fat transfer penis enlargement and 3-4 weeks following length penis enlargement plastic surgery. The pain is minimal and can be successfully treated with painkillers. The procedure does not affect the ability to have children.




Penis surgery - Peneplasty – Penis enlargement at Hospital in India



Penis Enlargement Surgery: This procedure allows to surgically increase the thickness and length of the penis without affecting its functions.



What does Cosmetic Penis Enhancement do ?
It increases penis girth up to approximately 1.5 inches (up to 2 cm).
It increases penis length up to approximately 1.2 inches (3 cm) .
You may have a 30% increase in the girth of your penis and a considerable increase in its length. The angle of the erection will not change and the functionality of the penis will not suffer any decline.
Most men who have undergone this surgery feel today quite satisfied and more suitable for leading a happy and fulfilling sexual life.
Penis Frenuloplasty at Hospital in India
What is it ?

The problem lies in the foreskin. The foreskin is the sleeve of loose skin which covers the bulb end of the penis (the glans). One end of the sleeve grows from the base of the glans. The other end lies freely over the glans to protect it. Sometimes the foreskin is very tightly fixed to the under surface of the penis, This can cause discomfort on intercourse.




The Operation at Hospital in India



You will have a general anaesthetic and will be asleep for the whole operation. The tight band is lengthened with a small operation. The operation can be done as a day case, meaning that you come into hospital on the day of the operation and go home the same day, or a non-day case, where you will spend two nights or so in hospital.



Any Alternatives

If you leave things as they are the problems may well get worse. Stretching the band does not work. A formal circumcision to remove the whole of the foreskin is not needed.



Before the operation

Stop smoking and get your weight down if you are overweight. (See Healthy Living). If you know that you have problems with your blood pressure, your heart, or your lungs, ask your family doctor to check that these are under control. Check you have a relative or friend who can come with you to hospital, take you home, and look after you for the first week after the operation. Bring all your tablets and medicines with you to hospital.

On the ward, you may be checked for past illnesses and may have special tests, ready for the operation. Many hospitals now run special preadmission clinics, where you visit for an hour or two, a few weeks or so before the operation for these checks.




After - In Hospital in India



There is some discomfort rather than severe pain. You will be given injections or tablets to control this as required. Ask for more if the pain is still unpleasant. By the end of one week the wound should be virtually pain-free. You will be able to get out of bed after an hour or two despite the discomfort. A general anaesthetic will make you slow, clumsy and forgetful for about 24 hours. Do not make important decisions, drive a car, use machinery, or even boil a kettle during that time.

You should feel fit enough to go home after an hour or two on the ward. The wound has a moist dressing which can be removed after 12 hours or so. You may be wearing net elastic pants to hold the dressing in place. There are stitches in the wound which soften and drop out after 7 days or so. There may be some purple bruising around the wound which spreads downwards by gravity and fades to a yellow colour after 2 or 3 days. It is not important.

There may be some swelling of the surrounding skin which also improves in 2 or 3 days. After 7 to 10 days crusts on the wound will drop off. Occasionally minor matchhead sized blebs form on the wound line. These settle down after discharging a blob of yellow fluid for a day or so. You can wash the wound area as soon as the dressing has been removed. Soap and tap water are entirely adequate. Salted water is not necessary. You can shower or take a bath as often as you want. Wear a dressing to keep your underpants clean. Please ask the nurses about sick notes, certificates etc.



After - At home

You are likely to feel a little sore for a week or so. By the time 2 weeks have passed you should be able to return to your usual level of activity. You can drive as soon as you can make an emergency stop without discomfort i.e. after about 3 days. You can start sexual relations within 2 to 3 weeks, when the wound is comfortable enough. You should be able to return to a light job after a week or so and a heavy job within 2 weeks.



Possible Complications

Complications are rare and seldom serious. If you think that all is not well, please ask the nurses or doctors. You may get painful erections in the first 2 or 3 days. These can be controlled with painkillers. Infection is a rare problem and settles down with antibiotics in a week or two. Aches and twinges may be felt for up to 2 months.



The list of of Penile Lengthening Hospitals in India is as follows : -
| | |
| --- | --- |
| | Apollo Hospitals, Bangalore, India |
| | Apollo Hospital, Chennai, India |
| | Apollo Hospitals, Hyderabad, India |
| | Indraprastha Apollo Hospital, Delhi, India |
| | Apollo Gleneagles Hospital, Kolkata, India |
| | Apollo Hospital, Goa, India |
| | Wockhardt Hospital, Bangalore India |
| | Wockhardt Hospital, hyderabad, India |
| | Wockhardt Hospital, Mumbai, India |
| | Fortis Hospital, Delhi, India |
| | Fortis Hospital, Mohali, India |
| | Fortis Hospital, Noida, India |
| | Manipal Hospital, Bangalore, India |
| | Sparsh Hospital, Bangalore, India |
| | Artemis Hospital, Gurgaon ( Delhi ) , India |
| | Max Super Specialty hospital, Delhi, India |
| | BGS Global Hospital, Bangalore, India |

For more information, medical assessment and medical quote send your detailed medical history and medical reports
as email attachment to
Email : - info@wecareindia.com
Call: +91 9029304141 (10 am. To 8 pm. IST)
(Only for international patients seeking treatment in India)
For a detailed evaluation send patient's medical reports / X rays / doctors notes to info@wecareindia.com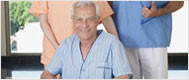 Patient Storys
Successful heart surgery at We Care India partner hospital allows Robert Clarke to live a normal life despite a rare genetic disorder We Care india helped Robert find best super specialised surgeon for his rare conditions.

Read : Robert's Story
See All : Patient's Success Stories


Related Link
Group Websites
Find us on