Overview
The Pediatric General Surgery Unit at We Care India partner hospital provides expert surgical assistance for the diagnosis and treatment of a variety of general and thoracic surgical disorders for children of all ages. We perform approximately 2000 general and thoracic surgical procedures each year. Our surgical team consists of two pediatric general surgeons and an advanced practice nurse skilled in the surgical and postoperative care of premature babies, neonates, children and adolescents up to the age of 19 years. We have a busy and patient-friendly day surgery program.


Surgery (General and Thoracic) Program and Clinics

Pediatric surgery is one of the broadest surgical specialties since it is defined by the age of the patient, not the organ system. Surgeons at We Care India partner hospital treat the entire spectrum of problems in children of all ages, sizes and maturity levels - from the tiniest premature infants to adult-sized teenagers.

Some of these problems can include : -
Congenital problems of the chest and abdomen, including esophageal atresia, diaphragmatic hernia, congenital lobar emphysema, congenital lung cysts, congenital cysts of the mediastinum, abdominal wall defects, congenital bowel obstruction (atresia and malrotation), imperforate anus, and Hirschprung's disease.



Pre-natal consultation for fetal anomalies. Children's Hospital surgeons also consult at area Neonatal Intensive Care Units (NICUs).



Hernias, including inguinal, umbilical, epigastric and diaphragmatic.



Tumors of the head, neck, chest, abdomen, genitourinary tract and extremities. We offer biopsies, resections and excisions.



Trauma and burns. Children's Hospital is the only free-standing Level I Trauma Center dedicated solely to the care of children in Wisconsin.



Head and neck surgery including congenital cysts, inflammatory disease, thyroid disease, bronchoscopy and esophagoscopy.



Intestinal diseases including stomach, small intestine, colon, appendix and rectum.



Inflammatory bowel disease, such as Crohn's disease and ulcerative colitis.



Liver, gall bladder, spleen and pancreas disease.



Genitourinary tract problems including kidney and bladder trauma, groin and scrotal hernias, ovarian and testicular abnormalities, including torsion and hydroceles.



Extremity soft tissue problems including tumors, inflammatory disease and trauma.

Pediatric Surgery FAQ



What is a pediatric surgeon?



When your child needs medical treatment, you want him or her to have the very best care available. So it stands to reason that if your child needs an operation, you will want to consult with a surgeon who is qualified and experienced in operating on children. Surgeons who specialize in general surgery often provide surgical care for children, and they are fully qualified to perform many operations on children. In more urbanized areas of the country, another kind of surgeon -- the pediatric surgeon -- is also available to provide comprehensive surgical care for children. Pediatric surgeons operate on children whose development ranges from the newborn stage through the teenage years.




What is the pediatric surgeon's role in treating the child?



Pediatric surgeons are primarily concerned with the diagnosis, preoperative, operative, and postoperative management of surgical problems in children. Some medical conditions in newborns are not compatible with a good quality of life unless these problems are corrected surgically. These conditions must be recognized immediately by neonatologists, pediatricians, and family physicians. Pediatric surgeons cooperate with all of the specialists involved in a child's medical care to determine whether surgery is the best option for the child.


What is the focus of pediatric surgery?

Pediatric surgeons utilize their expertise in providing surgical care for all problems or conditions affecting children that require surgical intervention. They participate in transplantation operations, and like most surgeons today, they use laparoscopic techniques for some operations. They also have particular expertise in the following areas of responsibility:

Neonatal - Pediatric surgeons have specialized knowledge in the surgical repair of birth defects, some of which may be life threatening to premature and full-term infants.



Prenatal - Pediatric surgeons, in cooperation with radiologists, use ultrasound and other technologies during the fetal stage of a child's development to detect any abnormalities. They can then plan corrective surgery and educate and get to know parents before their baby is born. Prenatal diagnosis may lead to fetal surgery, which is a new forefront in the subspecialty of pediatric surgery. Application of most fetal surgical techniques is still in the experimental stage.



Trauma - Because trauma is the number one killer of children in the United States, pediatric surgeons are routinely faced with critical care situations involving traumatic injuries sustained by children that may or may not require surgical intervention. Many pediatric surgeons are involved in accident prevention programs in their communities that are aimed at curbing traumatic injuries in children.



Pediatric Oncology - Pediatric surgeons are involved in the diagnosis and surgical care of children with malignant tumors as well as those with benign growths.





How are pediatric surgeons trained and certified?



Pediatric surgeons must have graduated from an accredited medical school and must have completed five years of graduate surgical education in an accredited general surgery residency program. Then, they must complete two additional years of full-time education in an approved fellowship program in pediatric surgery. Following completion of their two-year study in the subspecialty of pediatric surgery, they must pass a written examination to ensure that their surgical knowledge is of the highest level and an oral exam to determine their ability to manage a variety of surgical problems in infants and children.

In order to take this examination, they must first become board certified in general surgery. After these requirements have been fulfilled, surgeons are granted a special certificate in the subspecialty of pediatric surgery. This certificate must be renewed every 10 years to ensure that every pediatric surgeon is competent and up-to-date with regard to advances in pediatric surgical care.




What difference can a pediatric surgeon make?



Pediatric surgeons specialize in the surgical care of children. They are surgeons who, by training, are oriented toward working with children and understanding their special needs. In addition, they work with various specialists who are also oriented towards the next century. Pediatric surgeons are able to save whole lifetimes, and have the opportunity to follow their patients through a productive young life into adulthood.



Treatments

Our service covers the surgical needs of children of all age groups for care with congenital malformations, endocrine disorders, tumors, injuries and various acquired conditions, including : -

surgery and related endoscopy of the head and neck, thorax, abdomen and extremities
tumors, benign and malignant, at any site except the central nervous system
all thoracic surgery except cardiac operations
vascular surgery
gastrointestinal, hepatic and splenic surgery
some urologic and gynecologic surgery
anomalies of the inguinal canal including hernias and undescended testes.


Common diagnoses include inguinal hernias, umbilical hernias, undescended testes, pyloric stenosis and appendicitis.



Commonly Performed Procedures

All of our operative procedures are performed at the We Care India partner hospital, with expert assistance of a multidisciplinary group including fully trained Pediatric Anesthesiologists, and consultants in Pediatric Critical Care Medicine, Neonatology, and a comprehensive range of pediatric subspecialties. Nursing and supportive personnel have a broad experience with the care of children, which allows integrated care for all patients.

Procedures performed by our pediatric general surgeons include abdominal and thoracic surgery, minimally invasive surgery, oncologic surgery, and trauma surgery.






For more information, medical assessment and medical quote send your detailed medical history and medical reports
as email attachment to
Email : - info@wecareindia.com
Call: +91 9029304141 (10 am. To 8 pm. IST)
(Only for international patients seeking treatment in India)
For a detailed evaluation send patientís medical reports / X rays / doctors notes to info@wecareindia.com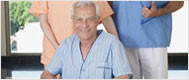 Patient Storys
Successful heart surgery at We Care India partner hospital allows Robert Clarke to live a normal life despite a rare genetic disorder We Care india helped Robert find best super specialised surgeon for his rare conditions.

Read : Robert's Story
See All : Patient's Success Stories


Related Link
Group Websites
Find us on