Overview
Pediatric Cancer Surgery

Surgery has an integral role in treating most childhood cancers. Whether surgically removing a tumor, supporting non-surgical treatment such as chemotherapy, or performing reconstructive surgery, the pediatric surgery team at the We Care India partner hospital is involved in the comprehensive care that each child receives here.



Cancer can develop virtually anywhere in the body, from the head (brain, eyes) to the chest and abdomen, to the legs (osteosarcoma/bone cancer). Neuroblastoma (diagnosed usually in babies and young children) and leukemia are much more common among children than cancers of the brain, spine, bones or solid organs. Common or rare, pediatric surgeons and other cancer specialists at We Care India partner Children's hospital have the experience and expertise to address them all.



Care for Kids of All Ages and Young Adults

Childhood cancer can affect children of all ages. Our pediatric surgeons have experience working with babies all the way through older teenagers. Sometimes, the surgeons also treat young adults in their 20s who have a type of congenital cancer that typically is considered a "pediatric" cancer, such as neuroblastoma, neurofibromatosis, Ewing's sarcoma or rhabdomyosarcoma.



Complete Range of Surgical Expertise

Because cancer can affect the entire body in different ways, We Care India pediatric surgeons from many specialties may be called upon to address a child's needs. In all, nearly 20 surgeons contribute to the treatment of different pediatric cancers and to the child's long-term recovery. Each of these surgeons is an expert in pediatric surgery, and most are experts in using minimally invasive techniques that make the child's recovery easier.

General surgeons, neurosurgeons and orthopedic surgeons work frequently with children who have cancer. Depending on the child's diagnosis and specific needs, other types of surgeons may participate also, such as plastic and reconstructive surgeons, ophthalmologists, otolaryngologists (ENTs), cardiothoracic surgeons or urologists. These specialized surgeons address a variety of issues that a child may have -- before, during or after their cancer surgery.



Surgeon's Role in Cancer Treatment

The surgeon's role varies in pediatric cancer care. Sometimes, the surgeons "do surgery"; and other times they don't -- yet still may be involved in the child's care. At the We Care India partner hospital, all children benefit from the teamwork of various physicians, as well as other members of the pediatric cancer care team.


Here is a look at some of the common ways that pediatric surgeons may be a part of a child's cancer care : -
Minimally Invasive Surgery to Remove Tumors : -

The pediatric surgeons at We Care India partner Children's hospital are recognized worldwide as leaders in using minimally invasive surgical techniques to treat a variety of conditions in children, including some cancers. Because it uses much smaller incisions than traditional surgery, minimally invasive methods usually mean less pain, easier recovery, less scarring or disfiguring, and more normal growth after surgery. Whenever possible, surgeons here prefer minimally invasive surgery to remove solid tumors located virtually anywhere in the child's body.



Experts in Standard Surgery, Too : -

Just because minimally invasive is newer doesn't always mean it's the best option for every child. Our surgeons are skilled in the full spectrum of surgical options, from minimally invasive to traditional open surgery. We recommend the approach that best meets each child's needs.



Combining Surgical Treatment with Other Therapies : -

If surgery is recommended (minimally invasive or traditional surgery), it often is one component of a multi-dimensional approach to eliminating cancer. For example, surgery to remove a tumor in the kidney may be followed with chemotherapy to destroy remaining cancer cells. Or, the team may use radiation therapy first, to shrink a tumor in the brain or bones before surgery. It's all part of our collaborative, comprehensive approach to treating childhood cancers.



Brain and Spinal Tumors : -

University of Chicago pediatric neurosurgeons use minimally invasive techniques to reach tumors that may be deep within the brain or within the spine, including tumors that cannot be reached by traditional surgery. Stereotactic imaging and other very detailed imaging technologies reveal the exact location and dimensions of the tumor, so the neurosurgeon can be very precise in removing only cancerous tissue and protecting healthy tissue. We treat the full range of brain-related tumors, including neurofibromatosis, eye tumors, and other conditions.



Bone Cancer : -

Surgery to remove tumors is the standard treatment for bone cancer (osteosarcoma). At many hospitals, that means amputation. At the We Care India partner hospital, we use innovative techniques to avoid amputation. More than 20 years ago, this was one of the first hospitals offering less radical limb-salvage methods as an alternative to amputation.

Today, our pediatric orthopedic surgeons are among the first in India performing articular-sparing surgery - a refinement of the limb-salvage technique. This newest technique preserves as much of the child's own bone or joint as possible. Cadaver bone and tissue is then fitted to the child's natural bone like puzzle pieces -- resulting in a joint or limb that is even stronger and remains more stable as the child grows, and giving kids a better chance to be active after cancer surgery.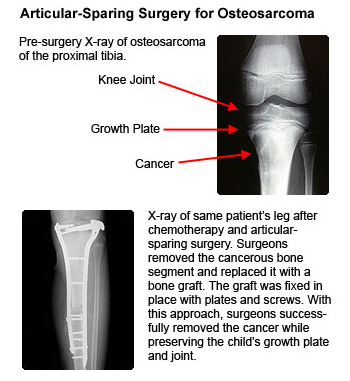 University of Chicago general and thoracic surgeons may be called in to address bone cancer that has spread to the lung (metastatic lung disease). These skilled surgeons carefully remove affected tissue while preserving the child's lung function.



Leukemia and Lymphoma : -

Leukemia (a bone marrow- and blood-related malignancy) is the most common type of cancer among children. There are several different types of leukemia which, together, account for about one-third of all childhood cancers. Lymphomas are related, but not as common in children. Neither leukemias nor lymphomas have "solid" tumors that can be removed surgically. Nonetheless, pediatric surgeons often participate in the care of children with these conditions by placing "access lines" (venous access device) that make it more comfortable for kids to get repeated chemotherapy treatments and for doctors to take biopsies.



Dedicated Care Team Supports Each Patient's Recovery

Children's cancer care is truly a team effort at We Care India partner Children's hospital , and pediatric surgeons are just one component of the team. There are many people focused on helping children and families challenged by pediatric cancer. These include : -

Other physicians : - The surgeons work with many other pediatric physicians at We Care India partner Children's hospital to address childhood cancers. Pediatric medical oncologists, pediatric radiation oncologists and a pediatric neuroradiologist also are essential members of the cancer team. Other physicians who may be involved in a child's care include: neurologists specializing in neurofibromatosis, or tuberous sclerosis; nephrologists (kidney); hepatologists (liver); pathologists and neuropathologists; and many others.

Teamwork makes things work smoothly. Physicians and surgeons involved in cancer care meet formally each week for our Weekly Pediatric Tumor Board to discuss the best options for each child's treatment. These conferences provide a forum for multiple perspectives and broad insights. Nurses and other members of the care team sometimes also participate in these conferences. In addition to the weekly conferences, our team members meet informally on a daily basis to talk about how each child's care and progress.



Nurse practitioners work with each family affected by childhood cancer. The nurse practitioner serves as a central contact person for the family, and is a bridge between the child and family and the many physicians, nurses, technicians and non-medical staff who participate in the child's care. The nurse practitioner also is a good person to go to with questions, for explanations, or when the physicians cannot be reached right away. (Parents and children also can contact their physicians directly, but sometimes it's just easier to reach the nurse practitioner.)



Pediatric nurses work with children who are staying in the hospital, and with those who come back for checkups with the care team.



Rehabilitation specialists, speech therapists, physical therapists and others provide ongoing support as the child recovers and regains functioning.



Social workers address a wide array of non-medical needs related to the child's care in the hospital and after he or she returns home.



Child life specialists focus on helping children be kids, in spite of their illness or treatment. They use play therapy, workshops with the child's school, and other activities that help pediatric patients feel better about themselves, help them understand their illness and procedures, to lessen the scariness or loneliness that kids sometimes feel in the hospital, and to ease the child's transition back to school.



Radiation technicians, surgical technicians and other allied health professionals assist with many diagnostic tests and treatment procedures.

Research and Innovation Leads to Better Solutions for Childhood Cancers

We never stop looking for better ways to treat childhood cancers and eliminate the long-term effects of treatment -- from using less invasive methods of surgery, to investigating promising anti-cancer drugs, to exploring radiation therapy methods that target the cancer cells precisely without harming healthy tissue, to fine-tuning imaging technologies that enable doctors to view the body's interior in great detail.

Science and innovation are integral to developing better options for children. As an academic children's hospital, researchers right here can apply the newest insights directly to patient care. Making breakthroughs in cancer treatment is something we've been doing for more than half a century, since discoveries by University of Chicago researchers laid the groundwork for chemotherapy and radiation therapy. Three decades ago, researchers here were the first to identify genetic causes for certain types of leukemia -- a breakthrough that dramatically raised the cure rate for leukemia.

Today, we are on the forefront of research aimed at improving options for children with cancer. The We Care India partner hospital is a leading participant in the Children's Oncology Group (COG) of India, which offers the newest promising therapies to kids, long before they're widely available.






For more information, medical assessment and medical quote send your detailed medical history and medical reports
as email attachment to
Email : - info@wecareindia.com
Call: +91 9029304141 (10 am. To 8 pm. IST)
(Only for international patients seeking treatment in India)
For a detailed evaluation send patientís medical reports / X rays / doctors notes to info@wecareindia.com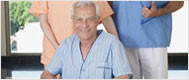 Patient Storys
Successful heart surgery at We Care India partner hospital allows Robert Clarke to live a normal life despite a rare genetic disorder We Care india helped Robert find best super specialised surgeon for his rare conditions.

Read : Robert's Story
See All : Patient's Success Stories


Related Link
Group Websites
Find us on