Narayana Healthcity Hospitals, Banbalore India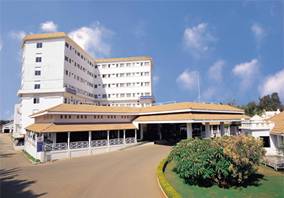 Some call it a temple. Some chose to call it the abode of saints who heal. To some, it's a last chance of survival. But to no one, is this just a hospital. In its genre, Narayana Hrudayalaya may well be one of the biggest hospitals in the world, but the fact that it's one of the biggest hospitals, with a heart, is becoming legendary. The rich come here for the world's best heart care. The poor come here for the world's kindest care, for no one here is turned away for lack of funds.

This was the vision of Dr. Devi Shetty, who believed that no child should be deprived of the best healthcare, because the parents cannot afford it. Caring with Compassion, this world's largest heart hospital for children, is set to be transformed into the world's biggest health city, with all super-specialities that the medical world offers. It's a promise of the best healthcare, that brings succour to all, like the divinity of Narayana's Vishwarupa, that greets everyone in the lobby of the hospital.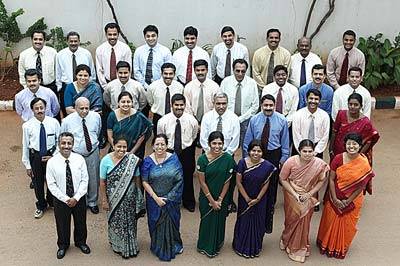 Narayana Hrudayalaya is founded by one of the India's oldest construction company "Shankar Narayana Construction Company". Narayana Hrudayalaya group has Narayana Health City at Bangalore covering 25 acres of land and Rabindranath Tagore International Institute of Cardiac Sciences in Kolkata and Rotary Narayana Nethralaya a Super Specialty Eye Hospital.

Currently our group's two-heart hospitals in Bangalore and Kolkata perform about 10% of the heart surgeries done in the country. In Bangalore we have an infrastructure to perform 30 major heart surgeries in a day and in Kolkata 10 major heart surgeries in a day.

Narayana Hrudayalaya performs largest number of heart surgeries on children in the World attracting children from 26 countries. The postoperative pediatric cardiac surgical unit has 80 critical care beds to look after children who are undergone heart operations and this is World's largest Pediatric cardiac surgical Intensive Therapy Unit (ITU).

Narayana Hrudayalaya is an academic institution conducting 49 training programmes and is short-listed by the University grant commission for the status of the Deemed University.

Four years ago Narayana Hrudayalaya in association with the state government launched a Micro Health Insurance Programme called Yeshaswini, which covers the healthcare of nearly 3 million farmers and is considered as India's largest Micro Health Insurance Programme for a monthly premium of 10 rupees. This programme now is launched in several other states in consultation with our groups.

Narayana Hrudayalaya in association with India's Space Research Organization runs one of World's largest Tele-Cardiology programmes using ISRO satellite and till date we are treated close to 30,000 heart patients.

Asia Heart Foundation, which manages all our activities in Kolkata, runs the primary healthcare of entire Amethi constituency of Uttar Pradesh. Amethi is one of India's largest MP constituency having 24 Lakh people and this is managed by 16 clinics created by Asia Heart Foundation with Narayana Hrudayalaya where Amethi residents come and see the doctors and get all the medicines entirely free. Currently this programme called 'Rajeev Gandhi Arogya Yojana' treats over 50,000 patients per month. This is considered as India's largest primary healthcare programme by the private sector.

Narayana Hrudayalaya in association with Mrs. Kiran Mazumdar of Biocon is in the process of launching one of World's largest cancer hospitals with 1400 beds at Narayana Health City.

Concept of Health City: Narayana Health city was Conceptualized six years ago by creating a conglomeration of hospitals in one campus with a 1000 bed heart hospital called Narayana Hrudayalaya, 500 bed orthopedic hospital called Sparsh Hospital, 300 bed eye hospital with the infrastructure to perform 500 cataract surgeries everyday and 1400 bed cancer hospital a joint venture of Narayana Hrudayalaya with Mrs. Kiran Mazumdar of Biocon. Projects in the making are a 500-bed Neuro hospital, 500-bed kidney hospital and a women and children hospital. Together they will make a 5000 bed and once the entire health city is commissioned, we believe that the cost of healthcare should come down atleast 50%.

Recognization of our activities: Three years ago Harvard Business School chooses Narayana Hrudayalaya as one of their case study and this is one of the most quoted case studies in healthcare industry.

Four years ago discovery channel made a documentary on Narayana Hrudayalaya, which was broadcasted all over the world.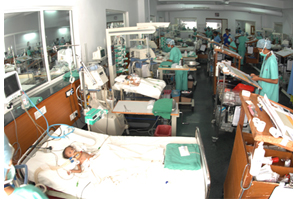 Three years ago Australian broadcasting corporation made a documentary about Narayana Hrudayalaya, which was broadcasted all over the world and especially in Australia during the prime time.

Narayana Hrudayalaya's story is written by Forbes, Reader Digest, and New Scientist and appears in two of the books from the Harvard Business School and from Prof. C.K. Prahallad.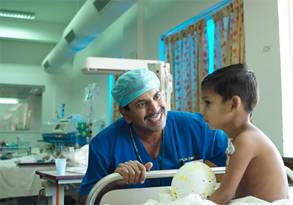 - : VISION : -

"Affordable quality healthcare to the masses worldwide"


- : MISSION : -

We at Narayana Hrudayalaya Hospitals have a dream!

"A dream of making quality healthcar available to the masses worldwide"


To make the dream a reality we commit ourselves to : -
Being a tertiary care refferal center for complex medical and surgical problems
Developing a Health City Model , to be replicated nationally and intenationally
Excellling as an Education,Training and Research Center in Medical,Paramedical and Allied specialities
Founder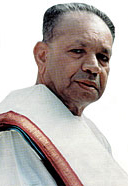 The Late Sri Charmakki Narayana Shetty, founder, Shankaranarayana Group of Companies (SNC), was a man with a vision. Having established his group in the field of construction with expertise in dams, roads, highways and power projects in India, the onus to give something back to the society started it all.


He found his noble cause taking shape through Asia Heart Foundation (AHF), a non-profit charitable organization founded by a group of heart specialists to establish high-tech hospitals in developing nations. Apart from assisting in commissioning the BM Birla Heart Research Institute, Kolkata in 1989, and the Manipal Heart Foundation, Bangalore in 1997, the AHF decided to promote its own hospital in Kolkata, the Rabindranath Tagore International Institute of Cardiac Sciences (RTIICS) in 2000. The AHF went a step further in realizing the potential of Bangalore being the healthcare destination of Asia by creating Narayana Hrudayalaya, a first-of-its-kind cardiac care hospital.

Today, Narayana Hrudayalaya provides complete, expert and holistic treatment to the millions of afflicted individuals in need of treatment by experts at an affordable cost. Health care services spread across Cardiac, Neuro, Specialist Paediatric Care, Organ Transplants, Gastroenterology and much more.



Services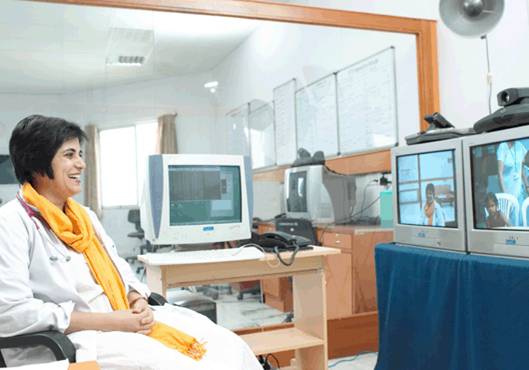 Education

: - Narayana Hrudayalaya presents a host of educational initiatives in its quest to build a strong medical community. The Narayana Institute of Nursing is the beginning of these initiatives. To learn more on this initiative or to enroll, please mail us on –




Training/ Continuous Medical education

: -



Praavinya









Narayana Hrudayalaya has been pioneering affordable and innovative health services in the country for some time now. However, in a country riddled with numerous health and health care issues, every effort seems but a drop in the ocean. But does that mean we stop trying? At Narayana Hrudayalaya, we believe the need of the hour is to create a viable platform for health care givers like us to share, learn, understand and extend the services to the needy.

The Continuous Medical Education program is one such Platform to empower the practitioners in the peripheries. This initiative of Narayana Hrudayalaya will attempt to bring to you a series of seminars on different health issues every quarter. With this endeavor, Narayana Hrudalaya hopes to launch a forum, which can spearhead change and bring about immeasurable benefits to the doctors & man in need of safe, informed, viable health practices and care.


center of excellence


India is a country with the highest number of young heart patients. While in most developed countries the average age of a patient may be 65, here it is 45. Similarly, the most numbers of babies with heart problems are born here. Ironically, even though India has the largest number of medical people in the world, the doctors per 10,000 people is a dismal 48. Which means, proper healthcare is out of reach for most people.

It is more true of rural India, whereas urban India has more private hospitals, which come at a cost. Narayana Hrudyalaya is focussed on removing these abysmal disparities, putting technology to good use as well. So here are an amalgam of the best doctors, world-specialists with most number of surgeries to their credit, caring, spreading cheer.



---























---
Doctors
Cardiac Surgery

DR. Devi Prasad Shetty
Chairman & Senior Consultant Cardiac Surgeon
DR. Colin John
MS, FRACS
Senior Consultant Cardiac Surgeon
DR. Praveen Kumar
M.Ch
Senior Consultant Cardiac Surgeon
DR. P.V.Rao
FRCS(Glasg) FRCS(C/Th)
Senior Consultant Cardiac Surgeon


Alumini of harefields hospital,london,U.K & the university of Massachusetts,worcester,U.S.A,Chief of the heart & lung transplantation programme in Narayana Hrudayalaya Institute of cardiac Sciences


DR.Jairaj.P.S
MD, FRACS
Consultant Cardiac Surgeon
DR.Shekar Rao
MS, DNB, M.Ch
Consultant Cardiac Surgeon
DR. Dhaded Sanjaya Basavaraj
MS, M.Ch
Consultant Cardiac Surgeon


He has done specialization at Seth G.S Medical colleger & King Edvard Memorial Hospital,Mumbai.


DR.Avery Mathew
MS, M.Ch
Consultant Cardiac Surgeon
DR.Ravindra Setty.B.R
DNB, M.Ch
Consultant Cardiac Surgeon


Alumni of the Mumbai University,was trained at Austin & Repartriation Medical Center,Melbourne & Alfred hospital,Melbourne


Dr.Ravi.M.N
MS, M.Ch, FELLOWSHIP
Consultant Cardiac Surgeon


He has worked at the yorkshire Heart Centre and Glasgow,Further he was a Fellow in Adult Cardiac Surgery and Heart Transplant and Mechanical Assistant Device at the University of Toronto(Toronto General Hospital)


Dr.Koshy.P.G
M.Ch
Consultant Cardiac Surgeon
DR. Binoy.K.C
M.Ch
Consultant Cardiac Surgeon
DR. Srikrishna
M.Ch
Consultant Cardiac Surgeon
DR.Chinnaswamy Reddy
Consultant Cardiac Surgeon
DR. Benedict Raj
Consultant Cardiac Surgeon
Accreditation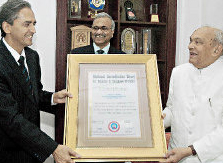 Chairman of Narayana Hrudayalaya Devi Shetty; Secretary General QCI Giridhar Giani; and Governor Rameshwar Thakur at the NABH award ceremony in Bangalore

Bangalore: Narayana Hrudayalaya became the first hospital in the State to receive accreditation from the National Accreditation Board for Hospitals and Health Care Providers (NABH) for the delivery of highest quality of patient care. Hospital Chairperson Devi Shetty received the accreditation, instituted by the Quality Council of India (QCI), from Governor Rameshwar Thakur in a simple ceremony at Raj Bhavan.




Stringent standard



Later, talking to presspersons Giridhar J. Giani, Secretary-General of QCI said that it has stipulated stringent patient care standards to validate the quality of care through compliance assessments against 100 stipulated standards.

The emphasis of the standard is on patient care, patient and staff safety, control and prevention of infection in hospitals, special care for disabled group of patients and continuous quality improvement. Narayana Hrudayalaya is the eighth hospital in the country to get QCI accreditation.

Mr. Gyani said the QCI team had inspected the hospital thrice to check adherence to all the standards set by the board.




Recognition



Dr. Shetty said the accreditation provides an opportunity to the hospital to benchmark with the best. It would help the hospital in getting international recognition and medical tourism, he said, while adding the insurance companies, in future, could insist that insurance policy holders should get treatment only in a hospital having accreditation from the QCI. The QCI was set up in 1997 as an autonomous body by the Union Government, jointly with the India industry represented by the CII, ASSOCHAM and FICCI



Narayana Cancer Hospital, Narayana Healthcity Bangalore

For mazumdar shaw centre for cancer research and Narayana Hrudayalaya institute of medical sciences It is a 1400 bed super specialty Cancer Research and Multi-specialty Hospital, located at the 5000 bed Health City, to be launched in the first week of January 2009.



Sparsh Orthpaedic and Spine Hospital, Narayana Healthcity, Bangalore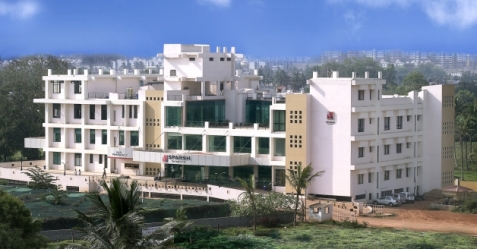 At the core of what SPARSH Hospital is trying to do is to redefine the way healthcare has been practiced and managed historically. This for SPARSH Hospital is a continuous process. A continuous process of reinventing our processes and systems, of investing in technology, equipment and medical skills, of changing patient management and care, to create an institution where everyone working here feels like a stakeholder. This results in the channelling of cumulative effort into creating an institution that is centred on patient care and wellbeing while ensuring affordable best in class medical care and practice. This is the world of SPARSH Hospital

An independent part of the Health City, SPARSH Hospital was set up by Dr. Sharan Patil, a leading Orthopaedic surgeon. Strategically located in Bangalore, the Silicon Valley of India, SPARSH Hospital is a planned 400-bed hospital for Accidents, Orthopaedics, and Plastic & Maxillo Facial Surgery.

SPARSH Hospital has grown into a vibrant specialty medical centre. Staffed by a medical, nursing and support team that have worked at some of the leading national and international medical centres, who practice the very latest in medical science, and are supported by an infrastructure that has been set up to ensure the very best in the delivery of medical care. On site world class equipment, operation suites, technology and communication systems are also leveraged to deliver quality healthcare with care and compassion. To further future proof the hospital, architecturally the hospital was designed to become a flexi hospital where the entire hospital can be converted into a mass casualty centre instantly in case of major incidents.

As part of the Health City, SPARSH Hospital can leverage the services of the other constituent hospitals of Health City, further reinforcing its capability of handling any eventuality.

Delivering affordable world class healthcare is not only a vision, but also a source of inspiration that powers the world of SPARSH. This remains fundamental to our brand of healthcare and translates itself into SPARSH Hospital's mission



Departments




Orthopaedics
Arthroplasty
Paediatric Orthopaedic
Spinal
Tumour Orthopaedic
Sports Medicine
Plastic Surgery
Maxilo Facial
Trauma & Emergency
Anaesthesia
Pathology and Lab Medicine
Other Surgical Services
Narayana Netharalaya Eye Hospital, Narayana Healthcity, Bangalore





Our Vision



To provide the best in contemporary eye care and to create an institution of a standard which will serve as a benchmark in the international community.



Mission Statement



We at Narayana Nethralaya are committed to providing the best serivice in eye care through continual improvements of our systems, processes, technology and through the employment of dedicated and competent professionals of a progressive mindset. Specialized Eye Care Facilities

The hospital caters not only to routine eye problems but treats patients with complicated eye diseases too. Since most of the eye surgeries are done by modern techniques, hospitalization is not usually needed. But if hospitalization necessary, appropriate facilities are available.


Subspeciality Departments : -
Cataract and Refractive Lens Surgery
Cornea & Refractive Surgery
Vitreoretinal medicine and surgery
Uveitis & Ocular Immunology
Glaucoma
Ocular Prosthesis & Rehabilitations Center
Oculoplasty & Orbital Surgery
Ocular Oncology
Ocular Trauma
Ocular Pathology
Ocular Genetics
Ocular Electrophysiology
Community Eye Health
Telemedicine
Neuro-ophthalmology
Pediatric Ophthalmology & Strabismology
Pediatric Retina
Pediatric Visual Rehabilitation
The list of these hospitals in India is as follows : -
| | |
| --- | --- |
| | Apollo Hospitals, India |
| | Artemis Hospital, India |
| | BGS Global Hospitals, India |
| | Escorts Heart Hospital, India |
| | Fortis Hospitals, India |
| | Manipal Hospital, India |
| | Max Hospitals, India |
| | MIOT Hospital, India |
| | Narayana Hospitals, India |
| | Sparsh Hospital, India |
| | Wockhardt Hospitals, India |

For more information, medical assessment and medical quote send your detailed medical history and medical reports
as email attachment to
Email : - info@wecareindia.com
Call: +91 9029304141 (10 am. To 8 pm. IST)
(Only for international patients seeking treatment in India)
For a detailed evaluation send patient's medical reports / X rays / doctors notes to info@wecareindia.com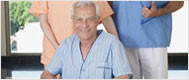 Patient Storys
Successful heart surgery at We Care India partner hospital allows Robert Clarke to live a normal life despite a rare genetic disorder We Care india helped Robert find best super specialised surgeon for his rare conditions.

Read : Robert's Story
See All : Patient's Success Stories


Related Link
Group Websites
Find us on