Minimally invasive or Minimal Access Surgery Hospitals in India

Minimally invasive surgical procedures avoid open invasive surgery in favor of closed or local surgery with less trauma. These procedures involve use of laparoscopic devices and remote-control manipulation of instruments with indirect observation of the surgical field through an endoscope or similar device, and are carried out through the skin or through a body cavity or anatomical opening. This may result in shorter hospital stays, or allow outpatient treatment. However, the safety and effectiveness of each procedure must be demonstrated with randomized controlled trials.

Minimally invasive surgery at hospitals in India has less operative trauma for the patient than an equivalent invasive procedure. It may be more or less expensive. Operative time is longer, but hospitalization time is shorter. It causes less pain and scarring, speeds recovery, and reduces the incidence of post-surgical complications, such as adhesions. Some studies have compared heart surgery. However, Minimally invasive surgery is not necessarily minor surgery.

Due to these advantages, surgeons at hospitals in India are attempting to perform more procedures as Minimally invasive procedures. Some procedures, such as gall bladder removal, can be done very effectively as Minimally invasive surgery.[citation needed] Other procedures, such as endarterectomy, have a higher incidence of strokes in some studies.

Minimally-invasive angiography showing the vascular catheter and a stent inserted into an artery Special medical equipment may be used, such as fiber optic cables, miniature video cameras and special surgical instruments handled via tubes inserted into the body through small openings in its surface. The images of the interior of the body are transmitted to an external video monitor and the surgeon has the possibility of making a diagnosis, visually identifying internal features and acting surgically on them.




Minimally Invasive Surgery at hospitals in India




Laparoscopic cholecystectomy (for gall bladder stones)
Laparoscopic Inguinal Hernia repair.
Laparoscopic Incisional / ventral abdominal wall hernia repair.
Laparoscopic Appendicectomy.
Endosurgery for neck (thyroid & parathyroid).
Axilloscopy for Carcinoma breast.
Endoscopic surgery for lower end oesophagus includes Fundoplication, (for hiatus hernia and gastroesophageal reflux disease) Cardiomyotomy, Vagotomy Gastrojejunostomy.
Laparoscopic advanced biliary surgery (Hepaticojejunostomy, Choledochal cyst, CBD exploration).
Laparoscopic management of benign biliary and pancreatic cysts.
Laparoscopic / Endoscopic surgery on solid organs like Pancreas / Spleen / Liver / Adrenal / Kidney.
Surgery on small and large intestines.
Retroperitoneoscopic Surgery for kidney/ ureteric stones and other pathologies.
Endoscopy assisted vascular techniques.
Thoracoscopy (VATS).
Hand assisted endoscopic surgery.
Laparoscopic surgery for Morbid obesity.




Length of Minimally Invasive Surgery at hospitals in India



The Minimally invasive surgeries at hospitals in India generally take a lesser time than normal open surgeries performed on the patients. In these surgeries, the patients also can go back home from the hospital in less number of days.




Side Effects of Minimally Invasive Surgeries at hospitals in India

There are no harmful noted side effects of Minimally invasive surgeries at hospitals in India apart from some amount of discomfort felt at the areas of incision for a few days after the surgery. In case of any other pain or effects, please consult your doctor.



The list of of Minimal Access Hospitals in India is as follows : -
| | |
| --- | --- |
| | Apollo Hospitals, Bangalore, India |
| | Apollo Hospital, Chennai, India |
| | Apollo Hospitals, Hyderabad, India |
| | Indraprastha Apollo Hospital, Delhi, India |
| | Apollo Gleneagles Hospital, Kolkata, India |
| | Apollo Hospital, Goa, India |
| | Wockhardt Hospital, Bangalore India |
| | Wockhardt Hospital, hyderabad, India |
| | Wockhardt Hospital, Mumbai, India |
| | Fortis Hospital, Delhi, India |
| | Fortis Hospital, Mohali, India |
| | Fortis Hospital, Noida, India |
| | Escorts Heart Institute Hospital, Delhi, India |
| | Manipal Hospital, Bangalore, India |
| | MIOT Hospital, Chennai, India |
| | Narayana Hrudayalaya Heart Hospital, Bangalore, India |
| | Narayana Cancer Hospital, Bangalore, India |
| | Sparsh Hospital, Bangalore, India |
| | Artemis Hospital, Gurgaon ( Delhi ) , India |
| | Max Devki Devi Heart and Vascular hospital, Delhi, India |
| | Max Super Specialty hospital, Delhi, India |
| | BGS Global Hospital, Bangalore, India |
| | BGS Global Hospital, Chennai, India |
| | BGS Global Hospital, Hyderabad, India |

For more information, medical assessment and medical quote send your detailed medical history and medical reports
as email attachment to
Email : - info@wecareindia.com
Call: +91 9029304141 (10 am. To 8 pm. IST)
(Only for international patients seeking treatment in India)
For a detailed evaluation send patientís medical reports / X rays / doctors notes to info@wecareindia.com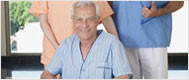 Patient Storys
Successful heart surgery at We Care India partner hospital allows Robert Clarke to live a normal life despite a rare genetic disorder We Care india helped Robert find best super specialised surgeon for his rare conditions.

Read : Robert's Story
See All : Patient's Success Stories


Related Link
Group Websites
Find us on