Medical Treatment India

As one of the fastest evolving names in the field of "Medical Tourism", We Care India works with highly reputed channel partners to create and deliver the services you need to ensure your and your loved ones complete well-being.

We Care India joins hands with the very best of healthcare institutions in India to bring to you comprehensive medical facilities. We provide the building blocks and total development facilities, while our channel partners integrate a solution appropriate to the individual's specific medical requirements. And with our working relationship with different people from different geographical and social backgrounds from across the world, and our intrinsic understanding of the latest technology & support systems, with constantly improved processes; we shrink every treatment cycle and enable accelerated health-giving of our esteemed patrons.

Following is a simple 'litmus test' that we strictly undertake before partnering with any healthcare institution (irrespective of how famed they may be) : -

Basic track record of the institution over the last 10 years
Patient treatment success rate since the beginning
Quality, qualification, experience and expertise of doctors
Extent of exposure to international patients
Extent of availability of state of the art infrastructure
Quality and success rate of emergency facilities
Quality, educational background, and comfort levels of nursing faculty
Cost effectiveness evaluation of the various services when compared with all the above specifics Proximity to basic travel points such as airport, railway stations, bus terminals, etc.
We Care India has tied up with the following JCI / ISO accredited medical institutions of repute in India
Why Medical Treatment India

India, exotic travel to significant medical cost savings Medical tourism in India is growing rapidly. This is not surprising given that English is spoken widely and many doctors have been trained in the US, UK or Australia. Significant investments in the medical infrastructure have been made in the past years with the Indian government giving tax incentives to hospitals for treating international patients.

Hospitals in India vary in quality to a great degree. We Care India have agreements with internationally renowned hospitals. These hospitals are JCI accredited the same accreditation that US hospital strive for, and have a partnership with a leading US hospital, which is further reassurance to you of high quality of medical care.

India is the largest democracy in the world. Home to the one of the world's oldest civilizations and a region of historic trade routes and vast empires, the Indian subcontinent was known for its commercial and cultural wealth for much of its long history. Politically controlled by the British East India Company from the early 18th century and directly administered by Great Britain starting the mid-19th century, India became a modern nation-state in 1947 after a struggle for independence marked by widespread use of nonviolent resistance as a means of social protest.

With the world's third largest economy in purchasing power and the second fastest growing large economy, India has made rapid progress in the last decade, most notably in information technology and health care.


Tourism in India

India's amazing diversity offers you everything you could ever want in a holiday. From the moment that you set foot in India you are on the way to one of the most rewarding experiences of your life. Bounded by the majestic Himalayan ranges in the north and edged by a spectacular coastline surrounded by three seas, India is a vivid kaleidoscope of landscapes, magnificent historical sites and royal cities, golden beaches, misty mountain retreats, colorful people, rich cultures and festivities. At any part of the year India can offer you a dazzling array of destinations and experiences. In summer, when the subcontinent is sizzling, there are spectacular retreats amidst the heady beauty of the Himalayas or the lush heights of the Western Ghats.

In the cool of an Indian winter, cities come alive with cultural feasts of music and dance. The balmy weather is an ideal time for you to go century hopping in romantic cities studded with medieval forts and palaces. The sun drenched beaches are inviting and wildlife sanctuaries with their abundance of flora and fauna are a buzz with the nurture of the young.

You can taste the delights of the Indian monsoon anywhere in the country- on a camel safari in the Rajasthan desert when nature comes alive and the peacocks dance; along the west coast where the relentless slanting rain paints the countryside in brilliant greens or even trekking amidst the stark grandeur of mountain valleys lying in the rain shadow of the Himalayas.

Live like a maharaja in the rich ambiance of royal forts and palaces that are now heritage hotels; luxuriate in the serene beauty of a coral island with its turquoise lagoon; participate in the exuberance of a village fair or a colorful festival; day dream on a house boat drifting down the palm - fringed backwaters; delight in the grace of a dancer or shop till you drop - buying exquisite silks, carved figurines, brass and silver ware, marble inlaid with semi-precious stones, finely crafted jewelry, miniature paintings, carpets ....at unbelievable prices.

India, always warm and inviting, is a place of infinite variety - one that favors you with a different facet of its fascination every time you come on a visit.



A step-by-step guide to derive maximum benefits from the services offered by we care india : -
STEP 1

:
Browse our website, for all details provided herein. Familiarise yourself with all the surgical procedures, panel of doctors, Ayurvedic and Rejuvenation centres and Tour India destinations that are at offer.



STEP 2

:
Identify the surgery / procedure,centres or a combination that you are interested in. Shortlist the consultant /centre offering that treatment.



STEP 3

:
Complete and send to us your enquiry, with your basic questions and concerns.



STEP 4

:
We will note your particular needs in terms of procedure(s) and your other questions and concerns. We will get back to you with answers to your queries thereafter. If you require, we can also give you a budgetary estimate of costs, for the procedure. You will also be given a list of test reports and other data that you will need to provide, to proceed to the next step.



STEP 5

:
Once you confirm your further intention to go to the next step, and have provided the required data to us, we will set up an email based consultation with the concerned specialist. You will be urged to ask as many questions as you would like about your intended procedure, at this time.



STEP 6

:
At the end of such consultation, our specialist will be able to confirm that your case is suitable for the procedure / surgery that you intend to get done. Based on this personal evaluation of the case, by the specialist, the final cost estimates will be conveyed to you.



STEP 7

:
Between your first consultation and your intended arrival for your surgical procedure in India, urges you to continue asking any questions of your surgeon that may come to your mind.

By asking about everything you need to know you can be sure of making an informed decision regarding your surgical procedure(s). These questions can be directed to your surgeon via email or telephonically as part of the service offered.



STEP 8

:
Once you have asked your surgeon all the questions you can think of, have discussed alternative treatments with him/her, are in agreement as to the desired outcome, fully understand the risks and have generally satisfied yourself that you wish to go ahead with the procedure(s), we may require you to make a non-refundable REGISTRATION deposit in order for us to go ahead with your provisional booking. We will make the pre-procedure appointments for consultation with the doctor, and also make arrangements to receive you at the airport, as also your stay and other arrangements.



STEP 9

:
Two weeks prior to your arrival in India for your procedure we will expect your travel dates and flight details to be conveyed to us.



STEP 10

:
On receipt of your travel details, your booking will be confirmed with you and your pre and post operative instructions forwarded to you together with a detailed itinerary of your surgery, medical appointments, recuperation, accommodation and your Tour India holiday (should you have opted for one).



STEP 11

:
You will be welcomed at our International Airport by a representative and transported to your hotel / guest lodge where you may relax and be comfortable.



STEP 12

:
The following day you will be transported by your companion to your pre-operative medical appointment with your surgeon. Neither you nor your surgeon is obligated to go ahead with the surgery / procedure until the completion of the pre-operative appointment.

Once your surgeon confirms that you can go ahead with the surgery as planned, and you are also comfortable with the decision, you will make your balance payment at this stage. Thereafter, the surgery will be scheduled.

If for medical reasons your surgeon feels the surgery should not proceed as scheduled, or you decide not to go ahead with it, your scheduled surgery will stand cancelled.



STEP 13

:
In case you have decided to take your Tour India Holiday or opted for an Ayurvedic or Rejuvenation Package before the surgical procedure, you will depart for the holiday. Otherwise, you will be admitted to the hospital / clinic, to proceed with the medical procedure. Either way THE REPRESENTATIVE will accompany you to either the airport or the hospital/clinic.



STEP 14

:
At the end of your treatment and recuperation you will feel like a new person, fresh and full of energy. At this stage you will either be returning home or leaving for your Tour India holiday.

Regardless of whether you take your Tour India Holiday, at one of our magnificent destinations, before or after your surgical procedure(s), we are confident that you will experience a holiday of a lifetime.




For more information, medical assessment and medical quote send your detailed medical history and medical reports
as email attachment to
Email : - info@wecareindia.com
Call: +91 9029304141 (10 am. To 8 pm. IST)
(Only for international patients seeking treatment in India)
For a detailed evaluation send patientís medical reports / X rays / doctors notes to info@wecareindia.com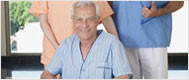 Patient Storys
Successful heart surgery at We Care India partner hospital allows Robert Clarke to live a normal life despite a rare genetic disorder We Care india helped Robert find best super specialised surgeon for his rare conditions.

Read : Robert's Story
See All : Patient's Success Stories


Related Link
Group Websites
Find us on