Overview
Hydrocele

A hydrocele is a fluid-filled sac surrounding a testicle that results in swelling of the scrotum, the loose bag of skin underneath the penis. About one in 10 male infants has a hydrocele at birth, but most hydroceles disappear without treatment within the first year of life. Additionally, men - usually older than 40 - can develop a hydrocele due to inflammation or injury within the scrotum.

Hydroceles usually aren't painful. Typically not harmful, hydroceles may require no treatment. However, if you have scrotal swelling, see your doctor to rule out other causes, such as testicular cancer or other conditions.



Symptoms

Usually the only indication of a hydrocele is a painless swelling of one or both testicles.



Causes
Hydrocele


Hydrocele is the type of scrotal swelling that occurs when fluid collects in the thin sheath that surrounds the testicle.

For baby boys, a hydrocele can develop in the womb. At about 28 weeks of gestation, the testicles descend from the developing baby's abdominal cavity into the scrotum. A sac (processus vaginalis) accompanies each testicle, allowing fluid to surround them.

In most cases, the sac closes and the fluid is absorbed. However, if the fluid remains after the sac closes, the condition is known as a noncommunicating hydrocele. Because the sac is closed, fluid can't flow back into the abdomen. Usually the fluid gets absorbed within a year.

In some cases, however, the sac remains open. With this condition, known as communicating hydrocele, the sac can change size or, if the scrotal sac is compressed, fluid can flow back into the abdomen.

In older males, a hydrocele can develop as a result of inflammation or injury within the scrotum. Inflammation may be the result of infection of the small coiled tube at the back of each testicle (epididymitis) or of the testicle (orchitis).



Risk factors

Most hydroceles are present at birth (congenital). Otherwise, the condition generally affects men 40 or older. Risk factors include:

Scrotal injury
Infection
Radiation therapy
When to seek medical advice ?
For yourself


See your doctor if you experience scrotal swelling. It's important to rule out other possible causes for the swelling, such as a tumor. Sometimes a hydrocele is associated with an inguinal hernia, in which a weak point in the abdominal wall allows a loop of intestine to extend into the scrotum and which may require treatment.


For your child
In infants, a hydrocele typically disappears on its own. However, if your baby's hydrocele doesn't disappear after a year or if it enlarges, you may need to have it evaluated.



Tests and diagnosis

Screening and diagnosis entails a physical exam, which may reveal an enlarged scrotum that isn't tender to the touch. Pressure to the abdomen or scrotum may enlarge or shrink the fluid-filled sac, which may indicate an associated inguinal hernia.

Because the fluid in a hydrocele usually is clear, your doctor may shine a light through the scrotum (transillumination). With a hydrocele, the light will outline the testicle, indicating that clear fluid surrounds it.

If your doctor suspects your hydrocele is caused by inflammation, blood and urine tests may help determine whether you have an infection, such as epididymitis.


The fluid surrounding the testicle may keep the testicle from being felt. In that case, further study may be needed. Possible tests include : -
Ultrasound imaging : -

This test, which uses high-frequency sound waves to create images of structures inside your body, may be used to rule out a testicular tumor or other cause of scrotal swelling.



Abdominal X-ray : -

A basic X-ray uses electromagnetic radiation to make images of your bones, teeth and internal organs. An X-ray may distinguish a hydrocele from an inguinal hernia.
Complications
A hydrocele typically isn't dangerous and usually doesn't affect fertility. However, it may be associated with an underlying testicular condition that may cause serious complications : -
Infection or tumor : -

Either may impair sperm production or function.



Inguinal hernia : -

A loop of intestine could become trapped in the weak point in the abdominal wall (strangulated), a life-threatening condition.
Treatments and drugs

For baby boys, hydroceles typically disappear on their own within a year. If a hydrocele doesn't disappear after a year or if it continues to enlarge, it may need to be surgically removed.

For adult males as well, hydroceles often go away on their own. A hydrocele requires treatment only if it gets large enough to cause discomfort or disfigurement. Then it may need to be removed.


Treatment approaches include : -
Sometimes, a hydrocele may recur after treatment.

The list of of Male Surgery Hospitals in India is as follows : -
| | |
| --- | --- |
| | Apollo Hospitals, Bangalore, India |
| | Apollo Hospital, Chennai, India |
| | Apollo Hospitals, Hyderabad, India |
| | Indraprastha Apollo Hospital, Delhi, India |
| | Apollo Gleneagles Hospital, Kolkata, India |
| | Apollo Hospital, Goa, India |
| | Wockhardt Hospital, Bangalore India |
| | Wockhardt Hospital, hyderabad, India |
| | Wockhardt Hospital, Mumbai, India |
| | Fortis Hospital, Delhi, India |
| | Fortis Hospital, Mohali, India |
| | Fortis Hospital, Noida, India |
| | Manipal Hospital, Bangalore, India |
| | Sparsh Hospital, Bangalore, India |
| | Artemis Hospital, Gurgaon ( Delhi ) , India |
| | Max Super Specialty hospital, Delhi, India |
| | BGS Global Hospital, Bangalore, India |

For more information, medical assessment and medical quote send your detailed medical history and medical reports
as email attachment to
Email : - info@wecareindia.com
Call: +91 9029304141 (10 am. To 8 pm. IST)
(Only for international patients seeking treatment in India)
For a detailed evaluation send patientís medical reports / X rays / doctors notes to info@wecareindia.com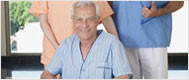 Patient Storys
Successful heart surgery at We Care India partner hospital allows Robert Clarke to live a normal life despite a rare genetic disorder We Care india helped Robert find best super specialised surgeon for his rare conditions.

Read : Robert's Story
See All : Patient's Success Stories


Related Link
Group Websites
Find us on