Facial Rejuvenation: Fine Wrinkles

There are many characteristics that create a youthful fresh look to your face. Bright open eyes without wrinkles, bags and dark circles under the eyes, a high arched brow, a full high plump cheek, a firm smooth jaw line, a tight neck without fat and hanging skin, and full wrinkle free lips are important characteristics of a young face. Successful facial rejuvenation depends on an understanding of exactly what creates this youthful look.

The eyes are the windows to the soul and the first feature that people notice, followed by our lips and mouth. Unfortunately the eyes and lips are the first areas of our face to show signs of aging, often in our thirties or even earlier in people with thin skin or those who smoke. Young fresh looking eyes and lips are an essential component of any facial rejuvenation effort.


Below are the aging changes we must correct to have a youthful appearance : -
Eyes-Correct wrinkles, loose skin, hooding of the eyes, bags and dark circles under the eyes, brown spots and crow's feet.
Lips-Remove lip wrinkles, correct thin or sagging lips, plump the lips, and shorten the space between the pink lip and nose.
Mouth-camouflage or correct sagging skin around the mouth, nose to mouth lines (nasal labial fold), mouth to chin lines (marionette lines), and whiten teeth for a young looking smile.
Chin-Remove chin wrinkles, shrink large pores, camouflage chin crease, and lift the sagging chin.
Cheek-Plump or lift the cheek to a high position on the face, fill depressions high on the cheek below the eye, and remove wrinkles, brown spots, red spots and other skin aging changes.
Brow-Lift the sagging brow to open the eyes and create a fresh bright look.
Jaw line-tighten, lengthen, or smooth the jaw line skin. Camouflage, lift or remove jowls.
Neck-Remove fat, eliminate a double chin, remove neck bands or turkey wattle and tighten the neck.
Décolletage-The neck and décolletage are frequently noticed when people view our face, and yet this area is one of the most neglected when it comes to prevention of skin aging. Removal of brown spots, red spots and skin aging changes from the décolletage must be accomplished if you want to look young in today's fashions.
Cleavage-A woman's cleavage has always been an important component of feminine beauty and sensuality. Clothing today reveals this area, and aging changes such as wrinkles and brown spots detract from a youthful look.
Face Skin- Aging and sun damage make the skin look old. Brown spots, red spots (Telangiectasia), dry skin and wrinkles are classic signs of skin aging.


Q.

What Is Laser Rejuvenation ?



Imagine erasing the ravages of time from your skin. Though we are born with silky soft skin, as years progress, our skin ages. Slowly, wrinkles appear or acne scars take their toll on our youthful appearance. Suddenly, we look in the mirror and find a person who appears much older.

Fortunately, the fountain of youth has been transformed into a laser that reduces as much as 80% of the fine lines and wrinkles from your face


Q.

Who is a good candidate for Laser Rejuvenation ?



Men and women of all ages may benefit from laser resurfacing. The best results from the procedure are typically seen in individuals with fair, healthy, non-oily skin.


You may be a good candidate for laser resurfacing if you have any of the following conditions : -
fine lines, especially around the eyes
vertical lines around the mouth
facial scars caused by injury or accident
scars caused by acne
areas of uneven pigmentation, such as "age spots"
lines on the cheeks caused by sun damage.
You may wish to discuss other resurfacing options with your plastic surgeon if any of the following applies to you : -
you have skin that is olive, brown or black
you have taken Accutane during the past 18 months
you are prone to abnormal (keloid-like) scarring
you have an active skin infection.

Before Surgery Care

Although you may be apprehensive at first, we do our very best to put you at ease. First, you will visit with our founder and medical director, Dr. John Snead. He will make an assessment of your skin, discuss your concerns and recommend the appropriate laser surgery to meet your needs. If a full face laser procedure is recommended by Dr. Snead, you will then visit our aesthetic therapist who will conduct another assessment to see if your skin needs pre-surgery conditioning.


Q.

How Is Laser Resurfacing Done ?



You will be given intravenous sedation for a full face resurfacing procedure. After you drift off to sleep, the doctor will position the laser to apply quick intense bursts across your quick intense bursts across your skin. As the laser contacts your skin, it vaporizes the first layer or wrinkles.

The doctor may then opt to pass the laser one or more times over deeper wrinkles. During this time, collagen is automatically tightened. After the surgeon is finished, a therapeutic dressing will be applied to cover your new skin.



After Surgery

Slowly you will be awakened and you will go home to rest. The following day, your dressings will be removed in our office.




Recovery



Day of Surgery

: - Your medication will keep you drowsy and comfortable.




One to Two Days Post-op

: - Most patients experience very little discomfort.




Three to Four Days Post-op

: - As your medication effects subside, you begin to feel some mild discomfort which will progress to an itchy and burning sensation by the third or fourth day. This sensation usually lasts for only a couple of days and is the worst part of the recovery time. Cool water helps the discomfort to subside.




Five to Ten Days Post-op

: - The discomfort subsides quickly. You may apply camouflage makeup and return to normal activities by around the tenth day. You will experience some pinkness after surgery. It will begin very bright and red, similar to a bad sunburn, but will fade to a light pink within an approximate period of four to six weeks. The pinkness will continue to fade for up to six months.


Q.

Is this procedure painful ?



Most patients are surprised at how little discomfort they experience with facial surgery. We provide narcotic pain medication, so if you experience discomfort, we encourage you to take your pain medication. Most patients tell us that Tylenol or Motrin provided adequate pain relief.




For more information, medical assessment and medical quote send your detailed medical history and medical reports
as email attachment to
Email : - info@wecareindia.com
Call: +91 9029304141 (10 am. To 8 pm. IST)
(Only for international patients seeking treatment in India)
For a detailed evaluation send patient's medical reports / X rays / doctors notes to info@wecareindia.com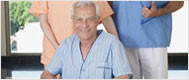 Patient Storys
Successful heart surgery at We Care India partner hospital allows Robert Clarke to live a normal life despite a rare genetic disorder We Care india helped Robert find best super specialised surgeon for his rare conditions.

Read : Robert's Story
See All : Patient's Success Stories


Related Link
Group Websites
Find us on