Ovulation Induction in India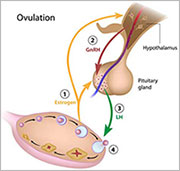 Ovulation induction India is a form of treatment which involves stimulation of the ovaries to bring about development of a ripened egg which can then be fertilised by a normal act of intercourse. Ovulation induction is used to treat women who do not ovulate or who ovulate irregularly. Ovulation induction can be used for women who have been diagnosed with Hypothatic Pituitary failure or women with Polycystic Ovarian Syndrome (PCO) and consequently may not be ovulating (Annovulatory).
The second use of ovulation induction was to increase the number of eggs reaching maturity in a single cycle to increase chances for conception. The initial agents for this treatment (used first for IVF and only later for simpler treatments) were injectable medications. These agents carry an increased risk of multiple gestation, ovarian hyperstimulation, and increased cost and time commitment.
Ovulation Induction Cost India: if we are talking about Ovulation Cost in India, so i am happy to say that it's cost is too much low.