Genetic Infertility Treatments in India
What is DNA ?
DNA (deoxyribose nucleic acid) is a code inside cells to tell the body what it needs to function and what to look like. The code is made up of 4 different chemical units called bases. The bases are adenine (A), thymine (T), guanine (G) and cytosine (C). The code, if you were to read it, would look something like this:
..CGTAGCTTACTTTAGGCTAGCAAACGCATC....
A gene is a small section of the code (though much longer than this example) that can be decoded by the cell to mean something. A single gene might be responsible for any aspect of your body's function or appearance, like making a certain protein, or the colour of your eyes. If there is an error in the code for a gene the product will be faulty (see genetic mistakes). When a cell divides, identical copies of the DNA must be made and distributed evenly into the new cells e.g. when a baby is developing or when we make new blood or skin cells.
WE ARE HAPPY TO HELP YOU 24/7 Regarding Genetic Treatment India
We are here for giving you full information and support as well, if you have any doubt and want to ask some question from our expert's for Genetic Medicine Treatment India, so email us on:  info@wecareindia.com and call: +91 9029304141 (10 am. To 8 pm. IST)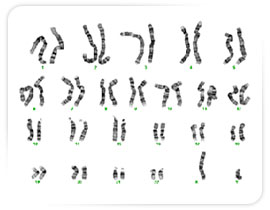 What are Chromosomes?
Packaging the DNA into chromosomes ensures that the genetic material is copied and distributed evenly when a cell divides. Chromosomes can only be seen under the microscope when a cell is dividing. Long strings of DNA, containing hundreds of genes each, coil up in the form of chromosomes. In normal human cells there are 46 chromosomes There is one pair of sex chromosomes (two X chromosomes for females and one X and one Y chromosome for males) and 22 pairs of autosomes (non-sex chromosomes) numbered 1-22. When a cell divides the DNA is copied and 1 copy of each chromosome is distributed into each new cell (mitosis). The new cells are an identical copy of the previous cell. When producing sperm and eggs, the cells divide so that there are only 23 chromosomes - one of each pair (meiosis).