Robotic Heart Surgery

When medication and catheter-based treatments do not relieve your symptoms, surgery may be your only option for treatment for a range of heart conditions, including but not limited to mitral valve prolapse (MVP), atrial septal defect (ASD), and coronary artery disease. Facing either traditional heart surgery or open heart surgery to treat disorders occurring in the chest cavity can be a frightening experience. You have several decisions to make including choosing your cardiac surgeon, your hospital, and which procedure you and your physician choose.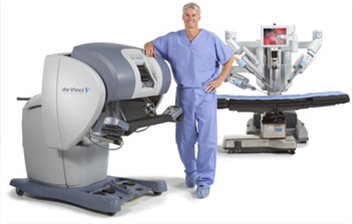 Learning as much as possible about your surgical options, including minimally invasive alternatives to traditionally invasive surgery, may ease some of your concerns. While traditional surgery is often the most effective way to treat some disorders of the heart, lungs, and esophagus, there are a number of negative aspects in making a large incision, splitting the breastbone (sternum), and spreading the ribs to reach the thoracic (chest) cavity. Often, a lengthy recovery time of eight to twelve weeks is required because of your eight to ten inch incision down the center of your chest with resulting scarring and a longer period of time elapses before you can return to normal daily activities.

Fortunately, less invasive options have been developed for patients facing cardiac (heart) surgery. Many surgeons recognize the benefits of smaller incisions made between the ribs to perform coronary bypass surgery or to make repairs to the heart by actually visualizing cardiac procedures while they are being performed. A miniaturized video camera is inserted between the ribs to optimize visualization during the surgery. This auxiliary technique is called a thoracoscopy. This minimally invasive procedure has its own limitations and, therefore, is not well suited for very complex procedures.

Enter the da Vinci Surgical System - a system that provides surgeons and patients with the most effective, least invasive treatment alternative for even the most complex procedures, such as mitral valve repair. Among the many benefits of the da Vinci® cardiothoracic surgery are a reduced risk of infection, less blood loss, and less need for blood transfusions, along with a shorter hospital stay, less pain and scarring, a faster recovery, and a quicker return to your normal daily activities. Additionally, surgery with the da Vinci Surgical system offers the potential for a better clinical outcome.



Why Robotic Heart Surgery

We hope you never need heart surgery, but if you do it's important to know what options are available to you. This site provides an introduction to some of the approaches that are used today, with an emphasis on cardiac surgery performed with the da Vinci® Surgical System, a recent innovation that uses robotic instrumentation to allow cardiothoracic surgeons to operate through a smaller opening.

Patients who undergo a minimally invasive procedure such as robotic heart surgery typically experience shorter recovery times than those who have open heart surgery. These minimally invasive alternatives use a set of small ports, instead of cutting the chest open and splitting the breast bone.

Minimally invasive techniques can be used for a variety of procedures, including coronary bypass surgery, mitral valve repair, atrial septal defect (ASD or PFO) closure, or mitral valve replacement. (The latter is performed in cases of mitral valve prolapse, a condition that occurs when the valve does not close properly in the left side of a patient's heart.) Not everyone is a candidate for minimally invasive surgery. Therefore, we have also included information on traditional open heart surgery. Hopefully, the more you know about the procedure, the less intimidating it will be.

We understand that keeping up with the latest medical advances can be overwhelming, especially at a time when you and your loved ones are already under a lot of stress. We've tried to make this site simple to understand, so that you will be prepared to ask more informed questions.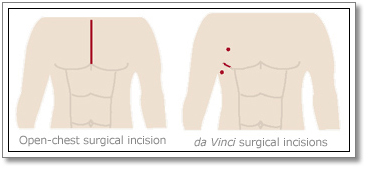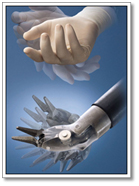 Benefits of Minimally Invasive Surgery
Minimally invasive surgery offers several advantages compared to open-chest procedures, including : -
Faster return to normal activities. Rather than waiting several weeks to heal, patients can return to work or other activities much more quickly--usually within 10 days.
Shorter hospital stay. Time spent in the hospital can sometimes be reduced by as much at 50 percent, compared to open procedures.
No splitting of the breastbone ("cracking the chest"). Keeping the breastbone intact reduces the chance for post-surgical complications and infection.
Smaller incisions. Depending upon the case, the operation may be performed through four to five fingertip-size incisions or through a 3- to 5-inch incision at the side of the chest. Traditional open-heart procedures require a longer incision down the center of the chest.
Significantly less pain. Decreased damage to tissue and muscle results in less pain. Tylenol or aspirin are often enough to manage pain after some procedures.
Elimination of the heart-lung bypass machine, in most cases. Avoiding the bypass machine decreases the risks for neurological complications and stroke.
Minimal blood loss and less need for transfusion.
Little scarring. Instead of a long chest scar, only a few tiny scars or a short, 3- to 5-inch scar remains.

Full Spectrum of Minimally Invasive Procedures

We're one of a handful of hospitals in the world that offers the complete range of minimally invasive procedures for heart conditions. Every member of our cardiac surgery team has specialized expertise in minimally invasive cardiac surgery.


Some of the minimally invasive procedures regularly performed by We Care India partner surgeons include the following : -
Valve repair and replacement, to restore proper valve function
Coronary artery bypass surgery, to improve blood flow to the heart and to reduce chest pain
Surgery to correct atrial fibrillation, a common type of arrhythmia
Implantation of ventricular heart devices to boost the pumping action of the heart in heart failure patients
Procedures to treat congenital heart conditions, such as atrial septal defect

It's not uncommon for our surgeons to correct more than one heart problem during a minimally invasive procedure. For example, a person who needs mitral valve repair and bypass surgery can have both problems treated during the same operation without opening the chest.



Robotic Device Improves Precision

Some minimally invasive heart surgeries performed at the We Care India partner hospitals are done with the help of a special robotic device, called the da Vinci Surgical System. The da Vinci robot is a highly sophisticated tool that enables the surgeon to perform the procedure with greater precision and control than is possible in traditional hands-on surgery. Most robotically assisted surgeries are accomplished through three to five fingertip-size incisions.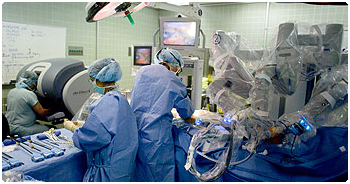 Robotic cardiac surgery procedure. The surgeon is seated to the left at the da Vinci console, where he controls the system's robotic arms to perform the surgery. The robotic arms are shown at right, directly above the patient. The surgeon sits in a console equipped with controls that direct robotic arms to perform the surgery. The da Vinci's robotic arms are essentially an extension of the surgeon's hands. A tiny camera attached to a robotic arm gives the surgeon a very detailed, three-dimensional view of the operating space inside the chest. The robotic arms are very agile, providing the surgeon a greater range of motion than is possible with hand-manipulated moves in standard procedures.



Experience and Excellence Count

Experience is important for all types of surgery, but the right experience is essential for minimally invasive and robotic surgery. There is a steep learning curve associated with minimally invasive surgery, because it's very different than operating through a large chest incision. Even otherwise highly experienced surgeons must devote dozens of hours to learning how to use the techniques and equipment for minimally invasive surgery. After learning how to use these tools, the surgeon must regularly perform minimally invasive surgery to truly master the approach. Volume counts. There is a great deal of difference between a surgeon who has performed 15 minimally invasive procedures and a surgeon who has done hundreds of cases.



The list of of world class heart hospitals in India is as follows : -
| | |
| --- | --- |
| | Apollo Hospitals, Bangalore, India |
| | Apollo Hospital, Chennai, India |
| | Apollo Hospitals, Hyderabad, India |
| | Indraprastha Apollo Hospital, Delhi, India |
| | Apollo Gleneagles Hospital, Kolkata, India |
| | Wockhardt Hospital, Bangalore India |
| | Wockhardt Hospital, hyderabad, India |
| | Wockhardt Hospital, Mumbai, India |
| | Fortis Hospital, Delhi, India |
| | Fortis Hospital, Mohali, India |
| | Fortis Hospital, Noida, India |
| | Escorts Heart Institute Hospital, Delhi, India |
| | Narayana Hrudayalaya Heart Hospital, Bangalore, India |
| | Artemis Hospital, Gurgaon ( Delhi ) , India |
| | Max Devki Devi Heart and Vascular hospital, Delhi, India |
| | BGS Global Hospital, Bangalore, India |
| | BGS Global Hospital, Chennai, India |
| | BGS Global Hospital, Hyderabad, India |

For more information, medical assessment and medical quote send your detailed medical history and medical reports
as email attachment to
Email : - info@wecareindia.com
Call: +91 9029304141 (10 am. To 8 pm. IST)
(Only for international patients seeking treatment in India)
For a detailed evaluation send patient's medical reports / X rays / doctors notes to info@wecareindia.com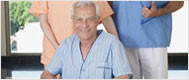 Patient Storys
Successful heart surgery at We Care India partner hospital allows Robert Clarke to live a normal life despite a rare genetic disorder We Care india helped Robert find best super specialised surgeon for his rare conditions.

Read : Robert's Story
See All : Patient's Success Stories


Related Link
Group Websites
Find us on