Heart Transplantation in India
What is Heart Transplant ?
Who Needs It ?
The transplant journey: Taking the first steps
Waiting for a donor organ
Diagnosis of Heart Transplant
Procedure of Heart Transplant
What can you expect of your new heart ?
Complications of Heart Transplant
What is Heart Transplant ?

Heart transplantation also called cardiac transplantation performed at accredited hospitals in India is an operation in which the diseased heart in a person is replaced with a healthy heart. The healthy heart comes from a donor who is died. Ninety percent of heart transplants are performed on patients with end stage heart failure.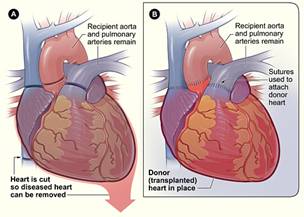 Who Needs It ?
Heart transplant is preformed on patients with end stage heart failure or some other life threatening heart disease.
Patients who have coronary artery disease
Cardiomyopathy disease of the heart muscle in which the heart loses its ability to pump blood effectively
Heart valve disease
In babies who have serious heart dysfunction. Some of the illnesses that affect the heart include congenital heart disease
The transplant journey: Taking the first steps

If your doctor recommends that you consider a heart transplant, he or she will likely refer you to a heart transplant center for an evaluation. Many centers coordinate support groups, assist you with travel arrangements, help you find local housing for your recovery period, or direct you to organizations that can help with these concerns.

Once you decide where you would like to have your heart transplant, you'll need to undergo an evaluation to determine whether you meet the eligibility requirements for a transplant.


The evaluation will assess whether you : -
Have a medical condition that would benefit from transplantation
Might benefit from other treatment options
Are healthy enough to undergo surgery and post-transplant treatments
Agree to quit smoking, if you smoke
Are willing and able to follow the medical program outlined by the transplant team
Have sufficient emotional stamina to undergo the wait for a donor organ and have a supportive network of family and friends to help you during this stressful time

Waiting for a donor organ in India

If the transplant center medical team in India determines that you're a good candidate for a heart transplant, the center will register you on a nationwide waiting list. Unfortunately, there aren't enough hearts for every person in need, and some people may die while waiting for a transplant.

While you're on the waiting list, your medical team will monitor the condition of your heart and other organs and alter your treatment as necessary. Your transplant team may temporarily remove your name from the waiting list if you have a significant medical event, such as a severe infection or stroke that makes you medically unstable.


When a donor heart becomes available, the donor-recipient matching system considers the following factors to make a match : -
Medical urgency of potential recipients
Blood type (A, B, AB or O)
Antibodies the recipients may have developed
Size of the donor organ
Time spent on the waiting list
Diagnosis Of Heart Transplant

Patients presenting with signs and symptoms of cardiac failure need to proceed with an initial evaluation to establish the diagnosis and


rule out other common causes of symptoms these tests include : -
History and physical examination
Echocardiogram or gaited heart scan to assess ventricular function
Endomyocardial biopsy of check for signs of rejection in this a small tissue sample from the donor heart.
ECG to check heart function
Chest X-Ray for early signs of lung infection
Lab work test: Complete blood count for the number of blood cells, blood chemistry, serum electrophysiology, thyroid function tests, urinalysis for infection
Other test such as cardiac catherization and electrophysiology studies may be indicated
Procedure Of Heart Transplant
Heart transplant surgery is performed under general anesthesia. Heart transplant surgery usually takes about 4hours.






Patients often spend the first days after surgery in the intensive care unit of the hospital.



Intravenous antibiotics are usually given to prevent bacterial wound infection.



The surgeon will open the chest cavity and connect you to a heart-lung bypass machine to keep oxygenated blood flowing



This procedure is called cardio-pulmonary bypass.



The diseased heart is removed the donor heart is attached to the patients blood vessels. After the blood vessels are connected the new hear is warmed up and begins beating. If the heart does not begin to beat immediately the surgeon may start is with an electrical shock to make the muscle fibers contract in a coordinated manner.



The patient is taken off the heart-lung machine. The new heart is stimulated to maintain a regular beat with medications for 2 to 5 days after surgery until the new heart function normally on its own.

What can you expect of your new heart ?

The majority of people who receive a heart transplant enjoy a high quality of life. Most people can return to work within three to six months of a heart transplant and have few if any restrictions.

Recipient survival rates vary based on a number of factors, but overall the one-year survival rate is nearly 90 percent after one year and 72 percent after five years.



Complications Of Heart Transplant

The most common and dangerous complication of heart transplant surgery are organ rejection and infection

Rejection is a normal reaction of the body to a foreign object. When a new heart is placed in your body, the body sees the transplanted organ as a threat and tries to attack it. The immune system makes antibodies to try to destroy the new organ, not realizing that the transplanted heart is beneficial. The sign and symptoms of rejection include: fever, decreased urine output, increased heart rate, fast breathing rate, weight gain, fatigue, irritability and poor appetite.

Infection-infection can result from the surgery but in some infections are side effects of the immune system from attacking the foreign cells of the donor attacking the foreign cells of the donor heart. Infection is a major cause of hospital admission for heart transplant patients and a leading cause of death in the first year after transplant. The sign and symptoms of infection include: weakness, fatigue, malaise, fever and flu-like symptoms such as chills, headache, dizziness, diarrhoea, nausea and or vomiting
Primary graft dysfunction: The most frequent cause of death in the first 30days after transplant is when the new donor heart fails and isn't able to function. This is called as primary graft dysfunction. Factors such as shock or trauma to the donor heart or narrowed blood vessels in the recipients' lung can cause primary graft dysfunction


Other complications that can happen immediately after surgery : -
Bleeding
Irregular heart beats
Reduced cardiac output
Increased amount of blood in the circulatory system
Decreased amount of blood in the circulatory system
Pressure on the heart caused by fluid in the space surrounding the heart(pericardial tamponade)
The list of of world class heart hospitals in India is as follows : -
| | |
| --- | --- |
| | Apollo Hospitals, Bangalore, India |
| | Apollo Hospital, Chennai, India |
| | Apollo Hospitals, Hyderabad, India |
| | Indraprastha Apollo Hospital, Delhi, India |
| | Apollo Gleneagles Hospital, Kolkata, India |
| | Wockhardt Hospital, Bangalore India |
| | Wockhardt Hospital, hyderabad, India |
| | Wockhardt Hospital, Mumbai, India |
| | Fortis Hospital, Delhi, India |
| | Fortis Hospital, Mohali, India |
| | Fortis Hospital, Noida, India |
| | Escorts Heart Institute Hospital, Delhi, India |
| | Narayana Hrudayalaya Heart Hospital, Bangalore, India |
| | Artemis Hospital, Gurgaon ( Delhi ) , India |
| | Max Devki Devi Heart and Vascular hospital, Delhi, India |
| | BGS Global Hospital, Bangalore, India |
| | BGS Global Hospital, Chennai, India |
| | BGS Global Hospital, Hyderabad, India |

For more information, medical assessment and medical quote send your detailed medical history and medical reports
as email attachment to
Email : - info@wecareindia.com
Call: +91 9029304141 (10 am. To 8 pm. IST)
(Only for international patients seeking treatment in India)
For a detailed evaluation send patientís medical reports / X rays / doctors notes to info@wecareindia.com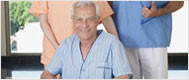 Patient Storys
Successful heart surgery at We Care India partner hospital allows Robert Clarke to live a normal life despite a rare genetic disorder We Care india helped Robert find best super specialised surgeon for his rare conditions.

Read : Robert's Story
See All : Patient's Success Stories


Related Link
Group Websites
Find us on