General Surgery Hospitals India
The General Surgery Department at We Care partner hospitals in India consists of senior consultants who have trained and worked at leading medical institution in India and abroad.



The department of General Surgery at Hospitals in India provides specialist care in the following super specialities
Under general surgery Clinical Services that our partner hospitals offer the following treatments : -





Keyhole Surgery at General Surgery Hospital in India



In keyhole Surgery at hospitals in India a scope is introduced into the body cavity through a 0.5cm opening. The area is viewed through a CCD video camera attached to the monitor. Surgeons can perform any type of surgery by viewing the monitor. Because of the smallness of the opening, this kind of surgery is called Keyhole surgery, Minimal Access Surgery, or based on the equipment used, Laparoscopic or Endoscopic Surgery.



Why keyhole Surgery at General Surgery Hospital in India ?

Small incision, minimal pain, no large exposure so chances of infection are almost nil. This surgery is cosmetically acceptable and allows quick recovery – You're back in the gym after a major Laparoscopic Surgery in 24 hrs.



Is it more expensive than conventional open surgery ?

The use of sophisticated equipment, instruments and consumables and special training required for surgeons makes the cost of keyhole surgery more expensive. But reducing the use of medicines, especially antibiotics and length of hospital stay, brings down the costs considerably.



What surgeries can be performed using this method at General Surgery Hospital in India ?

A. It's said about keyhole surgery that you can do any surgery except deliver a live baby!


Surgeries for Peptic ulcer, Gastro-esophageal reflux disease
Appendicectomy
Gall bladder stones (Cholecystectomy)
Hernias
Surgeries of the liver, pancreas, spleen and kidney
Hysterectomy (uterus removal), Tubo-ovarian tumours, Ectopic pregnancy, Polycystic ovarian disease
Removal of tumours from the abdomen
Endoscopic surgery of the heart (bypass surgery)
Arthroscopic surgery of the knee and shoulder
Minimally invasive total hip replacement surgery
Minimally invasive total knee replacement surgery
Endoscopic spinal surgery including microdiscectomy
Cataract surgery




Endoscopy at General Surgery Hospital in India



The word "Endo" means "inside", "Scope" means "to view". Endoscopy is an investigative procedure that is most commonly done to view the esophagus (food pipe), stomach and intestines, windpipe, its branches and lungs. Done as an outpatient procedure, endoscopy takes just 10 minutes to perform and does not require any anaesthesia. After the procedure patients can resume their normal diet and medication and return to work.




Minimally Invasive Surgery in Urology at General Surgery Hospital in India



About 40% of the outpatients seeking medical advice at any clinic present symptoms relating to the urinary system. Frequent urination especially during nights, inability to pass urine freely, bloodstained urination, burning urination, severe colicky pain at the flank or lower abdomen, pain and swelling of the testes are all symptoms which prompt the patients to consult the urologist.

A detailed medical history, clinical examination, urine and blood tests for sugar and urea, X-ray and ultrasound scan of the kidneys, may all be required.



Common urologic conditions

Kidney stones, ureteric and bladder stones, urinary tract infection, enlarged prostate with urinary obstruction, cancer of the kidney, bladder. Also, prostate, stricture urethra and hydronephrosis and phimosis are common diseases.



Role of minimally invasive surgery in Urology Surgery at hospital in India

Open surgery was the mainstay of treatment until the year 1990, after which a breakthrough occurred with the advent of Endo Urology and extra corporeal shockwave lithotripsy. Most Urologic conditions could be treated effectively and non-invasively, with shorter operating hours, shorter hospital stay and early return to work.


Cystoscopy at Hospital in India

: - This involves direct inspection of the lower urinary passage, urinary bladder and enlarged prostate gland using fiber optic telescopes. It is an outpatient procedure not requiring anesthesia. It is useful for diagnosing the cause of bleeding from the urinary tract.



Ureteroscopy at Hospital in India

: - A very useful tool to diagnose and treat urinary stones, strictures and tumours of the ureter and pelvis. Usually done under regional anesthesia, it is very useful in relieving blocks in the kidneys due to stoes, tumours or strictures.
Trans urethral Resection of Prostate (TURP) at Hospital in India

This permits removal of enlarged prostate in multiple chips without any skin incision, using under water electrocautery and cutting electrodes. The procedure is performed generally under local anesthesia without the need for massive blood transfusions. It requires only 3-4 days of hospitalization, and eliminates the need for lifelong medication and frequent catheterizations.



Internal urethrotomy (OIU) at Hospital in India

Endoscopic incision of urethral strictures under regional anesthesia to relieve blocks along the lower urinary passage.


Vesicolithotripsy

: - Endoscopic crushing and fragmentation of stones in the bladder and removal through cystoscope sheaths.
Trans urethral Resection of Bladder Cancers (TURBT) at Hospital in India

Endoscopic resection of growths involving the bladder, without open surgery, under regional anesthesia.



Percutaneous Nephrolithotomy (PCNL) at Hospital in India

Enables fragmentation and removal of large stones in the kidney, multiple stones and Staghorn stones. The procedure is performed under general anesthesia, with the patient lying prone on the OT table. Using X-ray control, a track is created to the kidney from the overlying skin. Special endo urologic instruments are used to widen the track and fragment the stones using energy sources like air under pressure (pneumatic), ultrasonic sources etc.






Advantages of Laparoscopy at General Surgery Hospital in India



In Greek (Laparo means abdomen – 'skopein' – to view). Here, a telescope is introduced into the abdominal cavity through small holes of 1 cm. Images from the scope are projected onto a monitor. Surgery is performed by viewing the monitor. Additional openings of 0.5 cm are made as required. Because of the small point of entry, laparoscopy is also called "Keyhole/ Minimal Access Surgery/Endoscopic Surgery/Band Aid Surgery/Belly Button Surgery." Let's take a look at some Laparoscopic procedures.



Laparoscopic Appendicectomy at General Surgery Hospital in India

The appendix is a small worm-like dead tissue at the junction between the small and large intestine which serves no purpose. Appendicitis means infection and inflammation of the appendix. It occurs when faeces or undigested food gets trapped in the dead space by the appendix, setting off infection. As with any dead infected tissue, the appendix has to be removed. The best and simplest way is through surgical removal – Appendicectomy.

Compare the treatment in conventional open surgical Appendicectomy, an 8-10 cm long cut is made in the lower abdominal wall and the appendix is removed. After this surgery you will have to stay in the hospital for 4 days, (2-3 days before food is allowed) and you will be recommended complete rest for another 2 weeks and no heavy work for another 4 months.

Compare this to Laparoscopic Appendicectomy. Only three 0.5 cm holes are made. You will be back to normal activity within 24 hrs and can return to work in 2 days. There is no pain and no need for attendants. Two months after the Laparoscopy the scar is gone – while in open surgery it remains as a life long reminder.



Laparoscopic Cholecystectomy at General Surgery Hospital in India

The gall bladder is a globular bag located on the undersurface of the liver. Its function is to store and concentrate the bile secreted from the liver. During the process the bile sometimes transforms into a salt called gall stones. Once a stone is formed it can obstruct the bile flow causing digestive problems, pain and fever – and in some cases jaundice. If a stone migrates down it can cause pancreatitis (destruction of the pancreas).

If you suffer from gall stones, the only option is to remove the gall bladder completely. Using the conventional method a 12-15cm long cut will be made in your upper abdomen to perform the surgery. Following this you will need to rest for 10days before resuming routine work. In the Laparoscopic procedure only 3 holes of 0.5 cm are required and you will be back on your feet the next day itself!



Laparoscopic Assisted Vaginal Hysterectomy at General Surgery Hospital in India

No woman is immune to fear of hysterectomy. It brings images of pain, big surgical scar, prolonged bed rest, the possibility of wound infection, weight gain, post surgical back pain and surgical hernias. Even after hysterectomy you may continue to experience pain.

All these were side effects of conventional surgery which involves making a long incision of 15cms, in the lower abdomen. Laparoscopic Hysterectomy, on the other hand calls for just 3 holes of 0.5 cms. You can return to normal routine in 2 days. Since no prolonged bed rest is required you won't gain weight.



Laparoscopic Ovarian Surgeries at General Surgery Hospital in India

Usually young females have a problem in their ovaries. The cause? Either multiple small cysts or large cysts containing fluid or a tumour. By open method a 8-10 cm cut is made in the lower abdomen to do surgery in the ovaries. But in Laparoscopy 3 holes of 0.5 cm holes is enough. They are immediately discharged and back to normal in a day.



The list of of General Surgery Hospitals in India is as follows : -
| | |
| --- | --- |
| | Apollo Hospitals, Bangalore, India |
| | Apollo Hospital, Chennai, India |
| | Apollo Hospitals, Hyderabad, India |
| | Indraprastha Apollo Hospital, Delhi, India |
| | Apollo Gleneagles Hospital, Kolkata, India |
| | Apollo Hospital, Goa, India |
| | Wockhardt Hospital, Bangalore India |
| | Wockhardt Hospital, hyderabad, India |
| | Wockhardt Hospital, Mumbai, India |
| | Wockhardt Hospital and Kidney Institute, Kolkata, India |
| | Fortis Hospital, Delhi, India |
| | Fortis Hospital, Mohali, India |
| | Fortis Hospital, Noida, India |
| | Manipal Hospital, Bangalore, India |
| | MIOT Hospital, Chennai, India |
| | Sparsh Hospital, Bangalore, India |
| | Narayana Cancer Hospital, Bangalore, India |
| | Artemis Hospital, Gurgaon ( Delhi ) , India |
| | Max Super Specialty hospital, Delhi, India |
| | BGS Global Hospital, Bangalore, India |
| | BGS Global Hospital, Chennai, India |
| | BGS Global Hospital, Hyderabad, India |

For more information, medical assessment and medical quote send your detailed medical history and medical reports
as email attachment to
Email : - info@wecareindia.com
Call: +91 9029304141 (10 am. To 8 pm. IST)
(Only for international patients seeking treatment in India)
For a detailed evaluation send patient's medical reports / X rays / doctors notes to info@wecareindia.com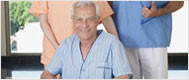 Patient Storys
Successful heart surgery at We Care India partner hospital allows Robert Clarke to live a normal life despite a rare genetic disorder We Care india helped Robert find best super specialised surgeon for his rare conditions.

Read : Robert's Story
See All : Patient's Success Stories


Related Link
Group Websites
Find us on