EYE HOSPITAL IN INDIA
Eye surgery at Eye Hospitals in India better known as ophthalmic surgery or ocular surgery, is a surgery performed on the eye or its adnexa, typically by an ophthalmologist. Most of the eye surgeries can be performed by an experienced general ophthalmologist. However, more complex procedures are usually done by a fellowship trained ophthalmologist.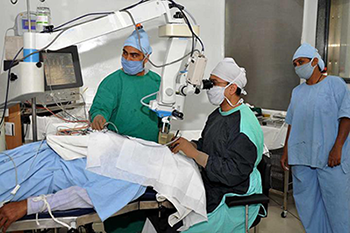 Eye Specialists In India Delhi
The Ophthalmology Department at We Care partner Hospitals: one of the leading centres in India: In the department of Ophthalmology in Eye Hospital in India they offer advanced expert surgical and non-surgical management of eye ailments using the most superior technology available.Indiahospitaltour is the best place for the treatment of the eyes. We are the chamber of the every eye disorder like Glaucoma, Cataract, Refractive Error, Laser eye surgery and cornea transplant are some of the medical eye treatment that is available here with the complete medical services and the other world class services including the best eye surgeon in India in the best eye hospital in India where all the latest and the modern equipment are available. India hospital tour is associated with the top eye hospital in India and has a trust worthy relationship with them.
Have you problem in your eyes, eyesight is weak, unable to look far?
Come at Eye Care India, best eye care hospital in India that will help you to increase the power of your eyesight. Best eye clinic in Delhi have great eye specialist that give you best eye surgery and eye treatment for your eyes.


Best Eye Surgeons in India Hospital
Special equipment available for diagnosis and treatment at Eye Hospitals in India : -
Carl-Zeiss Operating Microscope
Lasik Laser
Lacrimal Apparatus
Yag Laser
Wavefront Laser
Occular Topograph
Coherent Argon Laser Topcon Fundus Camera
A-scan Biometer
3mm Auto Refractometer
Canon Wall mount Welch Allyn Ophthalmoscope
Retinoscope Carl
Zena KPM Perimeter Keratometer
Shin Nippon Indirect Ophthalmoscope
Visual Field Analyser
Hiene Contact lens service
Eye Hospitals in India are at par to international standards. It treats deformities, injury related conditions and personal grooming requirements.
Procedures available at Eye Hospitals in India are : -
Lasik Surgery in India
 : - It means 'to shape the cornea within using a laser'. It corrects vision by reshaping the cornea. This allows rays to focus more precisely on the retina, thereby reducing or eliminating refractive errors. It is performed with an instrument called a microkeratome that is used to cut a thin flap of corneal tissue. The laser is then fired to remove a predetermined amount of tissue
Cataract Surgery in India
 : - Removal of the clouded lens (the cataract) entirely by surgery followed by replacement of the lens with an intraocular lens (IOL) of plastic, silicone, acrylic or other material is what is Cataract Surgery is all about.. The operation typically takes about an hour, is done under local anesthetic only, and does not require hospitalization. Most cataract surgery today is performed using a technique called phacoemulsification.

Fluorescein Angiography in India
 : - Fluorescein Angiography is a technique used to study the structure, integrity & patency of the eye's blood vessels. It is performed using a dye called fluorescein. The dye is activated after absorbing visible light. It emits radiations that can be visualised using special filters (cobalt-blue).

Diabetic Retinopathy in India
 : - In Diabetic Retinopathy, an Argon Laser is used for treatment. The laser is used to prevent the progression of the retinopathy, so that a patient's sight can be salvaged

Posterior Capsule Opacification in India (PCO)
 : - After cataract surgery, some patients experience an opacification of the posterior of the human crystalline lens. This hampers the vision of a patient. It can be treated with the use of a Yag-Laser. The laser destroys the metaplastic - epithelium of the lens, so that vision can be regained

Glaucoma Surgery in India
 : - Glaucoma is a group of diseases affecting the optic nerve that results in vision loss and is frequently characterized by raised intraocular pressure (IOP).
Other common eye surgeries performed at Eye Hospitals in India are : -
Safe & Secure Eye Hospital India Delhi
Corneal surgery at Eye Hospitals in India :



Corneal transplant surgery
Penetrating keratoplasty
Phototherapeutic keratectomy
Pterygium excision
Vitreo-retinal surgery at Eye Hospitals in India



Anterior vitrectomy
Pars plana vitrectomy
Pan retinal photocoagulation
Retinal detachment repair
Ignipuncture
Laser photocoagulation
Pneumatic retinopexy
Retinal cryopexy
Macular hole repair
Partial lamellar sclerouvectomy
Partial lamellar sclerocyclochoroidectomy
Partial lamellar sclerochoroidectomy
Posterior sclerotomy
Radial optic neurotomy
Macular translocation surgery
Eye muscle surgery at Eye Hospitals in India



Isolating the inferior rectus muscle
Disinserting the medial rectus
Myectomy
Myotomy
Tenectomy
Tenotomy
Tightening / strengthening procedures
Resection
Tucking
Transposition / repositioning procedures
Adjustable suture surgery
India offers a growing number of private "centers of excellence" or Eye Hospitals where the quality of care is as good as that of big-city hospitals abroad (for instance in the United States or Europe) and that are capable of delivering world class medical services at a remarkably lower cost. The health care industry estimates that several thousand foreign patients are treated in private hospitals in India each year. Patients can avoid lengthy waiting periods and high costs by choosing India as a destination for their treatment. These Hospitals have been accredited by national and international Hospital accreditation bodies and are well equipped to take medical and personal care of International Patients.
For more information, medical assessment and medical quote send your detailed medical history and medical reports as email attachment to Email : - info@wecareindia.com Call: +91 9029304141 (10 am. To 8 pm. IST) (Only for international patients seeking treatment in India)
We Care Health Services Hospitals