Medical Milestones at Escorts Heart Institute Hospital, Delhi



" A Give Back To The Society"


An Endeavor of the Escorts Heart Institute and Research Centre

The Escorts Heart Institute and Research Centre is the first institution dedicated to fighting the single largest cause of deaths in any community - "

Heart disease

".

The incidence of heart disease in India is higher than in the west, with approximately 14 million people affected by cardiac disease and one third of all deaths in the community being caused by heart attacks.

Having taken cognisance of the prevailing '

cardiac injustice

' in the country, Escorts Heart Institute and Research Centre launched the Community Outreach Programme as a social commitment towards society. The aim of the programme is to redress the imbalance by providing cardiac care to the deprived and the under privileged at their doorsteps.

The Community Outreach Programme was initiated five years back as a social commitment. This programme focuses on taking cardiac care to the individual's doorstep. Various facilities like clinical examination, ECG, and echocardiography are provided free of cost along-with advice by a team of highly qualified doctors and staff.

In order to strengthen its commitment to prevention and early diagnosis of heart diseases, Escorts Heart Institute And Research Centre is also undertaking extensive awareness programmes. These programmes aim to provide the community with knowledge about the prevention and control of the risk factors of heart diseases. Public education plays a vital role in the whole programme as various aspects of heart diseases are discussed with the help of slides projections and video demonstrations.

This programme lays emphasis on sharing information with doctors in the local areas about the latest developments in the field of Cardiology and Cardiac care. It also provides expertise to the local population on treatment and prevention of heart diseases

With experience it became obvious that clinical examination and electrocardiography have limitations. Hence echocardiography was introduced at camp site in the year 1997 using specially designed mobile van , the first of its kind in Asia. This 33 meter long bus with air cushions is fully air-conditioned and has all the facilities required for echo examination and echo teaching. It is also used for taking the cardiac check-up team from EHIRC to long distances.


The community outreach programme comprises of : -
Free heart check-up camps: The camps facilitate detection of various heart ailments like high blood pressure, coronary artery disease, valvular heart disease and congenital heart disease amongst general population, as well as follow-up of patients treated earlier at Escorts Heart Institute. On an average eight to ten such camps are held every month. The tests conducted at the camp include weight, blood pressure, ECG (electrocardiography), echocardiography and distribution of free samples of medicines by the participating pharmaceuticalcompanies apart from consultation with the cardiologist and counseling by dietician and clinical psychologists.


Public awareness programme: The programme envisages disseminating knowledge about prevention and control of risk factors associated with heart disease, educate people on healthy lifestyle and dietary habits in order to reduce the risk of heart disease.


Continued medical education: As a social commitment towards the medical community, physicians in small towns and peripheral centres are educated about the latest developments in the medical field, especially on cardiology and cardiac care.


The mobile school of echocardiography: Launched in 1998, it has a state of the art medical classroom on wheels, equipped to conduct echocardiography examinations and training programme for the doctors at the same time. While the mobile echo van greatly benefits doctors and practitioners in the peripheral towns, giving them hands on experience in technology that aids speedy, accurate diagnosis, it has also meant the building up of considerable database for research in echocardiography.


Training on basic life support system: The training programme on basic life support system namely Cardiac Pulmonary Resuscitation (CPR) session is designed for the general public, public safety personnel and lifeguards. The course empowers people to administer emergency help to a victim who suffers a cardiac arrest. The entire session involves a multi-media presentation; demonstration using computerized mannequins and hands on training. The programme further has a module on advanced life support system for general practitioners and allied health care professionals.


The School Programme : -

The Community Outreach Programme spread its services to the schools for the benefit of the school going children. The main objective of the school programme is to strive towards prevention of heart diseases by detection and treatment at an early age. This programme comprises of an integrated package of services which involves each and every child going through a complete heart check up (comprising of B.P. & Weight check, ECG, Consultation by Doctors and Echocardiography), Diet counselling by a dietician and stress counselling by a Clinical Psychologist.

Till date more than 5000 students of various schools in Delhi and satellite towns have benefitted from this integrated health programme exclusively designed for them. This indeed is a step towards a hale and hearty future generation.

The community outreach programme, which started out as a vision to reach out to the health needs of those in the remotest corner of the country, has already covered the states of Uttar Pradesh, Uttranchal, Haryana, Punjab, Rajasthan, Chhatisgarh and Himachal Pradesh. Other areas covered include Gaya, Muzaffarpur and Patna in Bihar, Rewa, Satna in Madhya Pradesh and Doda, Leh and Kargil in Jammu and Kashmir. Over a period of time, the philosophy of the programme "

A give back to society

" has evolved as a part of the cardiologists' calling at Escorts Heart Institute and Research Centre.

The scope of the programme has increased exponentially since its inception. From 15,000 patients covered in the year 1996, the community outreach programme has provided quality heart check-up to nearly 20000 people in the year 1999, 16,926 in 2000, 42,318 in 2004 and over 1,76,000 people ever since the programme was launched.

In the period April 2003 - March 2004, a total of 253 events were held under the Community Outreach Programme.


The break-up is as follows : -
Free heart check-up camps 174.
Continued medical education sessions (CME) and Public awareness sessions 66.
Stress management sessions 6.
Cardio-pulmonary resuscitation (CPR) sessions 7.
A total of 34,006 patients were checked at free heart check-up camps. Among these, 33,941 patients got their ECG done free of cost and 10,710 got an echocardiography done free of cost.


For more information, medical assessment and medical quote send your detailed medical history and medical reports
as email attachment to
Email : - info@wecareindia.com
Call: +91 9029304141 (10 am. To 8 pm. IST)
(Only for international patients seeking treatment in India)
For a detailed evaluation send patientís medical reports / X rays / doctors notes to info@wecareindia.com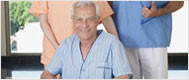 Patient Storys
Successful heart surgery at We Care India partner hospital allows Robert Clarke to live a normal life despite a rare genetic disorder We Care india helped Robert find best super specialised surgeon for his rare conditions.

Read : Robert's Story
See All : Patient's Success Stories


Related Link
Group Websites
Find us on