Facilities at Escorts Heart Institute Hospital, Delhi

Welcome to the comforting world of Escorts Heart Institute and Research Centre, where the medical treatment is truly world-class and our approach towards our patient is warm and sensitive. We Assure, that you are in trusted hands and your journey, will be a pleasant one.

Escorts Heart Institute & Research Centre (EHIRC), was born to bring to India the best cardiac care and systems, training of cardiac surgeons and cardiologists and to conduct research as per International standards. It has completed 20 years of excellence in providing one of the highest standards of cardiac care in India.


Centres of Excellence
Cardiac Bypass Surgery.
Minimally Invasive Surgery (Robotics).
Interventional Cardiology.
Non-invasive Cardiology.
Pediatric Cardiology.
Medical Highlights
20 years of Cardiac Care.
Hospital has 332 Beds, 9 Operation Theatres, 5 Cath Labs, 3 Heart Command Centres, 2 Heart Stations.
Done Over 114,700 Angiographies.
Over 27,000 Angioplasties Completed.
Over 65,000 Cardiac Surgical Procedures.
Success rate of Cardiac Procedures is 99.6%.
Infection Rate of less than 0.3%.
The Infrastructure of Excellence
Escorts Heart Institute is equipped with modern facilities, equipment and systems like : -
Operation Theatres (OTs) with Laminar air flow that eliminates the chances of infection.
Intensive Care Units (ICUs), under the charge of critical care specialist that has a ratio of one nurse for every ICU patient.
High-tech systems for Imaging, Radiology and Pathology Testing.
Sophisticated Information Technology systems at Escorts Hospital enable better efficiency and greater patient convenience.
Convenient support facilities such as: ATMs, Cafeterias, Round the clock Pharmacy.
International Patient Care

Patient safety is our top priority, Escorts recognizes that international patients have special needs and requirements. Escorts offers seamless patient services of world-class quality. From the warmth of our greeting at the airport, to your registration and discharge, we strive to deliver unparallel services to aid you.

All services are provided to International patients through a single window assistance cell, from arrival till departure.


The activities related to this important area of our business are: -
Visa Assistance
Coordination and Liaising with Foreign Offices.
Medical Needs
Arranging meeting on priority with the concerned Consultant.
Arranging any specific medical needs, while traveling to New Delhi.
Smooth discharge procedure under single window.
Medical certificates/reports.
Follow up visits/tests/reports.
Lodging/Boarding Arrangements
Lodging the patient/attendant in EHIRC/Hotel/Guest House.
Diet requirement as per patient needs.
Regular supervision of all lodging facilities.
Information Needs.
EHIRC Brochures/Information.
Delhi City Map /City Guide.
Providing news & information of patient to their relatives, back home.
Value Added Services.
Dedicated Patient care coordinators to assist Patient/Attendant.
Travel/ticketing arrangements for patients and relatives.
Receive the patient from Airport - Car/Ambulance.
Arranging sight seeing / shopping / prayer.
Local travel needs for patient's relatives.
Prepaid Cell phone Card.
Interpreters.
Internet.
Comprehensive Health Check Ups.
Foreign Exchange.
All finance related matters under single window.
Our insurance partnerships.
BUPA International.
AETNA.
CIGNA.
International SOS.
Vanbreda International.
GMC Services.
MISSION
"

O

ur Mission is to improve the quality of health care and become the most revered healthcare service provider in India by 2010."
VISION
"

T

o create a world-class integrated healthcare delivery system in India, entailing the finest medical skills combined with compassionate patient care."


This will be achieved by : -
Providing state-of-the-art world standard health care that exceeds expectations of patients and families.
Pursuing independent as well as collaborative research in all aspects of cardio-thoracic medicine and surgery to develop affordable solutions for heart problems of this region.
Establishing a network of joint ventures and satellite centers to extend the availability of quality health care in India and other developing countries.
Providing expert training for medical, para-medical, nursing and other professionals in the field of heart care.
Networking with other organizations to promote health and wellness in society through education, preventive checkups and community outreach programs.
- : VALUES : -



H

ONESTY : -Conduct everything we do with highest standards of professional and ethical integrity.



E

XCELLENCE : -Pursue excellence and continuous improvement in technology, skill, services and quality of interaction.



A

TTENTIVENESS : -Be responsive to the physical and emotional needs of patients and their families, and expectations of the society.



R

ESPECT : -Show respect, compassion and truthfulness towards patients, co-workers and all persons we encounter.



T

EAM WORK : -Recognize that working together can create a power greater than the sum of individual activities, and that mutual respect demands collegiality, consensus seeking and cooperation.


EHIRC is located in New Delhi, India and the facilities are housed in three adjoining spacious buildings connected through an exclusive subway. The hospital has more than 329 beds, 9 Operation Theaters, 4 Cath Labs, 2 Heart Stations besides a host of other facilities. The hospital has a total of 130 Critical Care beds to provide intensive care to patients after surgery or angioplasty, emergency admissions or other patients needing highly specialized management including tele-cardiology (ECG transmission through telephone).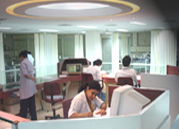 [ Laboratories ]


The hospital is backed by the most advanced laboratories performing complete range of investigative tests in the field of Nuclear Medicine, Radiology, Bio-chemistry , Haematology, Transfusion Medicine and Microbiology.

The EHIRC is unique in the field of Preventive Cardiology with a fully developed programme of Monitored Exercise, Yoga and Meditation for life-style management. The hospital is centrally air-conditioned and environmentally sealed to ensure optimum comfort with ideal asepsis and hygiene.

A safe power generation and UPS system ensure that life saving equipment function without interruption. The hospital has a vast computer network of over 300 nodes linked through ethernet, utilising the latest IT tools striving to support the best care and service to the patients.



For more information, medical assessment and medical quote send your detailed medical history and medical reports
as email attachment to
Email : - info@wecareindia.com
Call: +91 9029304141 (10 am. To 8 pm. IST)
(Only for international patients seeking treatment in India)
For a detailed evaluation send patientís medical reports / X rays / doctors notes to info@wecareindia.com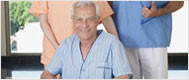 Patient Storys
Successful heart surgery at We Care India partner hospital allows Robert Clarke to live a normal life despite a rare genetic disorder We Care india helped Robert find best super specialised surgeon for his rare conditions.

Read : Robert's Story
See All : Patient's Success Stories


Related Link
Group Websites
Find us on