Knee Replacement at Apollo Hospitals, New Delhi
Knee Replacement Surgery : -



Arthritis is inflammation of the joints. A gradual wearing away of the cartilage results in exposure of underlying bone, reduction of joint space and friction at the exposed surfaces, altering the mechanics and creating a gnawing pain with every movement.


Knee Replacement surgery is performed to relieve pain and disability caused due to arthritis and to help resume normal activities in the kneeThe types of arthritis are : -



Osteoarthritis : -

This occurs after the age of 50 in individuals with a family history of arthritis. The cartilage that cushions the bones of the knee softens and wears away. The bones then rub against one another, causing knee pain and stiffness.



Rheumatoid Arthritis : -

This is a disease in which the synovial membrane is thickened and inflamed. This produces excessive synovial fluid in the joint spaces. This chronic inflammation can damage the cartilage and eventually cause cartilage loss, pain and stiffness.



Traumatic Arthritis : -

Can result due to a serious knee injury. A knee fracture or severe tears of the knee's ligaments may damage the articular cartilage over time, causing knee pain and limiting knee function.


Symptoms : -
Severe knee pain that restricts everyday activities such as walking, climbing stairs and getting up from chairs.
Severe knee pain while resting.
Knee inflammation and swelling that does not improve with medication and rest.
Knee deformity.
Knee stiffness-inability to bend or straighten the knee.
Treatment : -



Total Knee Replacement : -

In knee replacement, the distal femur and the proximal tibia are resurfaced using metal alloys. High density polyethylene is used as an insert.


There are different types of High Flexion and Rotating platforms Available : -



Minimally Invasive Surgery (MIS) and Computer Assisted Surgery (CAS) : -

There have been several rapid advances in the surgical techniques-significant among them is the introduction of navigation through robotics, which assist the surgeon in performing the procedure with limited visualization



Unicompartmental (Partial) Knee Replacement : -

Here, only the medial compartment of the knee (femur/tibia) is replaced. Rarely, only the Lateral compartment is replaced. This surgery can also be done as MIS, using Computer assisted surgical techniques as well. Post-operative rehabilitation is much quicker.



Bilateral Knee Replacement : -

Apollo hospitals is one of the few institutions that excel in simultaneous Bilateral Knee Replacements which means that both knees are operated upon simultaneously or sequentially under single anesthetic exposure. Candidates for this procedure should be below 75 years and free from heart (or) lung disease.



Revision Knee Replacement : -

Total Knee Replacements that need to be revised after 15-20 years (post primary surgery) are also done here. The most advanced prosthesis using

"Dial-in-stems"

, wedges, stemmed implants, thick poly inserts as well as semi and fully constrained prosthesis are used. Computer Assisted Surgery (CAS) is also used for Revision Knee Replacements.

Bending, kneeling, squatting etc. will not be possible immediately after the surgery. Exercises like full-arc extensions, short-arc extensions and others specified by the doctor should be practised. Preventive measures should be taken to keep away from infections. A regular follow up with the doctor is a must.



Branches of Apollo Hospitals in India : -
| | |
| --- | --- |
| | Apollo Hospital, Chennai, India |
| | Apollo Specialty Hospital, Chennai, India |
| | Apollo Hospitals, Bangalore, India |
| | Apollo Hospitals, Ahmadabad, India |
| | Apollo Hospitals, Hyderabad, India |
| | Apollo Gleneagles Hospital, Kolkata, India |
| | Indraprastha Apollo Hospital, Delhi, India |

For more information, medical assessment and medical quote send your detailed medical history and medical reports
as email attachment to
Email : - info@wecareindia.com
Call: +91 9029304141 (10 am. To 8 pm. IST)
(Only for international patients seeking treatment in India)
For a detailed evaluation send patientís medical reports / X rays / doctors notes to info@wecareindia.com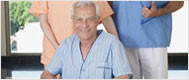 Patient Storys
Successful heart surgery at We Care India partner hospital allows Robert Clarke to live a normal life despite a rare genetic disorder We Care india helped Robert find best super specialised surgeon for his rare conditions.

Read : Robert's Story
See All : Patient's Success Stories


Related Link
Group Websites
Find us on