Plan Your Medical Trip

These days, a growing number of people are discovering the benefits of medical tourism. In the USA and throughout the western world, it is becoming common knowledge that medical tourism offers a cheaper option for receiving medical treatments without compromising on quality.

This article will outline the benefits and advantages of medical tourism, the reasons why people go abroad for treatment and basically, what medical tourism is all about.




Medical Tourism at a Glance

In general, medical tourism is the act of going overseas to obtain medical, cosmetic or dental treatment in other countries. Medical tourism is also regarded as Health Tourism, Medical Travel or Global Healthcare. Over the past five years, many travel agencies specializing in medical tourism have been offering packages to people who want to receive medical treatments abroad.


More people are opting to receive medical treatment abroad rather than in their own countries because : -
Certain medical services are not available in their country of residence.
Their health insurance does not cover the full cost of a procedure.
Most people are not willing to compromise their health just because the treatment costs are too high.


Q.

Why People Go Abroad for Treatment ?



The popularity of obtaining medical treatment overseas is influenced by several factors.


People seek medical treatment abroad because : -
Developed nations have exceedingly expensive costs of healthcare.
International travel nowadays is trouble-free and reasonably priced.
Global standards of care and technological advancements in healthcare are rapidly improving all over the world.
Improved communication opportunities make it easier to find and contact overseas medical centers.

Another factor to consider is health insurance. People without health insurance, or with a limited insurance policy, are more likely to seek other options such as medical tourism. As the prices of healthcare services increase, the range of treatments and procedures that the health insurance policies cover decreases. The deductibles from a person's health insurance may turn out to be more expensive than the price of going overseas for treatment. This is why people who simply cannot afford health insurance choose traveling abroad as a legitimate alternative.



Medical Tourism Benefits



Affordability and Cost-effectiveness : -



The low cost of medical procedures is the number one reason why people go offshore for medical treatments. The savings range between 30% and 80% of the cost that you would normally pay in the USA.

Due to the low prices of medical procedures and surgery abroad, some people worry that medical tourism might be fraud or a scam. The main reason behind the low prices of medical treatments abroad is the low cost of labor in the popular medical tourism destinations.

Although the treatments are cheap, in most cases surgical procedures are performed by well trained experts who are using top notch technology. In addition, the lower costs of malpractice, insurance and administration also contribute to the low prices of overseas medical procedures.




High-Quality Healthcare : -



Many of the doctors and surgeons that offer healthcare services to international patients are trained and certified in western countries, such as United States and Great Britain.

Medical centers all over the world have acquired accreditation from well known international organizations such as JCI, JCAHO and ISO to express their dedication to excellence. Some institutes and medical centers are members of the NIH (National Institutes of Health), which is a federal agency that gives leadership and financial support to researchers in the field of medicine and health.




Immediate Service : -



Another advantage of medical tourism is the immediate access to health care services. For those who come from countries with public health care systems, medical tourism offers them the chance to be placed on the priority list. When dealing with matters of health, waiting is not always an option.




Improved Flight and Communication Services : -



Most procedures performed abroad can be scheduled via the internet or by phone. People have the flexibility to book flights and schedule surgery procedures from the comfort of their own home, eliminating the inconvenience of going to the hospital or clinic for evaluations and assessments. The only time a person has to leave their house is on the day or week of the surgery, or procedure.




Travel Opportunities : -



Even though medical tourism is about obtaining medical care, a side benefit of medical tourism is having the opportunity to travel to other countries. For some medical tourists, especially those seeking dental care, cosmetic care or wellness treatments can enjoy the opportunity to travel overseas in addition to receiving less expensive healthcare.



Conclusion

The concept of medical tourism is appealing to anyone who is interested in high quality and affordable healthcare. The medical tourism phenomenon is gaining popularity and the number of people going abroad for treatment increases rapidly every year.

With many medical tourism benefits, advancements in technology and improvements in healthcare standards within developing countries, it is likely that the advantages of medical tourism will provide a striking economical solution to many healthcare problems.



Deciding Where to Go

The following is a guide on how to choose your medical travel destination.



Cost Considerations

The costs of having medical procedures performed abroad at any medical travel destination are significantly lower compared to having the same procedure performed in the US. A large percentage of the costs fall under hospital and doctors' fees. However, when calculating the total cost, you should take into account all non-medical expenses,


These include : -
Passport costs including travel visas and other document requirements
Airfare going to the host country and back to your country
Airport pick-up upon arrival and departure
Transport cost from hotels to health provider's clinics or hospitals and vice versa
Hotel accommodations
Food, drinks, and tips
International calls and other correspondence back home
Medications and medical supplies
Aftercare costs
Contingencies

The following table describes the costs of medical procedures among popular destination countries compared with retail costs of similar procedures in the US.



Accommodations and other Non-medical Related Considerations

Your accommodations and other non-medical considerations play an important part in making your medical travel as convenient as possible.


The following items should be considered : -
The type of accommodations provided by the medical center. Do they have their own accommodations or are they affiliated with an adjacent resort or vacation facility?
The proximity of the medical center to the accommodation facilities
Is transportation to and from the medical center provided? Do they also provide transportation to and from the airport and other tourist destinations?
What food services are provided by the accommodation facility? What types of food do they provide?
Checking out the Clinic / Hospital

The following is a brief guide for medical travelers on how to check and select a medical clinic or hospital abroad.




Preliminary Considerations : -



The first step in selecting an offshore medical provider is to gather as much information as possible about the clinic or hospital. You can do this by checking out their websites, obtaining literature and brochures about this establishment, or coordinating with medical intermediaries to get information they have on a particular facility.

The more you know, the more prepared you can become. Another important consideration is the destination country. You should know if a visa is required and if extensions are allowed depending on the outcome or requirements of your treatment.




Hospital Accreditation and Affiliation : -



The biggest assurance for receiving quality healthcare is when the clinic or hospital has proper accreditation from reputable certifying bodies. The most renowned accreditation body is the Joint Commission International (JCI). You should check if the clinic or hospital has accreditation with the JCI and if their certification is still updated.

Another certification to look for is from the International Standards Organization (ISO), which accredits hospitals based on international standards for quality and procedures. On top of this, it would be important to consider checking for accreditation standards that hospitals and clinics have from their country's own healthcare federations. Some foreign hospitals have affiliations with reputable American health providers and prestigious universities. Check if the foreign hospital is owned, managed or officially affiliated with their US counterparts.




Non-medical Amenities : -



Most foreign hospitals and clinics offering medical tourism packages bundle their services into one deal, which includes the cost for procedures, tests and related treatments. However, you can also check with the medical provider if they also offer accommodation packages as part of their overall offerings. There are some hospitals that include 5-star accommodation in their own hotel rooms, or they can offer package deals and discounts with an adjacent or nearby hotel facility.

You should also check if your destination medical provider can offer an all-inclusive medical travel package. Such deals not only include hotel accommodation, but also consider other basic requirements like hotel and airport pick-up, meetings and check-ups with doctors before and after surgery or procedures, and aftercare recovery facilities.

It would be wise to read up and be informed of local costs, prices of meals and transport just in case you need to avail of these items on your own. Learn how to work your way around the area and whether it is safe to do so on your own.



Hospital / Clinic Facilities and Services

Checking out the facilities of your destination medical provider is an important part of your preparation for a medical journey.


Some of the questions regarding the health facility include the following : -
Where will the procedure take place? In a private hospital or at a doctor's clinic?
Is the medical provider using an outpatient clinic or a hospital?
Do they have a crash cart in case of emergencies?
What kind of rooms do they have available? Are there suites and private rooms?
Do they have an intensive care unit? If the procedure will take place in a doctor's clinic, is it located near an intensive care unit in case of emergencies?
Do they maintain cooperative relationships with hospital facilities in the US?
Do they have the latest in electronic and medical diagnostic equipment?
Do they offer appropriate pharmaceuticals? Are these meeting the requirements of the US Food and Drug Administration?
Do they have the specialized medical equipment necessary for the type of surgery or medical procedure that you require?
Were there any cases of post operative infection before? What were the infection rates?
Hospital Care during Treatments

One of the advantages of Medical Tourism is the cost saving. You can divert some of these savings for getting the best care and luxurious facilities while you are being treated. In this regard, the medical traveler should inquire or demand for the following from the medical provider.


Ask if you can get 5-star accommodation as part of your package
Know the type of food they will be serving you in your room. Inquire if you could get premium meals or personal selections as long as your doctor will allow it.
Ask what type of nursing services they need or if you could get a round the clock personal nurse for your needs.
Know if their nurses, hospital staff and other hospital employees are fluent in English
Hospital Aftercare Treatments

Aftercare is an important factor for any surgeries or treatments. This is the period where the body recuperates and heals itself from the surgeries or treatments you have incurred. With this in mind, you should ask your medical provider he following details concerning aftercare.


Do they recommend having a close friend or family with you during and after your treatment?
Check if you need to stay in the hospital after your procedure or will be taken to your hotel.
Inquire about any needed special care or attention required after your treatment.
Ask if they have prepared contingency plans in case of complications during and after your procedure.
Know what activities you are allowed to engage in after your procedure.
Medical Records

It would be important for medical travelers to consider how the destination hospital or clinic handles medical records and other pertinent documentations. These documents would be important reference materials for your physician back home, should you require follow-up check-ups or periodic post-treatment examinations.

Check if the hospital utilizes Electronic Medical Record (EMR) systems to store and access patients' files including x-rays, laboratory tests and examination records. Know if they can send these files electronically to your recipient hospital or doctor of choice when you get back home. If the hospital or clinic has no EMR capability, check if they can provide complete duplicated of your records, which you can carry back with you when you go back home.



Quality Disclosures

Many foreign hospitals competing in the Medical Tourism industry have standards for reporting their performance measures and quality indicators. These hospitals should be ready for such disclosures if ask so patients can gauge the hospital's quality track record for a particular treatment or procedure. These quality disclosures should be obtainable from their websites or should be provided upon request.



Questions Regarding Malpractice and Liabilities

As in any medical procedure, the risk of malpractice or complications is present, although it could be of varying levels. The following questions should be asked regarding the hospital or clinic's policy on malpractice and liability.


Do they have a contract of services? Does it include accountability is case of complications due to negligence?
What is the hospital's track record in dealing with malpractice claims?
Is there a payor that will cover the cost of medical procedures? What is included in their terms and conditions?
What are local regulations in the host country dealing with malpractice issues? What are their differences from the United States?
Will an international patient receive local government or non-profit organization assistance for legal needs and advice for malpractice cases?
Questions Regarding Safety

On top of malpractice and liabilities concerns, the patient should also be familiarized on how the foreign hospital or clinic handles safety issues and concerns.


The following are guide questions that patients could use : -
What are the hospital's policies on safety? Do they have procedures in proper disposal of hazardous or potentially contagious materials like spent needles, etc?
What are their hygienic policies on food and inpatient facilities?
How safe and secure are the provided accommodations or affiliated hotels that the medical facility provides?
What are their precautions for post-treatment care?
Checking out the Doctor for Medical Treatment / Surgery

In any medical procedure or treatment it is imperative that you choose the right doctor. The following is a brief guide on how to check and investigate the foreign doctor, surgeon or dentist who will perform your medical procedure abroad.




Qualifications of the Surgeon or Dentist : -



Checking out your doctor begins by finding out about their qualifications.


In summary, the following items should be checked : -
When and where they received their medical education and degree
Professional credentials, which includes licensing and license updating requirements
Specialization degree, license and certifications
Fellowships or post-graduate training courses they received
Special training courses they underwent related to the procedures they offer
Previous and current hospital or clinical staff positions they hold
Languages spoken and their conversational proficiency
Education, Training and Licensure

It is important to take note that medical licensure is only permitted for medical degrees that were obtained from schools listed in the FAIMER International Medical Educational Directory or the World Health Organization (WHO) Directory of Medical Schools. Check if your doctor received their medical degrees from any of these listed schools and should be duly licensed by the official licensure body in their own countries, or a State Licensure or equivalent from the US or another country.

For international medical students who obtained their degrees and residency programs in the United States, they should complete a program established by the Educational Commission for Foreign Medical Graduates (ECFMG). If education was obtained in the United Kingdom, they should have obtained their Bachelor of Medicine in a school accredited by the General Medical Council (GMC).



Medical Certification

Most medical tourism destinations boast of medical staff that were trained and certified in the United States, United Kingdom or other western countries. Taking this into consideration, you should check and confirm if this claim is rightly so.

In the United States, the main body responsible for accrediting postgraduate medical training programs for medical doctors is the Accreditation Council for Graduate Medical Education (ACGME). The ACGME is composed of member organizations like the American Board of Medical Specialties, American Medical Association, American Hospital Association, Association of American Medical Colleges and the Council of Medical Specialty Societies. Check if your doctor's name is duly registered and is still active from any of these certification bodies.

The equivalent of the ACGME is the General Medical Council (GMC) for the United Kingdom and the European Union of Medical Specialists (UEMS) for the European Community (EEC). If your doctor obtained their certifications from any of these medical organizations, their names and certification status should be duly registered in their accreditation list.



Practice

It would also be important to note where, when and how long your doctor has been practicing his profession. Working in a Joint Commission International (JCI) accredited or an International Standardization Organization (ISO) certified hospital and clinic would be good to note as these qualified hospitals would only hire similarly qualified doctors and staff.



Membership and Accreditation in Professional Associations

A good medical practice does not start and end in getting good medical education or working in an internationally certified clinic or hospital. Your doctor should also be involved in Continuing Professional Development programs or equivalent in their own countries or international institution. By doing so, the doctor can be updated with the latest knowledge and technologies in the constantly evolving medical world.

It is expected that surgeons have international memberships in professional associations like the International Society of Aesthetic Plastic Surgery (ISAPS) or the European Association of Plastic Surgeons (EURAPS). If they were trained in the US, they can be members of the American Society of Plastic Surgeons (ASPS) or equivalent societies in their respective fields of specialization. Cosmetic dentists can have membership or are listed in the international associations like the General Dental Council (GDC) or the British Academy of Cosmetic Dentistry (BACD).

In a similar manner, destination countries have professional associations that regulate the accreditation and qualification of dentists and surgeons. Examples are the Belgian Society for the Plastic Surgery which is equivalent to the British Association of Plastic, Reconstructive and Aesthetic Surgeons or BAPRAS. In dentistry, the Philippine Dental Association is equivalent or at par with the General Dental Council.



Additional Questions to Ask

Being meticulous regarding medical related items is not a fault and should be practiced particularly by people going on medical tourism.


The following are additional questions and inquiries that you should ask regarding your doctors : -
What is the doctor's experience in performing this type of surgery? How many operations of this type have he performed before?
What is their rate of complications experience with this kind of surgery or operation?
Will the anesthesiologist perform a pre and post-operative evaluation? Have the surgeon worked with this anesthesiologist before?
Check if you can speak with their past patients
Using a Medical Tourism Facilitator - We Care India

The process of deciding where to go for medical treatments abroad can be a challenging task, particularly for first time medical travelers.

Because of the complexity of this decision-making process, some medical travelers seek help from medical facilitators or medical tourism travel agents to coordinate their medical travel programs. These agencies act as your intermediaries with foreign-based hospitals, clinics, surgeons, hotels, airlines and recovery facilities.



The Types of Medical Tourism Intermediaries
Medical facilitators and medical tourism travel agents can be divided into four groups : -
Medical Travel Planners

: - These organizations serve as the patient's representative in finding a medical provider abroad.

Travel Agencies

: - These agencies have travel tour plans for medical travelers based on their experience in organizing travel logistics.

Provider Groups

: - Foreign medical providers which have tie-ups with international and US-based medical facilities and are dedicated to medical travelers.

Hotel Groups

: - International hotel groups that are venturing into medical tourism as a business opportunity. These hotels have expanded their service lines to act as an intermediary between a medical provider and the patient.
Advantages of Using a Medical Travel Agent

Medical tourism travel agents can act as guides for medical travelers. Many medical travelers find it convenient to seek help from facilitators and agencies rather than venturing it out on their own.


Some of the advantages gained by using the services of these agencies are listed below : -
Consider Your Options

There are a large number of medical tourism intermediaries and travel agencies offering services for medical travelers. Some are headquartered in the United States or Europe, while others reside in the destination country. A would-be medical traveler should weight the pros and cons of obtaining the services of these travel agencies, as opposed to choosing a medical tourism provider on their own.



Medical Tourism Aftercare



Medical Trip Recovery Options : -



Depending on the type of treatment undertaken, the patient is offered the option to spend their full recuperation period in the comfort of their vacation accommodation. This refreshing experience can be good for the patient and hasten the recovery process. Traveling immediately after surgery or treatment can cause stress to the patient's body and will not be conducive to the healing process. A relaxed holiday, in a quiet and serene environment, is the best option for recovery.


Some recovery options available for medical travelers include : -
Healthcare destinations in India, China and Thailand include partnerships with first-class accommodation providers for hotel and transportation, including recovery facilities for post-surgery or post-treatment patients.
Vacation activities typical of the culture and facilities of the host country. However, the patient should understand and watch out for activities that could have negative effects on their post-treatment conditions.




Returning Home After Your Medical Trip : -



Some procedures and treatments require follow-up care after you return home. Additional procedures, like the removal of stitches and prescription medicines, may be required as part of the recovery process.


The following are the steps that you need to perform when you return from your medical trip : -
If you traveled abroad on your own, you need to get in touch with your local doctor for a follow-up checkup.
Prepare all necessary information from the foreign provider that your doctor will need. This includes your foreign provider's contact information.
In a similar manner, if you received services from a medical tourism agency, you need to get in touch with their in-house medical staff to render aftercare and other related services. Your information can be easily retrieved from the EMR for their reference.
Participate in aftercare programs and other procedures as required by your doctors to achieve continued improvement after surgery or medical treatment. This includes regular consultations with your aftercare doctors at periodic intervals depending on the type of procedure you have undertaken.

For more information, medical assessment and medical quote send your detailed medical history and medical reports
as email attachment to
Email : - info@wecareindia.com
Call: +91 9029304141 (10 am. To 8 pm. IST)
(Only for international patients seeking treatment in India)
For a detailed evaluation send patientís medical reports / X rays / doctors notes to info@wecareindia.com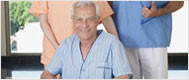 Patient Storys
Successful heart surgery at We Care India partner hospital allows Robert Clarke to live a normal life despite a rare genetic disorder We Care india helped Robert find best super specialised surgeon for his rare conditions.

Read : Robert's Story
See All : Patient's Success Stories


Related Link
Group Websites
Find us on