ISO 9001:2000 Registration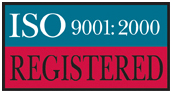 The most widely recognized mark of quality in the business world today, ISO 9001:2000 registration .


ISO registration is a rigorous process by which the hospital improves and monitors the delivery of patient care, continually measures quality, and places the highest priority on eliminating medical errors.

A hospitalís continued registration with ISO 9001:2000 keeps us focused on efficient, effective, and safe patient care. The ISO process supports consistency and continuity organization-wide in the delivery and documentation of patient care. It also creates a foundation for continuing improvement through quarterly internal audits and annual independent audits, which are required for maintaining registration.

ISO is an international agency that develops and publishes voluntary standards covering almost the entire range of technology. The ISO 9001:2000 family of standards pertains specifically to service and manufacturing industries and represents an international consensus of good management practices.


ISO 9001:2000 Questions : -



Q.

What is ISO 9001:2000 ?



The International Organization for Standardization is an international agency with close to one hundred member countries. The ISO 9001:2000 series is a management tool that provides a comprehensive operational framework to achieve control and consistency in all aspects of business from technical to administrative.

ISO 9001:2000 provides a model for a documented quality system, a foundation for information accuracy, and a building block for continuous improvement. Registration provides evidence of good management practices within the organization and that the organization has measurable quality management practices aiding consistency and efficiency. Through its internal auditing requirements, ISO 9001:2000 can facilitate an organization's ongoing compliance to accreditation standards and regulatory requirements.


Q.

How does ISO apply to healthcare ?



Quality in healthcare is more important today than ever before. Today's healthcare consumers are better informed and participate in the care they receive. This has increased awareness that the quality of service delivered is dependent not only on the hands-on practitioners, but also on every individual within the organization whose activities contribute to a patient's experience. The current trend toward public accountability continues to be one of the major factors driving the momentous changes in the healthcare industry.


Added value of ISO in healthcare is gained by : -
Understanding and awareness of quality organization-wide
Ensuring continued use of a quality system
Improving documentation and records
Strengthening supplier and customer confidence
Yielding cost savings
Providing a foundation for improvement within Total Quality Management (TQM)


Q.

How does ISO registration facilitate a safer hospital ?



With ISO 9001:2000 registration, the hospital strives to become one of the safest hospitals. ISO 9001:2000 requirements are more demanding than those of any other healthcare quality management system. Freeman has implemented consistent policies and procedures that are continuously measured and improved for the best possible care. System processes are evaluated, adopted, and continuously monitored to promote safety and error prevention.


Q.

What are the requirements to earn the ISO 9001:2000 registration ?



The two roles of ISO 9001:2000 standards are quality management (achieving results that satisfy requirements) and quality assurance (demonstrating requirements for quality achieved). ISO 9001:2000 standards detail requirements that constitute smart business practices for any operation.


Three elements of the standard that promote an effective quality management program : -
Document those processes that affect quality
Maintain records and collect data that describe the quality of your product or service
Confirm that your processes produce consistent quality

ISO 9001:2000 has requirements that specify WHAT must be achieved within the quality system to retain effective management control; they do not specify HOW to achieve requirements, thereby allowing organizations the freedom to develop systems to respond to internal and external influences. ISO standards support consistency, continuity, and continuing improvement of management practices based on a universally accepted Plan-Do-Check-Act continuum.





For more information, medical assessment and medical quote send your detailed medical history and medical reports
as email attachment to
Email : - info@wecareindia.com
Call: +91 9029304141 (10 am. To 8 pm. IST)
(Only for international patients seeking treatment in India)