Facilities at BGS Global Hospital, Hyderabad
Facilities : -
Operation Theatres At Global Hospitals
[ SURGICAL TEAM IN OPERATION THEATRE ]



The operation theatre complex at the Global Hospitals is situated on the first floor. This complex consists of two organ transplantation operation theatres, to Laparoscopic surgery and general surgery operation theatres, one surgical ICU one step-down ICU and one recovery unit.

This entire complex is isolated with a sterile corridor and entry of the personnel to this is through an air-shower device.

The theatre walls of ICU complex are lined with Dupont's Corian material. This material is anti-fungal, anti-bacterial and without joints. This would not allow harboring of any organisms in the theatre and ICU complex. Each theatre has an independent laminar airflow mechanism with filters to maintain theatre sterility.




[ HERAEUS, HANUPORT OT LIGHTS & PENDANTS ]
Heraeus Med, the pioneer of the ceiling mounted lighting system. It's a compact, clearly arranged workplace. Planned with foresight for easy operation to provide.
Modular equipping of appliances of differing weights and sizes.
Safe, precise locking of anesthesia machines.
Integrated gas lines and cables for high and low tension currents.
Clear monitoring of anesthetic appliances connected.
Integrated and safe connection of the signal and control lines to HANAUVISION.
[ JULIAN PLUS ANESTHESIA WORKSTATION ]
Julian anesthetic workstation for patients with a body weight of 5 kg and over with the use of IPPV ventilation for the use of Inhalation anesthesia in breathing systems.
Inhalation anesthesia in semi - closed to virtually closed systems with " low flow " and " minimal flow " (for minimal gas and anesthetic agent consumption).
Inhalation anesthesia in non-re breathing systems, with separate fresh gas outlet for the connection of, e.g., the Bain system or me gill system. With a fresh gas flow of 0.5 to 12 Ltr/mi.
VENTILLATION MODES
Automatic ventilation (IPPV) and pressure controlled ventilation (PCV).
Manual ventilation (MAN).
Spontaneous ventilation (SPONT).
The following measured values are displayed : -
Peak pressure, mean pressure, plateau pressure and PEEP.
Expiratory minute ventilation - Tidal Volume VT, Breathing rate, Patient compliance.
Inspiratory and expiratory concentration of O2, N2O, anesthetic Gas and CO2.
Functional Oxygen Saturation (SPO2) and pulse rate.
The following parameters are displayed as curves : -
Airway pressure.
Expiratory flow.
Inspiratory and expiratory concentration of O2, CO2 and anesthetic gas.
Plethysmogram.

Trend curves and measured value lists are also available.




[ Intensive Car Units ]





The hospital is provided with various intensive care units with latest state of the art equipment and infrastructure to meet the critical and emergency situations of the patient.


[ LIVER ICU ]
Surgical ICU.
CT- ICU.
Step down ICU.
Liver ICU.
Post Transplant Isolation rooms ICU.
Heart Transplant ICU.
Kidney Transplant ICU.
Specially trained Anesthesiologists and internal medicine specialist manage ICU. Anesthesiologists are on premises round-the-clock.
The patient-nurse ratio in all ICUs is 1:1.
VENTILATORS
Siemen 300 - A - 6 units
Siemen 900 - C - 7 units
Siemen 900 - B - 2 units
MONITORS
Hp viridia - 24 c monitors with 6 wave forms 13 units.
Hp viridia - Flat screen CMS 2001, 8 wave forms 9 Units.
Hp viridia - Merlin, 8 wave forms 4 Units.
Hp viridia - Merlin, 8 wave forms 4 Units.
ICU
DRAGER WALL SUPPLY UNIT, LINEA (GERMANY) - 11 Nos.

Unit is made of Aluminum extrusion. Separate path for electrical, gas supplies and other control supplies. Each unit consists of the following


[ CT ICU ]
Linea 1100 basic unit.
Direct light set.
Indirect light set.
Equipment mounting Rail set.
Gas outlet point - Oxygen.
Gas outlet point - Vaccum.
Communication socket - RJ 45.
Pull cord switch for nurse call system.
[ Endoscopy ]
Global Hospitals have state-of-the-art Endoscopy equipment. This diagnostic allows treatment with the following forms of therapy : -
UGI Endoscopy - Useful in diagnosing causes of heartburn, swallowing difficulty, abdominal pain, vomiting, loss of appetite, vomiting blood, weight loss, anemia etc.
Colonoscopy - Useful in diagnosing the causes of rectal bleeding, diarrhea, constipation, abdominal pain, unexplained anemia, weight loss, etc.
ERCP - Useful in diagnosing various causes of obstructive jaundice, abdominal pain, pancreatitis etc.
Therapeutic endoscopic procedures performed at our endoscopy centre
Dilatation and prosthesis placement in relieving swallowing difficulties in Oesophagial cancers.
Sclero-therapy or band ligation for bleeding Oesophagial varices.
Argon plasma coagulation to arrest bleeding in peptic ulcers.
Balloon dilatation to re - establish patency and relieve vomiting in pyloric stenosis.
PEG tube placement to facilitate nutrition in various cancers and swallowing problems.
Bile duct stone removal and stenting to relieve jaundice.
Pancreatic duct stenting to relieve pancreatic pain and aid digestion.
Removal of colonic polyps which cause rectal bleeding.
Argon plasma coagulation to arrest bleeding in radiation proctatitis.
[ Dialysis ]
The hospital has Nephrology services as one of its main focus areas. The department of Nephrology provides comprehensive renal care under one roof and aims to be a state of the art tertiary care referral centre of International Standards. BRAUN DIALOG dialysis machines allows treatment with the following forms of therapy Haemodialysis.
Volume controlled ultra-filtration.
Sequential ultra-filtration.
With Acetate concentrate.
With bicarbonate concentrates.
[ Cath Lab & EP Lab ]




The department of cardiology is fully geared to handle all kinds of cardiology-related cases like Acute MI, Temporary and Permanent pacemakers, Thrombolytic therapy, Emergency PTCA/stenting, apart from routine procedures like angiography, PTCA, Stenting, Rotabolator, Anthrectomy, etc.




[ CT Scan, Ultrasound ]
Siemens somatom emotion with work station.
Sub second spiral scanning.
World's slimmest gantry design.
Rapid scanning facility with reconstruction facility.
3-D reconstruction.
Virtual Endoscopy, Bronchoscopy reconstruction facility.
Branches of BGS Global Hospital in India : -

For more information, medical assessment and medical quote send your detailed medical history and medical reports
as email attachment to
Email : - info@wecareindia.com
Call: +91 9029304141 (10 am. To 8 pm. IST)
(Only for international patients seeking treatment in India)
For a detailed evaluation send patientís medical reports / X rays / doctors notes to info@wecareindia.com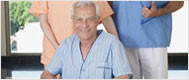 Patient Storys
Successful heart surgery at We Care India partner hospital allows Robert Clarke to live a normal life despite a rare genetic disorder We Care india helped Robert find best super specialised surgeon for his rare conditions.

Read : Robert's Story
See All : Patient's Success Stories


Related Link
Group Websites
Find us on